Canadian Law Enforcement Retreat
November 7-8, 2021
"He guards the paths of the just and protects those who are faithful to Him." Proverbs 2:8 
In appreciation for your service, the Billy Graham Rapid Response Team invites you—and your spouse—to the Canadian Law Enforcement Retreat. Come and be encouraged by expert speakers who will discuss challenges faced by officers' families, share Biblical insights, and offer valuable instruction on surviving and thriving in the law enforcement world.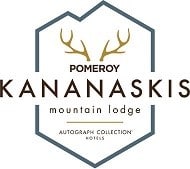 When: Sunday, November 7 at 3 p.m. – Monday, November 8 at 4 p.m.
Where: Pomeroy Kananaskis Mountain Lodge
Cost: $200/individual, $225/couple (includes lodging and meals)
Schedule
SUNDAY
1745 – Supper
1900 – Worship
1925 – Session 1
2030 – Free Time
MONDAY
0730 – Breakfast
0830 – Worship
0850 – Session 2
1000 – Break
1030 – Session 3
1145 – Lunch
1300 – Worship
1320 – Session 4
1420 – Short Break
1440 – Session 5
1600 – Retreat Ends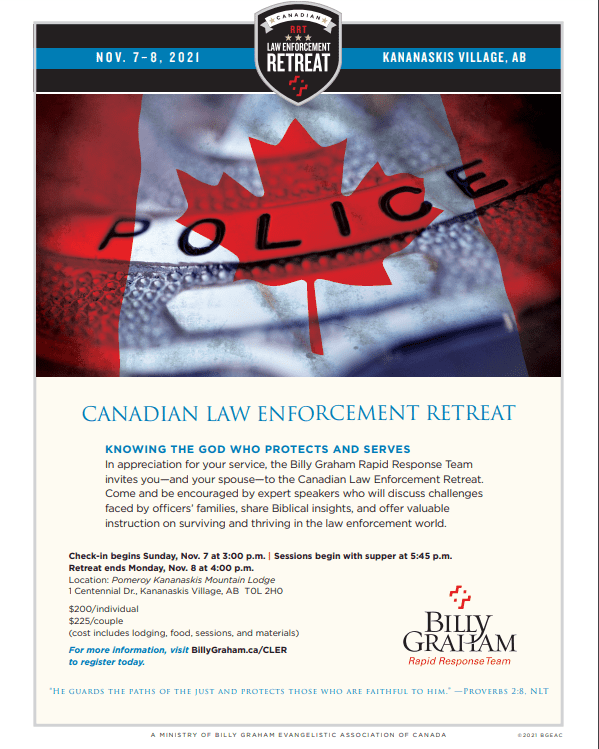 Download Poster
2021 Special Guests

Speaker: Neil & Annette Campbell
Neil and Annette Campbell are the Directors of Family Foundations Canada and certified Life Languages™ Coaches. Neil has been an Ordained Minister since 1987. Together, they pastored for over 30 years. For the last 10 years, they have been serving families across our nation. Neil holds a Masters in Transformation Leadership (from Barclay College in Haviland, KS) and he is currently studying with Phoenix Seminary. He attended Horizon Bible College in Saskatoon, SK. Annette is a National Coach with Skate Canada and has Ministry Related credentials with the Pentecostal Assemblies of Canada. They have been married for over 41 years. They have three married daughters and two grandsons, with another on the way!
They have hosted and spoke at many Covenant Marriage Conferences and Building Strong Families Conferences throughout North America. Neil has also lead Father/Son Rite of Passage Events around the world. Together they have also helped many churches and families to organize "Nights of Becoming" or "Princess Balls" to honour and bless daughters.
They have a passion to see marriages healed and the heart of the father restored in this generation (Malachi 4:6). For over 30 years, Family Foundations International has been passionate to restore the family by providing Ancient Paths Seminars that have been healing hearts and transforming families across North America and around the world. Neil and Annette have been training teams worldwide to offer the Ancient Paths Seminars and help them develop a culture of blessing in their homes, communities and nations.

Worship Leader: Celeste Zbirun
Growing up in a musical family, Celeste Zbirun began leading worship in her early teens in Calgary at North America's largest Christian & Missionary Alliance church.
She has led worship during the past 10 years at various churches in the city—serving as a volunteer or on staff. Celeste also serves as a guest worship leader at Christian retreats and other events.
She has completed Bethel Music's Worship School and enjoys helping young adults develop their worship leading and vocal skills.
Celeste calls The Exchange Church her home community. She is passionate about creating an atmosphere that combines theological integrity and spiritual freedom to enable congregations to engage with their heavenly Father.
Donate to Law Enforcement Ministry
Help our ministry address the unique emotional and spiritual needs of law enforcement officers and their families, by offering encouragement, fellowship, training, and practical marriage advice.