Canadian Law Enforcement Retreat
November 3-4, 2019
"He guards the paths of the just and protects those who are faithful to Him." Proverbs 2:8 
The Billy Graham Rapid Response Team (RRT) is pleased to support the Canadian law enforcement community by addressing the unique emotional & spiritual needs of law enforcement officers and their families.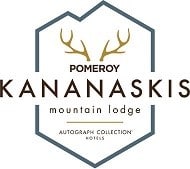 When: Sunday, November 3 at 3 p.m. – Monday, November 4 at 4 p.m.
Where: Pomeroy Kananaskis Mountain Lodge
Cost: $200/individual, $225/couple
Congratulations to Shannon Gugyel on winning the early-bird registration prize of a full day at the Nordic Spa!
Sample Schedule
Curious about what a typical day is like for couples at the Canadian Law Enforcement Retreat? Below is a sample schedule of what your weekend may be like for you and your spouse:
SUNDAY
1630 – Session 1
1800 – Dinner
1915 – Worship
1945 – Session 2
2100 – Free Time
MONDAY
0730 – Breakfast
0830 – Worship
0850 – Session 3
1000 – Break
1030 – Session 4
1145 – Lunch
1245 – Worship
1300 – Session 5
1430 – Worship
1445 – Session 6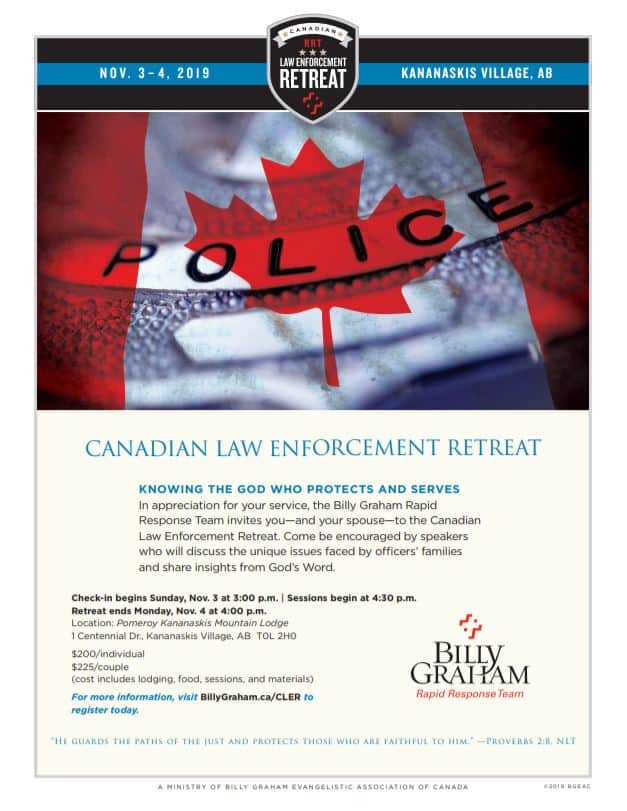 Download Poster
Testimonies from the U.S. National Law Enforcement Retreat
"I'm so thankful she stuck with me."
2019 Special Guests

Speaker: Tim Schroeder
Tim Schroeder is a teaching pastor at Trinity Church, Kelowna BC and a regular presenter for the leadership training network, Willow Creek Canada. He is widely sought as a public speaker and his leadership credibility is flows from the fact that in a day of religious decline he led the growth of Trinity Church from 400 weekly attenders to 2500.  His extensive community involvement has made him one of the most recognizable faces in the city, crossing all religious persuasions.
Tim's commitment to the community has been expressed in several unorthodox arenas.  He served for 10 years as an Auxiliary Constable with the Royal Canadian Mounted Police working the streets weekly.  He was also appointed Chaplain to the Royal Canadian Mounted Police and the City of Kelowna Fire Department. He currently is chaplain to the Kelowna Rockets Hockey Team and the RCMP.  He has received numbers of awards for his community service including the Queen's Golden Jubilee Medal.
Tim holds a Bachelor of Arts degree from the University of Alberta, a Master of Divinity degree from Edmonton Baptist Seminary and a Doctor of Ministries degree from the North American Baptist Seminary.
Key in Tim's life is his wife Arlene, who is a Registered Nurse, and grown children Lindsey and Travis.
Tim is a runner, with 15 marathons to his credit; an avid cyclist – having completed two, 1000 km Cops For Kids Rides; and, he holds a black belt in karate. His book, Life By The Hour and weekly newspaper column are widely read.

Speaker: Chris Hunter
Chris has been a member of the Edmonton Police Service (EPS) since August 2002 and has spent the majority of his career working as a front line police officer. He is currently the Sergeant in Charge of the Employee and Family Assistance Unit/Member Support and Critical Incident Stress Management Team (CISM).
As part of his duties as Sergeant, Chris is in charge of the EPS Peer Support or CISM, as well as an instructor for the Road to Mental Readiness (R2MR), and the Applied Suicide Intervention Skills Training (ASIST) course. As an ASIST trainer, Chris has taught the majority of his courses to first responders and has traveled as far as Rankin Inlet, NU to deliver a workshop. Chris is also a member of the Fellowship of Christian Peace Officers (FCPO) where he serves as their Secretary on the board of the Edmonton Chapter.
Chris and his wife Kara have been married for fifteen years and have four children (Noah, Jordan, William, and Kaleigh). They are members of West Edmonton Christian Assembly (WECA) where they serve through the Alpha course, Children's Ministry, and Prayer Ministry.
In his spare time, Chris coaches his kids in basketball, soccer, and baseball, and can be found camping in the Mountains during the summer months. In his spare, spare time, Chris is also working toward a Theology degree from Vanguard College.

Worship Leader: Celeste Aviles
After growing up in a musical home, Celeste began leading worship in her early teen years. Over the past 10 years she has served at various churches across Calgary in staff and volunteer leadership positions and regularly serves as a guest worship leader for retreats and events.
She successfully completed Bethel Music's School of Worship in 2015 and enjoys mentoring young adults in their worship leading and vocal skills and currently calls The Exchange Church her home community.
Celeste is passionate about creating an atmosphere that combines theological integrity and spiritual freedom that allows for a congregation to meet face to face with their Heavenly Father.
Donate to Law Enforcement Ministry
Help our ministry address the unique emotional and spiritual needs of law enforcement officers and their families, by offering encouragement, fellowship, training, and practical marriage advice.