Canadian Law Enforcement Retreat
November 3-4, 2019
A ministry of the Billy Graham Evangelistic Association of Canada
"He guards the paths of the just and protects those who are faithful to Him." Proverbs 2:8 
The Billy Graham Rapid Response Team (RRT) is pleased to support the Canadian law enforcement community by addressing the unique emotional & spiritual needs of law enforcement officers and their families.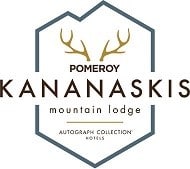 When: Sunday, November 3 at 3 p.m. – Monday, November 4 at 4 p.m.
Where: Pomeroy Kananaskis Mountain Lodge
Cost: $200/individual, $225/couple (includes lodging and meals)
Please note that registration for this event is now closed.
We will see you at the retreat!
Schedule
SUNDAY
1630 – Session 1
1800 – Supper
1915 – Worship
1945 – Session 2
2100 – Free Time
MONDAY
0730 – Breakfast
0830 – Worship
0850 – Session 3
1000 – Break
1030 – Session 4
1145 – Lunch
1245 – Worship
1300 – Session 5
1430 – Worship
1445 – Session 6
1600 – Retreat Ends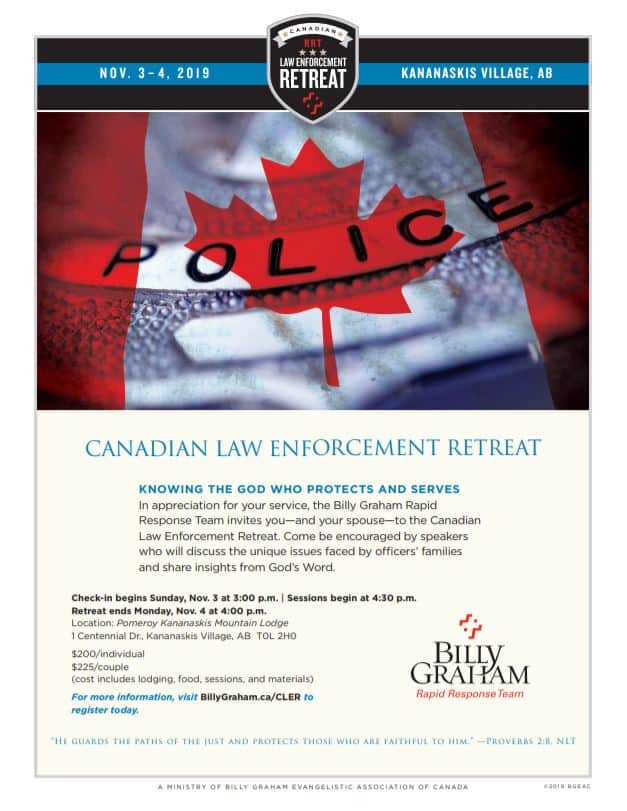 Download Poster
Testimonies from the U.S. National Law Enforcement Retreat
"I'm so thankful she stuck with me."
2019 Special Guests

Speaker: Tim Schroeder
Tim Schroeder is a teaching pastor at Trinity Church in Kelowna, BC, and a regular presenter for Willow Creek Canada's leadership training network. Tim is widely sought as a public speaker and he led the growth of Trinity Church from 400 weekly attendees to 2,500. His community involvement has made him one of the most recognizable faces in the city.
Tim served for 10 years as an auxiliary constable with the Royal Canadian Mounted Police (RCMP), patrolling the streets weekly. He was also appointed chaplain to the RCMP and the City of Kelowna Fire Department. He is currently a chaplain to the Kelowna Rockets hockey team and the RCMP. He has received a number of awards for his community service including the Queen's Golden Jubilee Medal.
Tim holds a Bachelor of Arts degree from the University of Alberta, a Master of Divinity degree from Edmonton Baptist Seminary, and a Doctor of Ministries degree from the North American Baptist Seminary.
Key in Tim's life is his wife, Arlene, who is a registered nurse, and grown children Lindsey and Travis.
Tim is a runner, with 15 marathons to his credit, he's an avid cyclist, and holds a black belt in karate. His book, Life By The Hour, and weekly newspaper column are widely read.

Speaker: Chris Hunter
Chris has been a member of the Edmonton Police Service (EPS) since August 2002, and has spent the majority of his career working as a front-line police officer. He is the sergeant for the Employee and Family Assistance Unit/Member Support and Critical Incident Stress Management Team (CISM).
As part of his duties, Chris is an instructor for the Road to Mental Readiness and the Applied Suicide Intervention Skills Training (ASIST) course. As an ASIST trainer, Chris has taught the majority of his courses to first responders and has traveled as far as Nunavut to deliver a workshop. Chris is also a member of the Fellowship of Christian Peace Officers and serves as secretary on the board of the Edmonton chapter.
Chris and his wife, Kara, have been married for 15 years and have four children. They are members of West Edmonton Christian Assembly where they serve through the Alpha course, children's ministry, and prayer ministry.
In his spare time, Chris coaches his kids in basketball, soccer, and baseball, and can be found camping during the summer months. In his spare, spare time, Chris is also working toward a theology degree from Vanguard College.

Speaker: Bill Mikaluk
Bill Mikaluk is a recently retired police officer, enjoying more than 25 years of service with the Edmonton Police Service. Bill worked in the Firearms Compliance and Training section (as an instructor of firearms and control tactics), as well as a police training officer coordinator and member of the Performance Management Unit.
Bill has a Bachelor of Education degree and is a professional certified coach and certified police coach. He most recently obtained certifications in positive psychology and positive education.
Having celebrated their 25th wedding anniversary last August, Bill and his wife, Bonnie, have two grown children. Bill has been a Christian most of his life and credits his faith in Jesus Christ with helping him in his career and in his marriage.

Speaker: C/Supt. Ron Mostrey (ret'd)
Ron Mostrey was a police officer with the Royal Canadian Mounted Police (RCMP) for 35 years. As a detachment commander in Alberta, he was a proponent of community policing and instituted many innovative approaches. In 1997, he was commissioned to the rank of Inspector and was seconded to the Justice Department's National Crime Prevention Centre, where he served for two years.
From 2000 to 2010, Ron was instrumental in enhancing the RCMP's strategic planning regime. Some of the business practices he developed and orchestrated in the RCMP were featured in publications such as the Harvard Business Review.
From 2010 to 2012, Ron was the head of human resources for the RCMP's Central Region (Ontario & Quebec). He retired in 2014 after serving as the commanding officer for the national headquarters.
Ron holds a Master of Business Administration (MBA) from the University of Ottawa, a certificate in criminology from Douglas College, and a certificate in crime prevention and restorative justice from St. Thomas University.
Ron is the president of the Fellowship of Christian Peace Officers – Canada and has been active with that organization since 1983. He is also a volunteer chaplain with the Billy Graham Evangelistic Association of Canada's Rapid Response Team.
Ron and his wife of 33 years, Shawnie, live in Gatineau, Quebec, with their two children.

Speaker: Steve and Sharlyn Harris
Steve is a 23-year member of the Calgary Police Service (CPS). Over his career, he has divided his time between front-line patrol as a constable and sergeant, and investigation, as a detective.
Steve also traveled to Costa Rica with two police mission trips, partnering with Samaritan's Purse and police in the cities of Belén and San José. He is currently assigned to the CPS Criminal Intelligence Unit. Steve has always tackled his career with a Christian perspective and used these same tools overcoming post-traumatic stress disorder.
Sharlyn, originally from Saskatchewan, was a legal assistant in family law. She now focuses her talents and energy raising the couple's two boys.
Steve is active with high performance Olympic sports and is currently chair of the board for Luge Canada, while Sharlyn is involved with a choir. Steve and his family attend Harvest Hills Alliance Church and help in a variety of ministries.
In their free time, the family is active in karate, skiing, camping trips, biking, and paddle boarding.

Speaker: Jamie and Kate Hawkins
Jamie and Kate Hawkins have been married for 13 years, and live in New Brunswick. Jamie has been with the Royal Canadian Mounted Police (RCMP) for 12 years. He spent the first half of his career in Newfoundland and Labrador, and has been in New Brunswick for the past six years.
Kate grew up in Prince Edward Island. She graduated from university with a double major in criminology and psychology before deciding she did not want a career in either of those fields. Instead, she became a portrait photographer. Together, Jamie and Kate are the parents of three children, ages 4, 6, and 7.

Worship Leader: Celeste Zbirun
Growing up in a musical family, Celeste Zbirun began leading worship in her early teens in Calgary at North America's largest Christian & Missionary Alliance church.
She has led worship during the past 10 years at various churches in the city—serving as a volunteer or on staff. Celeste also serves as a guest worship leader at Christian retreats and other events.
She has completed Bethel Music's Worship School and enjoys helping young adults develop their worship leading and vocal skills.
Celeste calls The Exchange Church her home community. She is passionate about creating an atmosphere that combines theological integrity and spiritual freedom to enable congregations to engage with their heavenly Father.
Donate to Law Enforcement Ministry
Help our ministry address the unique emotional and spiritual needs of law enforcement officers and their families, by offering encouragement, fellowship, training, and practical marriage advice.