Profile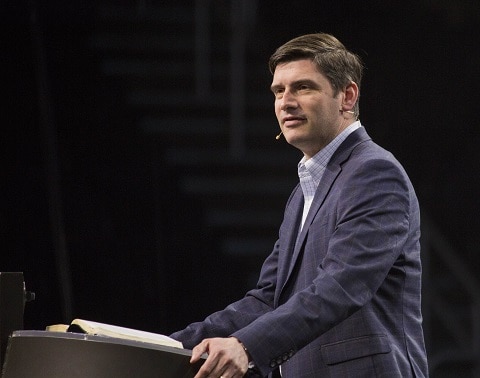 William Franklin (Will) Graham IV
Executive Vice President and Evangelist
William Franklin Graham IV (Will) is the third generation of Grahams to proclaim the Gospel of Jesus Christ under the banner of the Billy Graham Evangelistic Association (BGEA). The grandson of Billy Graham and the oldest son of Franklin Graham, Will has shared the hope of Jesus with more than one million people across six continents since beginning his evangelistic ministry in 2006.
"I'm not trying to be the next Billy Graham; I'm just Will Graham," says the ordained minister. "I have a burden in my heart to preach the Gospel of Jesus Christ. If that's to an arena full of people or one person on the street, I will do whatever God is calling me to do."
In addition to his evangelistic outreaches, Will serves as Executive Vice President of the Billy Graham Evangelistic Association, giving leadership to all aspects of the organization that his grandfather founded in 1950.
In 2018, Will portrayed his grandfather in the Universal Studios biopic Unbroken: Path to Redemption (about Olympian and World War II hero Louis Zamperini). Also in 2018, Will's first book—a devotional titled Redeemed: Devotions for a Longing Soul—was published by Thomas Nelson, featuring stories centered on the life-changing power of a relationship with God. A DVD Bible study curriculum (and accompanying book) based on Redeemed was released in May 2019.
Will graduated from Liberty University in 1997 with a Bachelor of Science degree in Religion and in 2001 graduated from Southeastern Baptist Theological Seminary with a Master of Divinity degree.
Will and his wife, Kendra, have two daughters, Christine Jane (CJ) and Rachel Austin, and a son, William Franklin Graham V (Quinn).
Biography
Born
William Franklin (Will) Graham IV
January 30, 1975
Longmont, Colorado
Parents
Jane and Franklin Graham (Boone, NC)
Married
Kendra Leigh Bengds (Tucson, AZ)
Vocations
1997: Samaritan's Purse (Boone, NC)
1999-2001: Pastoral Intern, Bay Leaf Baptist Church (Raleigh, NC)
2001-2006: Pastor, Wakefield Baptist Church (Wake Forest, NC)
2002: Ordained to the Gospel Ministry
2004: Evangelist, Billy Graham Evangelistic Association (Charlotte, N.C.)
2006-2012: Assistant Director, Billy Graham Training Center at The Cove (Asheville, NC)
2012-2023: Executive Director, Billy Graham Training Center at The Cove (Asheville, NC)
2012-2023: Vice President, Billy Graham Evangelistic Association (Charlotte, NC)
2023: Executive Vice President, Billy Graham Evangelistic Association (Charlotte, NC)
Education & Honors
1993: Diploma, Watauga High School (Boone, NC)
1997: B.S. in Religion, Liberty University (Lynchburg, VA)
2001: Master of Divinity, Southeastern Baptist Theological Seminary (Wake Forest, NC)
2007: Honorary Doctor of Divinity, Toccoa Falls College (Toccoa Falls, GA)
2015: Honorary Doctor of Divinity, Trinity College (Trinity, Fla.)
2018: Honorary Doctor of Divinity, Dallas Baptist University (Dallas, Texas)
Boards
Billy Graham Center at Wheaton College (Wheaton, Ill.)
Billy Graham Evangelistic Association (Charlotte, N.C.)
Billy Graham Evangelistic Association of Canada (Calgary, AB)
Blue Ridge Broadcasting (Black Mountain, N.C.)
Liberty University (Lynchburg, Va.)
Children
Christine Jane (CJ), Rachel Austin, William Franklin V (Quinn)
Residence
Asheville region of North Carolina