Profile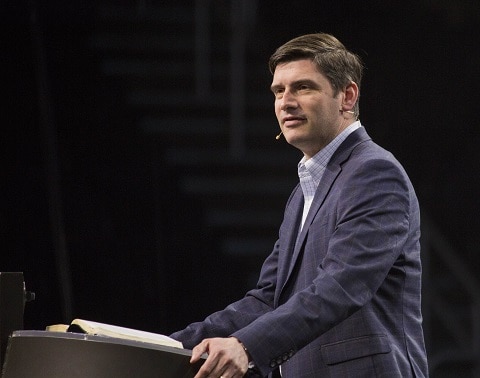 William Franklin (Will) Graham IV
Vice President and Associate Evangelist of the Billy Graham Evangelistic Association and Executive Director of the Billy Graham Training Center at The Cove
William Franklin Graham IV (Will) is the third generation of Grahams to proclaim the Gospel of Jesus Christ under the banner of the Billy Graham Evangelistic Association (BGEA). Will is the grandson of Billy Graham and the oldest son of Franklin Graham.
The first of Will's crusade-style events – called Celebrations – took place in 2006 in Leduc, Alberta, Canada. His first Celebration on United States soil came later that year in Gastonia, N.C. Since then, he has held evangelistic outreaches on six continents around the world.
In 2014, Will held multi-day events in Australia, Sri Lanka, Japan, Papua New Guinea, and the United States. His 2015 schedule included domestic evangelistic efforts in Siksika First Nation, Fort McMurray, AB, and Whitehorse, YT, as well as outreaches in Tanzania and multiple cities in the Philippines. Events in Canada for 2016 included Celebration of Hope outreach events in Grand Falls-Windsor and Happy Valley-Goose Bay, NL. In 2017, a Celebration of Hope was held in Charlottetown, PEI. Upcoming events in Canada for 2018 will include Celebration of Hope outreach events in Rankin Inlet, Nunavut and St. John's, Newfoundland.
"I'm not trying to be the next Billy Graham; I'm just Will Graham," says the ordained minister. "I have a burden in my heart to preach the Gospel of Jesus Christ. If that's to an arena full of people or one person on the street, I will do whatever God is calling me to do."
In 2012 Will was named vice president of the BGEA, overseeing Children and Youth Evangelism Training, which includes Dare to Be a Daniel (a youth evangelism course targeted at "tweens," ages 9-14) and The Greatest Journey (a children's discipleship curriculum); and the BGEA's new Distance Learning Program, which uses the internet to teach people how to share their faith.
Will also serves BGEA by overseeing operations and programming for the Billy Graham Training Center at The Cove in Asheville, N.C. The Cove offers multi-day seminars on a variety of Christian subjects and features nationally-recognized speakers.
Will graduated from Liberty University in 1997 with a Bachelor of Science degree in Religion and in 2001 graduated from Southeastern Baptist Theological Seminary with a Master of Divinity degree.
Will and his wife, Kendra, have two daughters, Christine Jane (CJ) and Rachel Austin, and a son, William Franklin Graham V (Quinn).
Biography
Born
William Franklin (Will) Graham IV
January 30, 1975
Longmont, Colorado
Parents
Jane and Franklin Graham (Boone, NC)
Married
Kendra Leigh Bengds (Tucson, AZ)
Children
Three children
Vocations
1997: Samaritan's Purse (Boone, NC)
1999-2000: Pastoral Intern, Bay Leaf Baptist Church (Raleigh, NC)
2000-2006: Pastor, Wakefield Baptist Church (Wake Forest, NC)
2002: Ordained to the Gospel Ministry
2006-2012: Assistant Director, Billy Graham Training Center at The Cove (Asheville, NC)
2006: Associate Evangelist, Billy Graham Evangelistic Association (Charlotte, NC)
2012: Executive Director, Billy Graham Training Center at The Cove (Asheville, NC)
2012: Vice President, Billy Graham Evangelistic Association (Charlotte, NC)
Education & Honors
1993: Diploma, Watauga High School (Boone, NC)
1997: B.S. in Religion, Liberty University (Lynchburg, VA)
2001: Master of Divinity, Southeastern Baptist Theological Seminary (Wake Forest, NC)
2006: Honorary Doctor of Divinity, Toccoa Falls College (Toccoa Falls, GA)
Boards
Billy Graham Center at Wheaton College (Wheaton, Ill.)
Billy Graham Evangelistic Association (Charlotte, N.C.)
Liberty University (Lynchburg, Va.)
Montreat College (Montreat, N.C.)