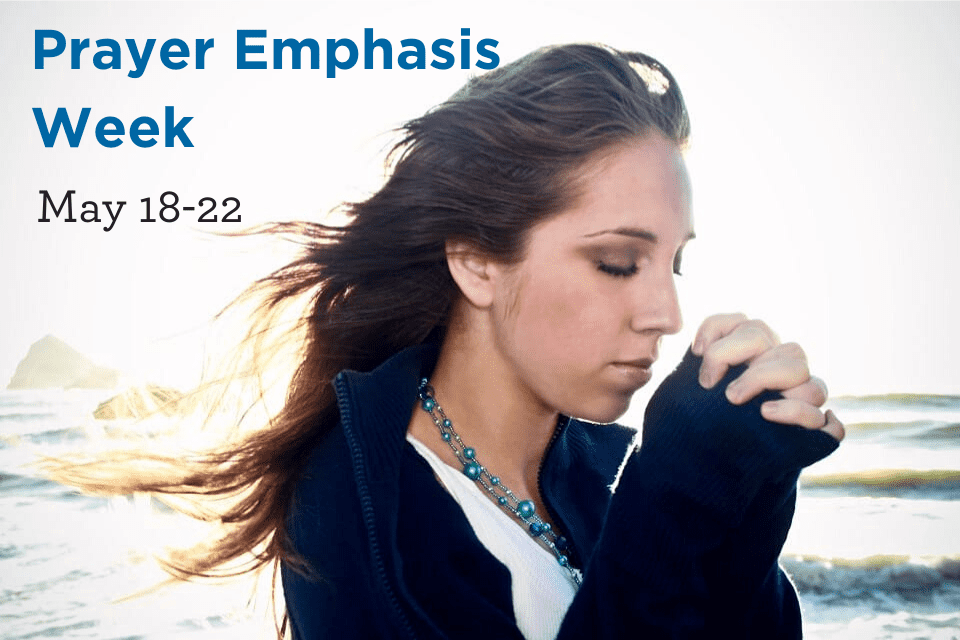 Franklin Graham has a heart for focused prayer in preparation for evangelism—and we are thankful for friends like you who share that passion. We know that you care deeply for people to know the hope found in Jesus Christ alone—and we want to give you a prayer resource as together we lift our nation up to the Lord in prayer.
You're invited to join believers across Canada May 18-22 for a week of focused and passionate prayer for the ministry God puts before us. Below you will find daily prayer themes to guide you as you pray for God's Kingdom work, for your loved ones who need Jesus, and for our country.
Will you pray for the Good News of Jesus Christ to be known across our nation?
Monday
Pray for God to prepare our hearts to reach out to the lost in our network of relationships.
That we would be convinced of the transforming power of the Gospel.
"Salvation is found in no one else, for there is no other name under heaven given to mankind by which we must be saved." Acts 4:12
That Christ would grant us boldness and humility as we share our faith with our unsaved family and friends.
"For I am not ashamed of the gospel, because it is the power of God that brings salvation to everyone who believes: first to the Jew, then to the Gentile." Romans 1:16
Tuesday
Pray for your unsaved loved ones. Who is God asking you to engage in regular prayer for their salvation?
Pray that God would soften their hearts and draw them to Himself.
"And I, when I am lifted up from the earth, will draw all people to myself." John 12:32
Pray for obstacles and strongholds to be removed in their lives.
"The weapons we fight with are not the weapons of the world. On the contrary, they have divine power to demolish strongholds." I Corinthians 10:4
Wednesday
Pray that Christians and churches – including yours -would stand strong in their faith and be the fragrance of Christ in Canada.
Pray for courage for pastors to lead their congregations with integrity and to teach the truths of Scripture.
"My message and my preaching were not with wise and persuasive words, but with a demonstration of the Spirit's power." 1 Corinthians 2:4
Pray for Christians and churches to navigate well the social issues of our day, especially the impact of Covid 19.
"Preach the word; be prepared in season and out of season; correct, rebuke and encourage—with great patience and careful instruction." 2 Timothy 4:2
Pray for God's hand of favour and blessing on our land.
"'In the time of my favor I heard you, and in the day of salvation I helped you.' I tell you, now is the time of God's favor, now is the day of salvation." 2 Corinthians 6:2
Thursday
Pray that our leaders would make God-honoring decisions and acknowledge their role as under God's authority.
"I urge, then, first of all, that petitions, prayers, intercession, and thanksgiving be made for all people for kings and all those in authority, that we may live peaceful and quiet lives in all godliness and holiness." 1 Timothy 2:1,2.
Pray for Christians to exercise their right and responsibility to vote as part of their stand for truth.
"But we ought always to thank God for you, brothers and sisters loved by the Lord, because God chose you as firstfruits to be saved through the sanctifying work of the Spirit and through belief in the truth." 2 Thessalonians 2:13
Friday
Pray for our nation as we deal with the effects of COVID-19
Prayer for healing for those that are afflicted, for our front-line workers and that there would be an end to COVID-19.
Pray for those who will be touched by the ministry work of the Billy Graham Evangelistic Association of Canada, specifically those calling for prayer and searching for answers on peacewithgod.net.
Pray for revival across Canada, that Christians would rise up in their faith and that many will come to know Jesus as their personal Savior.
"Continue steadfastly in prayer, being watchful in it with thanksgiving."
–Colossians 4:2 (ESV)