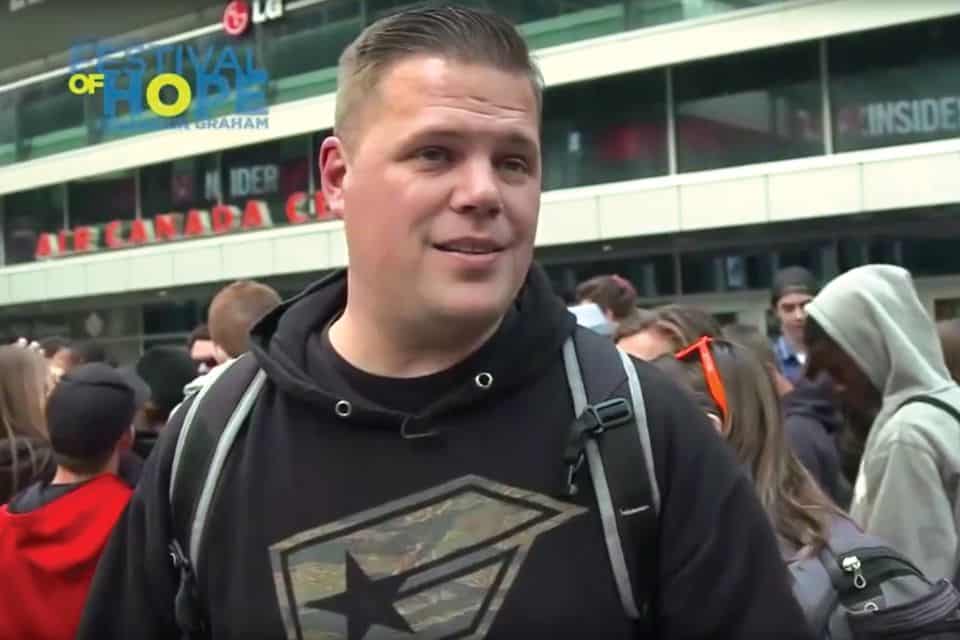 Thousands will look back on the 2014 Greater Toronto Festival of Hope with Franklin Graham as a time of worship, celebration and connection among a multitude of Christian denominations.
To those otherwise skeptical or reluctant to hear the Gospel Message in another setting, it was an open door and an open invitation to Jesus Christ—an invitation accepted by tens of thousands.
For Matt Baker, youth pastor at the Southside Worship Centre in Ajax, Ont., taking a group of young people to the Festival of Hope was a homecoming of sorts.
"There's more need [to share the Gospel message] now then there's ever been."
Matt's story—at least his story as a Christian—began many years before, when he was an 18-year-old attending the 1995 Billy Graham Crusade in Toronto.
"I had just started going to church in January of that year … before that I had never been to church, except for maybe a wedding," Matt recalls.
Matt was invited to the Crusade by new friends in his youth group, and it was an invitation he would accept. He admits, however, his interest in attending was largely from a curiosity to hear the famed evangelist Rev. Graham speak, and to take in some of the top Christian bands of the day.
Little did he know the life-long impact his decision to attend the Crusade would have.
"I remember Rev. Graham gave the call and invited people to stand … I was totally stirred up, but I didn't want to stand up in front of thousands of people. These two girls stood up right near me and I thought, 'I'm not doing that,'" he says with a laugh. "I remember standing up, but as I stood up—and I've never experienced anything like this before—I physically couldn't move my legs.
"One of my friends was actually one of the counsellors, so he came over and he led me to Christ."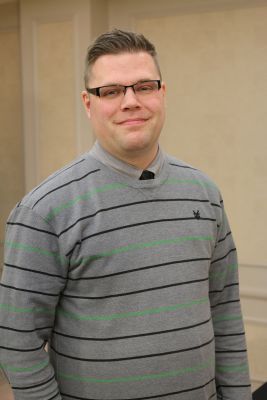 Matt Baker is passionate about sharing the Gospel with others and using every opportunity available to share the hope that he has in Christ.
That first step began Matt's journey, but he would go on to have a pivotal role in the journey to Christ for many other young people as well. Not long after accepting Christ, Matt became involved in youth ministry, and in 2001 he 'went for it,' making his calling into youth ministry his full-time job.
When Matt was approached prior to the 2014 Festival of Hope to become part of the development team, he jumped at the opportunity.
"I told [local Festival organizers] 'you need to know something—this is actually amazing, because that's where I got saved,'" he says. "When I had the chance to give back and jump in to be a part of this team, there was no hesitation at all.
When it was time for the Festival of Hope, Matt didn't just jump in with both feet— he jumped in with a school bus full of young people, eager to share the experience that proved pivotal in his life.
"We filled a school bus … we were a group close to 50," he says.
Matt says what he told his youth group prior to the Festival is the same message that churches across Canada need to understand about the impact of Evangelistic outreach events—regardless the size of community they are held.
"There's more need [to share the Gospel message] now then there's ever been. We need more light and more opportunities to share it," he says. "It's not about the size of a community, it's about the need. Even if it's in a town of 100 people, those 100 people still need to hear it."
Give To Where Most Needed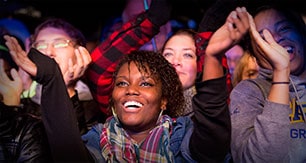 Help us fulfill our mission of proclaiming the Gospel of the Lord Jesus Christ to all we can by every effective means available to us and by equipping others to do the same.