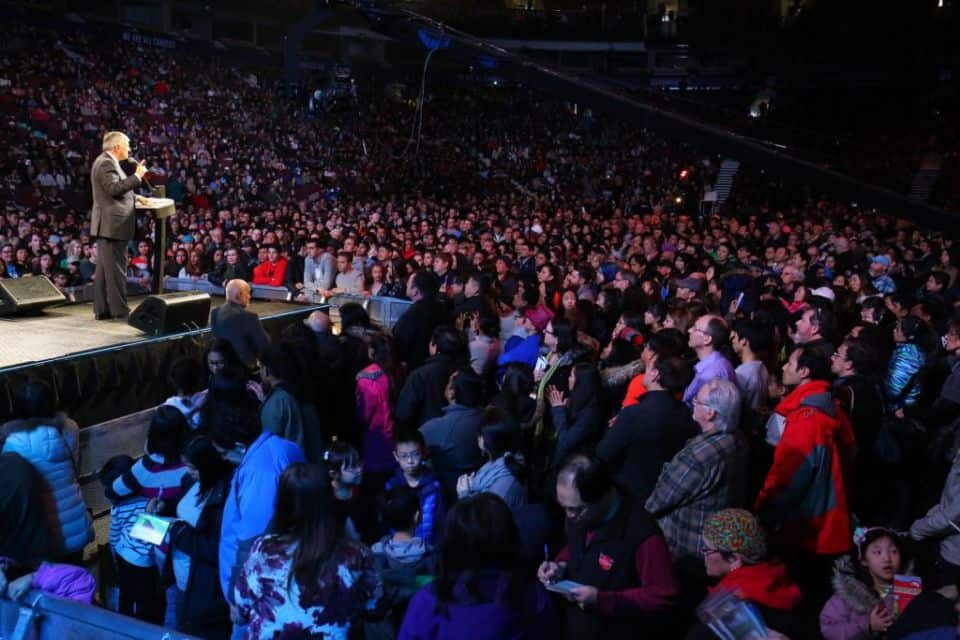 It was the culmination of two years of planning, praying, mobilizing, inviting and more praying—specifically in the final few weeks facing opposition and protestors.
Everything pointed to this singular event, happening on the first three weekend nights in March.
And more poignantly on three moments in time, where eternal destiny would hang in the balance for so many.
Karen Assimes, sitting in the top of the arena where the Vancouver Canucks call home, had seen many Billy Graham Crusades before on TV. But this was different. She could hardly believe what she was seeing. Especially in her home country.
"Tears were flowing down my face," she said after watching hundreds respond to Franklin Graham's invitation at the Greater Vancouver Festival of Hope. "I needed a package of Kleenex.
"For us, this is a historical event. I've never seen a crowd of people flooding the floor. Stuff like this just doesn't happen in western Canada."
Karen and her husband, Dave, drove 350 kilometers from their home in Kelowna—Canada's wine country—braving treacherous British Columbia roads that are often closed for avalanche warnings.
But they made the trek for one particular reason—to support Franklin Graham and the cause of evangelism in western Canada.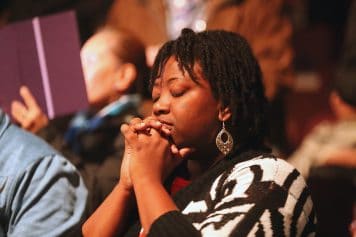 "Maybe you feel small in the eyes of God," Franklin Graham said. "[But] even if you were the only person on this earth, God would've still sent His son to die for you."
"Jesus is alive," Franklin Graham told the crowd of 11,000-plus on Sunday. "He's not still hanging on a cross. He's not still in a grave.
"Will you come to Him tonight?"
And did they ever come. Night after night.
After a weekend that saw more than 34,000 people flock to downtown Rogers Arena and 1,900 make decisions for Christ, the message of the timeless message is clear—evangelism is still alive. Even in Canada. Or maybe especially in Canada.
And that doesn't include an online audience of over 65,000, which reported another 400-plus commitments to Jesus.
"My husband was right there beside me crying as well, tears rolling down his cheeks," Karen said. "It's an overwhelming sight."
Especially in a place like Vancouver, where a small group of protestors gathered on the first two Festival nights, and a group of pastors signed a letter to remove Franklin Graham as the event's speaker.
"We wanted to let people know there are people out there that support Franklin Graham," Karen said of the headlines leading up to the event. "It may not be censorship, but it's on the road to censorship. It's a slippery slope."
And it's also why Karen and Dave are selling their house and family business to go into full-time ministry in their mid-50s. Not the most popular move, but they feel a calling and appreciate those who feel the same.
"You know, Franklin Graham and his father are straight shooters," she continued. "We're not ashamed of Franklin Graham. And we're not ashamed of the Gospel.
"He doesn't say things that tickle your ears. I like that someone still says the truth."
Throughout the weekend, the truth was apparent, from the musical guests—who all spent time relating their own life experience into a Gospel presentation—to the Vancouver choirs and Franklin's message. On Sunday, both Ellie Holcomb and Michael W. Smith shared from their heart what Christ has done.
"You are more loved that you know," Ellie Holcomb said. "[Jesus] didn't come to make bad people good people. He came to make dead people alive."
Franklin Graham talked about Zacchaeus, who climbed up in a tree to get a better view of Jesus walking past. But when Jesus saw him, He asked him directly to come down to talk to Him.
"Zacchaeus came, and he came quickly," Franklin Graham told the crowd. "And that's what I'm going to ask you to do. That same Jesus is passing by tonight."
Legacy of the Gospel
Many of the counselors at this weekend's Festival were giving back after experiencing personal hope at a Billy Graham Crusade.
Some were at the 1984 Crusade in Vancouver; others saw him in Berlin, Germany.
Pastor Rick Burdett and his wife, Chris, were at the 1964 Phoenix Crusade well before moving to British Columbia, where Rick pastors a church in nearby Tsawwassen.
Both Chris and Rick counseled on Sunday night, helping a 42-year-old with chronic health issues, as well as leading an 18-year-old Russian exchange student to Christ.
"Can you tell me about Jesus?" said the exchange student, who came forward with her sponsoring family.
The experience of seeing people in his congregation step up as counselors and boldly share their faith warmed Rick's heart as a pastor. He also felt the opposition helped galvanize the 400-plus churches who were committed to the Festival. And sent them to their knees.
"This is evidence of prayer. And the leading of the Holy Spirit," Rick said. "[The Festival] was exactly what Canada needs."
The same hope found in Vancouver this weekend can be yours today.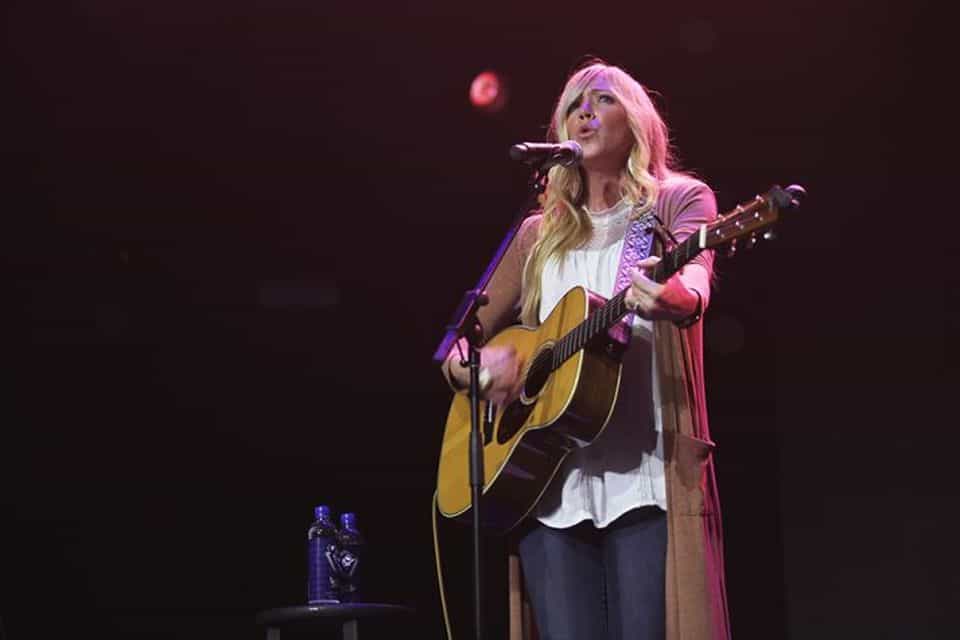 Give To Where Most Needed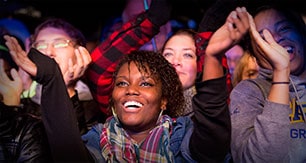 Help us fulfill our mission of proclaiming the Gospel of the Lord Jesus Christ to all we can by every effective means available to us and by equipping others to do the same.