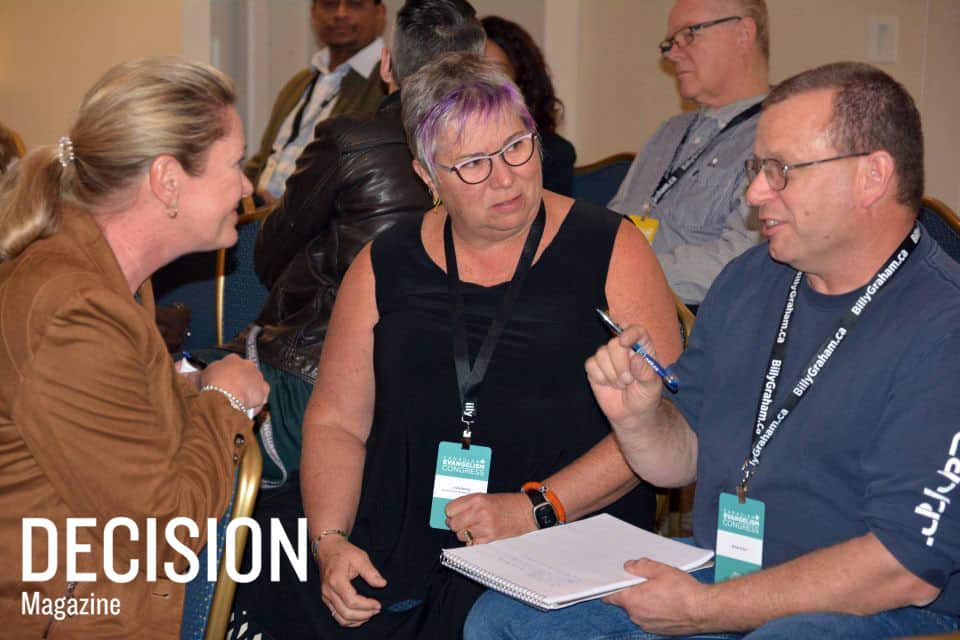 Subscribe to Decision
Get your own subscription, or renewal, or bless someone by giving Decision Magazine as a gift.
SUBSCRIBE NOW
Julia Todd lives in Winnipeg, more than 1,300 kilometers from Edmonton, where the Billy Graham Evangelistic Association of Canada's Canadian Evangelism Congress was held a few weeks ago.
But that distance didn't stop Julia and three other members of her church from making the trip across the prairies to be inspired and equipped to "make disciples of all nations" (Matthew 28:19, ESV).
"Everything's been amazing—the worship, the quality of the speakers, the passion of the attendees," Julia said of the Sept. 25-26 evangelism congress.
Among the speakers who encouraged and taught Julia and about 240 other church leaders and Christians passionate about evangelism were:
Rick and Patti Love, who specialize in connecting with new Canadians
Charles Price, pastor-at-large with The Peoples Church in Toronto
Pastor Mark Hughes of Winnipeg's fast-growing Church of the Rock
David Macfarlane, director of national initiatives for the Billy Graham Evangelistic Association of Canada
Each shared a picture of Canada as an increasingly secular nation, but one with many possibilities for reaching out to the hundreds of thousands of people who come to this country as immigrants or refugees.
Reaching these newcomers for Christ is a challenge for most Christians in Canada, said another congress speaker, Andrew Lau, pastor at a multicultural church in Toronto. "We're not a Canadian mosaic. We are Canadian silos. In Toronto, you go to Chinatown or Greek town or Japanese town."
Julia and her Winnipeg congregation, Gateway Church, have a burden to reach out to new Canadians, and she was excited to receive tools from Rick and Patti Love to connect with them. The Loves have created a three-part plan, through their Calgary church, that guides congregations big and small to:
1. Help immigrants learn to speak English, find a job and, through church social events (such as Christmas or Easter parties), make friends with English-speaking Canadians
2. Introduce them to the Bible as they learn to read English and understand Canadian culture
3. Understand what it means through Bible study classes to repent of their sins and accept Christ as Lord and Savior
Gateway Church started English as a Second Language (ESL) classes this year. Because Julia is leading the initiative, she was grateful to spend as much time at the evangelism congress as possible with the Loves—drawing from their experience to ensure Gateway is serving its ESL students (about 40 immigrants, mostly from Russia) with love and a Gospel focus.The key to the Loves' plan, they say is the second step—introducing newcomers to the Bible through ESL. It serves as a bridge, "as gentle an introduction to Jesus as we can make it," Rick said.
"We tell people they don't have to be a Christian (to move on to the Bible study class), but Jesus is so winsome that as the classes continue, participants say things to us like 'I'm not a Christian yet …'"
Creative approaches to evangelism, like the Loves' ministry, were appealing to Robert Marshall, pastor of Immanuel Lutheran Church in the hamlet of Tomahawk, AB.
"This Congress has sharpened the focus of my preaching—to think more about the lost in my community," he said. "How can I reach them in a way that's not necessarily religious? What I've heard here has helped me understand that evangelism comes in many shapes and approaches."
Whatever shape or approach churches and Christians prayerfully use, Dr. Charles Price emphasized the motivation shouldn't be primarily obedience. "It should be love. Obedience may push us along, but compassion pulls us."
This made lots of sense to Frank Klassen, senior pastor of Trinity Pacific Church in Richmond, B.C.
"We need to have compassion for the lost and see them as Jesus sees them," Klassen said between congress sessions. "God has to soften hearts, and that's what I'm praying for right now." ©2017 BGEA
Give To Where Most Needed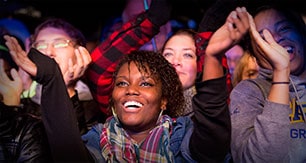 Help us fulfill our mission of proclaiming the Gospel of the Lord Jesus Christ to all we can by every effective means available to us and by equipping others to do the same.