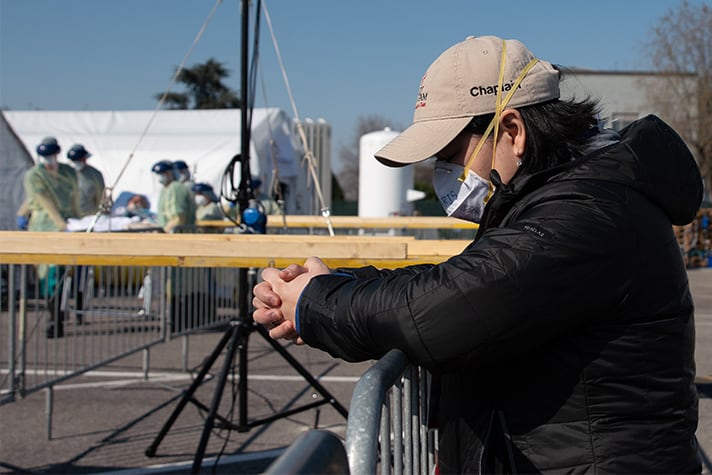 Even as COVID-19 continues to infect people and disrupt economies, it has had a devastating effect on seniors residing in assisted living facilities.
The virus has increased their health fears and forced them into isolation from family and friends. They are among the hardest-hit of all Coronavirus victims and most in need of Christ's unconditional love and compassion.
That's why we are so thankful for generous people like you. Your support has made it possible for Billy Graham Rapid Response Team chaplains to reach out to lonely seniors in desperate need of hope.
Two crisis-trained chaplains, wearing full personal protective equipment, spent three days at Toronto's Nisbet Lodge, providing vital support to the staff pastor. The lodge, like so many seniors residences across the country, experienced a high rate of COVID-19 cases among staff and residents, overwhelming the pastor.
In one case, a chaplain checked in with a struggling female resident who was bedridden with the virus. She was not lucid and was crying loudly.  As the chaplain approached the bed, she started to sing "Jesus Loves Me" to the resident.
As the chaplain sang, she noticed the lady gradually relaxing and listening.  After a few more minutes, she had fallen asleep. The chaplain said a prayer of healing and peace over her and quietly left.
Hymns of praise helping residents
This is one of several instances where singing hymns of praise had a transforming effect on residents. "Let us sing to the Lord; let us make a joyful noise to the rock of our salvation" (Psalm 95:1, ESV).
Another resident, who could be verbally aggressive, was initially hostile until the chaplain revealed her son shares his name with the man and that day was her son's birthday. The resident responded positively and they conversed for 20 minutes. And despite claiming he didn't like chaplains, the man allowed her to visit him the next day. Praise God!
By the time the two chaplains finished at Nisbet Lodge, they had prayed with nearly 80 staff and residents.
We thank the Lord for the gifts and prayers of people like you, which bring Christ's hope to people in crisis. Will you make it possible to train, equip and deploy more chaplains wherever and whenever needed?
Give To Rapid Response Team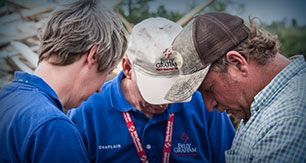 Your gift will provide for the training and deployment of our Rapid Response Team chaplains, who are deployed when natural or man made disasters strike in Canada and abroad. RRT chaplains serve and support hurting people affected by crisis, and share the message of hope found in Jesus.