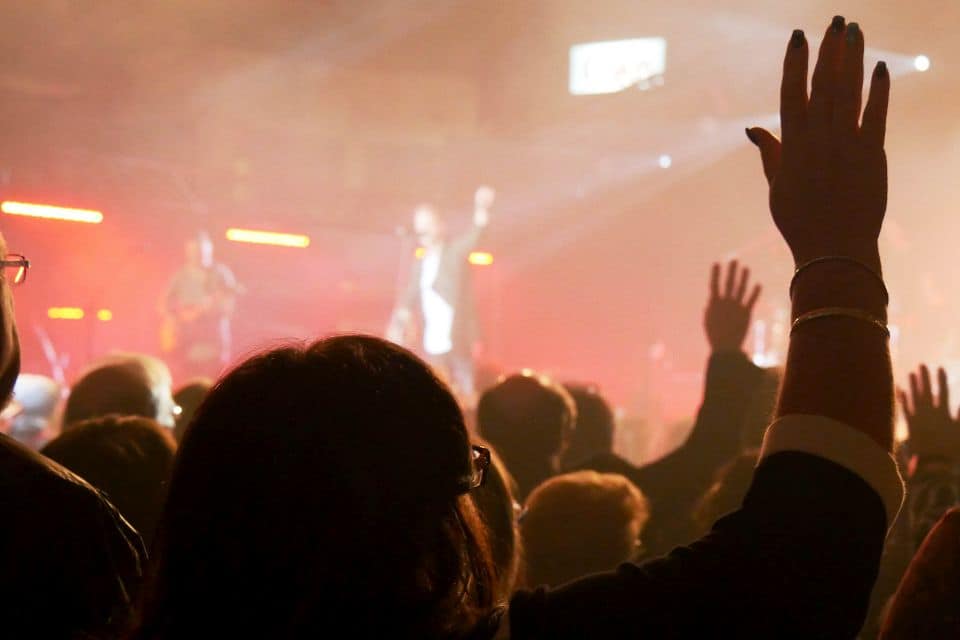 There wasn't a seat left—or a person untouched by the Gospel–in the Joe Byrne Memorial Stadium in Grand Falls-Windsor for the second night of the Celebration of Hope with Will Graham Sunday night.
The crowd turned out in such numbers that the Newfoundland community's indoor stadium—largely used as a hockey arena—was filled to capacity with people sitting in chairs on the floor, in the stands (including those behind the stage), and even the players' benches and penalty boxes.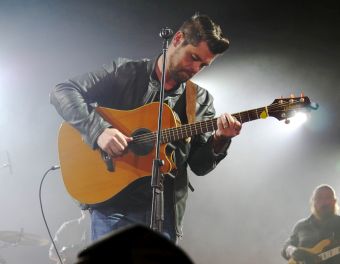 Award winning singer songwriter Jason Crabb performed at the second night of the Celebration of Hope.
"I'm glad to be sitting in the penalty box just to be here," laughed one man.
The large and energetic crowd spent much of its time on their feet, clapping their hands, stomping their feet, and raising their hands in praise to God. The high-energy night was filled with testimony and music from Newfoundland band Sevenview, award-winning crowd favorite the Color, and Jason Crabb, who made his debut performance in the community.
After Crabb prompted the crowd to join in singing Happy Birthday to Will's grandfather, Billy Graham, who turned 98 on Monday, Will took to the stage the way his grandfather has so many times before—to share the message of God's love through his Son, Jesus Christ.
"True freedom is found in being what you are meant to be," Will said. "When we do what we were created to do [living for God] we have complete freedom."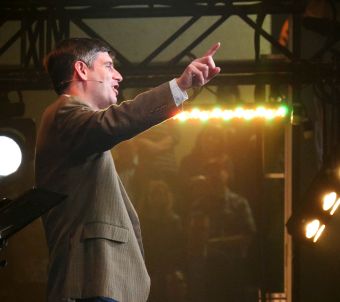 Will Graham invited the audience to accept Christ's gift of Salvation.
Graham said although North Americans have largely turned their backs on God, God won't turn His back on any nation willing to repent and return to Him. The same is true, Will said, for everyone will to turn their lives over to—or back to—God.
"There is nothing you or I can do to get into Heaven on our own. We are all sinners. I am a sinner. That's why God sent His son Jesus to this world, to cover our sins . . . Jesus is God's rescue for you."
Will then invited anyone in the audience who wanted to accept Christ to come forward and accept Him and his eternity-changing gift of Salvation.
People were reluctant at first to make that first step, until a young boy emerged from the crowd and strode confidently towards the stage, where Will congratulated 11-year-old Thomas Reid for his bravery.

11-year-old Thomas Reid bravely accepted the invitation of Christ's Salvation.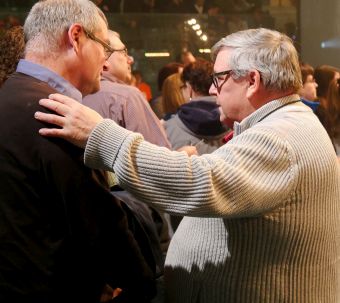 When someone makes a decision to accept Jesus Christ after hearing the Gospel, he or she has the opportunity to come forward and speak with a trained Celebration counselor.
Thomas was followed men, women, and children of all ages either wanting to give their loves to Christ for the first time or to re-dedicate their lives to Him. During the weekend, about 3,200 people attended the Celebration of Hope events, and more than 100—including many children—made commitments to Christ.
"I wanted Him to come into my heart again," Thomas said, in explaining why he re-dedicated his life to Christ. The boy shrugged off any suggestion that his example may have encouraged others to come forward after him. "I just did it because I don't feel about embarrassed about Jesus. I love Him."
"Truly, I say to you, whoever does not receive the kingdom of God like a child shall not enter it." (Mark 10:15, ESV)
Give To Where Most Needed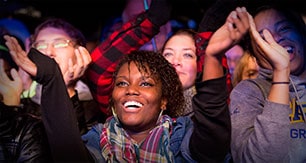 Help us fulfill our mission of proclaiming the Gospel of the Lord Jesus Christ to all we can by every effective means available to us and by equipping others to do the same.