There's nothing quick about a short walk through the streets of New York City with CBS sportscaster James Brown, affectionately known to millions of viewers as simply "J.B."
The Emmy Award-winning studio host of the network's NFL coverage and special correspondent to CBS News is so popular and effusively cordial that it can take 45 minutes to travel three blocks with him in between work assignments.
"He's going to stop and talk with every employee in the hotel," said Tony Dungy, a close friend and former NFL head coach. "People are going to recognize him on the street, and he's going to stop and say hi. My wife says I do that a lot, but he really does. You feel good watching it. That's how you're supposed to interact with people. That's what it really means to let your light shine—but you can't be in a hurry if you're with him!"
At the heart of it all for J.B. is love—first, his love for Christ and, as an extension, his love for people.
"Part of what makes James so special is his tender heart," said his wife, Dorothy. "One time we were stuck in an airport after missing our flight. I was tired and ready to go to the hotel. But he stayed around to make sure people got any help they needed. He's always going the second mile."
And he loves to give, generously tipping waiters, bellmen and cab drivers, and once surprising Dorothy with not one coat, but three.
"I want her to know how much I appreciate her and that I'm not just giving her the minimum, but I'm giving to her abundantly," he said. "She's incredibly supportive, incredibly selfless and incredibly giving herself, so I try to spare nothing when I'm in a position to do for her."
By all accounts, J.B., 63, lives his life consistent with the gentlemanly, God-honoring image he exudes on television. Though he's in the communications business, he says he tries to live by the premise that "well done" is better than "well said."
He has worked on NFL studio sets with retired legends of the game such as Terry Bradshaw, Howie Long and Jimmy Johnson at Fox Sports and Bill Cowher, Dan Marino, Boomer Esiason and Shannon Sharpe at CBS.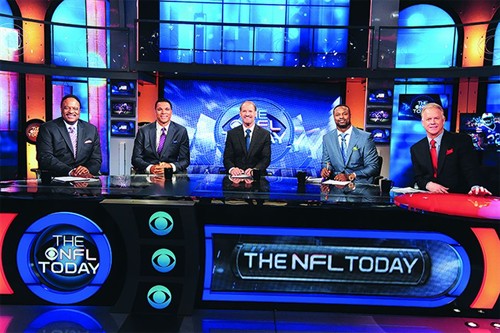 On the studio set: James Brown (far left) with fellow NFL Today commentators (L-R) Tony Gonzalez, Bill Cowher, Bart Scott and Boomer Esiason. Gonzalez and Scott are new additions to the group this season.
J.B., who stands a burly 6-foot-5, has been the host alongside those men for pre-game, halftime and post-game panel discussions. There's lots of analysis, commentary and good-hearted fun, which he approaches from a servant's perspective.
"It's not about me," J.B. said. "I want my colleagues to look good, so I esteem them more highly than myself, as Scripture says [in Philippians 2:3]. I play to their strengths and stay away from their weaknesses."
He's a constant ambassador for Christ in their lives. Bradshaw, who quarterbacked the Pittsburgh Steelers to four Super Bowl titles in the 1970s, reached out to J.B. during a life crisis several years ago. With Bradshaw's permission, J.B. shares the story:
"When Terry was going through his divorce, he came to me and said, 'Can you take me home after the show today? I'd like to spend some time talking with you about some challenges and, quite frankly, would you pray with me?'"
That's in J.B.'s wheelhouse just as much as announcing.
He's an ordained minister steeped in the Bible, often reciting verses from the King James Version to explain his perspective on life. He says his primary goal is to bring the Lord glory by living in submission to the Scriptures.
"I often say that which I do professionally is my avocation, but my vocation is about the Word of God," he said. "I heard a message years ago titled Depth Before Height. It talked about becoming knowledgeable and grounded in rightly dividing the Word, continuing to dig deep in the Word, and applying the Word."
J.B. and Dorothy, who have a married daughter and three granddaughters, have ministered together at their home church. J.B. preaches regularly around the country when it's not football season, speaking to congregations ranging from those in tiny rural communities to metropolitan mega-churches.
"I love the diversity of it," he said.
In July, he preached for the eighth consecutive summer on Homecoming Sunday at Holly Hill Church of Christ in LaGrange, N.C., a small community about 65 miles southeast of Raleigh. His message was titled We Have a Friend in Our Furnace, using the story of Shadrach, Meshach and Abednego in Daniel 3 to illustrate how Jesus is present in the midst of our trials.
Two months earlier, he filled the pulpit at First Baptist Church in Pasadena, Texas, which sits just outside of Houston and averages 4,000 weekly attendees. Using a football analogy in his message, Break the Huddle and Run the Play, he exhorted the congregation to back up their stated beliefs with actions on behalf of God's Kingdom.
He closed with an emphatic Gospel invitation:
"Don't play games with your life … If you were to step outside that door and your life were to end today, do you know where you would spend eternity? And if you don't know the answer to that, you need to come and give your life to Christ."
J.B. grew up in Washington, D.C., the oldest of five children. He confesses to being a "mama's boy." Mary Ann Brown was the glue that held the family together. He called her "The Sergeant" because of the uncompromising way she raised her children.
"She was no-nonsense," he said. "We did not have a democratic household. It was totalitarian, but it was always a place with a heart of love."
Beginning in his mid-teens, J.B. focused intently on playing basketball. He was a high school All-American at Washington, D.C.'s DeMatha High under legendary coach Morgan Wootten. He could have had a scholarship to any of college basketball's most esteemed programs, including UCLA, North Carolina and Duke, but instead wound up at Harvard, at least in part because of his mother's strong emphasis on academics.
After a stellar college career—he's the fourth-leading rebounder and No. 13 scorer in school history—J.B. was chosen by the Atlanta Hawks in the fourth round of the 1973 National Basketball Association draft.
His dream of being a professional player was at hand, but it ended shockingly soon when the Hawks cut him before the regular season started. He spent the next two weeks at home, sobbing, hiding, feeling like a failure.
About a year later, while working for the Xerox Corporation, J.B. reached the spiritual pivot point of his life. On a late-night drive home, he contemplated the shallowness of a partying lifestyle.
"I [realized] that life was empty and that engaging in hedonistic pursuits was unfulfilling and that there had to be more to it," he said.
Recalling Gospel messages he had heard on the radio as a young boy, J.B. gave his life to Christ, and his transformation began.
His broadcasting career launched in 1978 when he became a commentator for the NBA's then-Washington Bullets. He arrived at CBS in 1984, switched to Fox Sports in 1994 and returned to CBS in 2006.
Now, he not only serves as the emcee of CBS' NFL coverage, but also has an increasing role with the network's news operations. He's a regular contributor to 60 Minutes and has filled in for Scott Pelley as the anchor of the CBS Evening News, most recently in July.
"No ifs, ands or buts about it, I'm incredibly humbled and thankful to be trusted and blessed by God like this," J.B. said.
Before every television appearance, he prays with Dorothy, whose strong faith greatly inspires him.
"I want to take nothing for granted," he said. "I want to make sure I'm using the platform God has given me wisely. I want to make sure I'm doing it excellently as unto Him."
He began the practice of praying before each TV appearance with his mother, years before he was married. Those times were foundational in his Christian walk, just as his mom's death in 2006 challenged his faith in a way that nothing else had.
J.B. was so distraught by her passing that he was unable to speak at her funeral. He later received extensive grief counseling.
"The Scripture says weeping may endure for a night, but joy comes in the morning," he said. "It may not be the next morning—it may be six months down the road—but eventually it will come if you're well-founded and grounded in the Word of God."
One of the ways J.B. tries to stay vibrantly connected to Scripture is by participating in a weekly Bible study via a telephone conference call led by Dungy, the former Super Bowl-winning coach with the Indianapolis Colts who now works as an NFL studio analyst for NBC Sports.
It's a rich experience, especially because Dungy is such a gifted Bible teacher, J.B. says. Dungy in turn lauds the mentoring in broadcasting that he's received from J.B.
"I guarantee you that I've learned way more from him than he's learned from me," Dungy said. "Everything he does is from a Christian perspective.
"He's just so different in this business because in television you kind of make it to the top by getting the focus on you. He's taken a completely different approach by helping other people shine, but has still gotten to the top in a different way than the world would. It's so refreshing to see."
For J.B., it's a simple matter of God being faithful to His Word.
"In terms of personal Scriptures that mean a lot to me, looking at what's happened in my life, I realize the truth of Psalm 75:6-7, which talks about where promotion really comes from," J.B. said.
"It says promotion cometh neither from the East nor the West nor the South, but God is the judge and He putteth down one and setteth up another.
"That's inscribed on the tablet of my heart." ©2014 BGEA
Give To Where Most Needed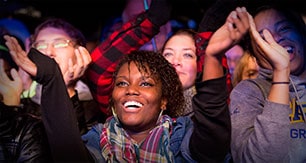 Help us fulfill our mission of proclaiming the Gospel of the Lord Jesus Christ to all we can by every effective means available to us and by equipping others to do the same.