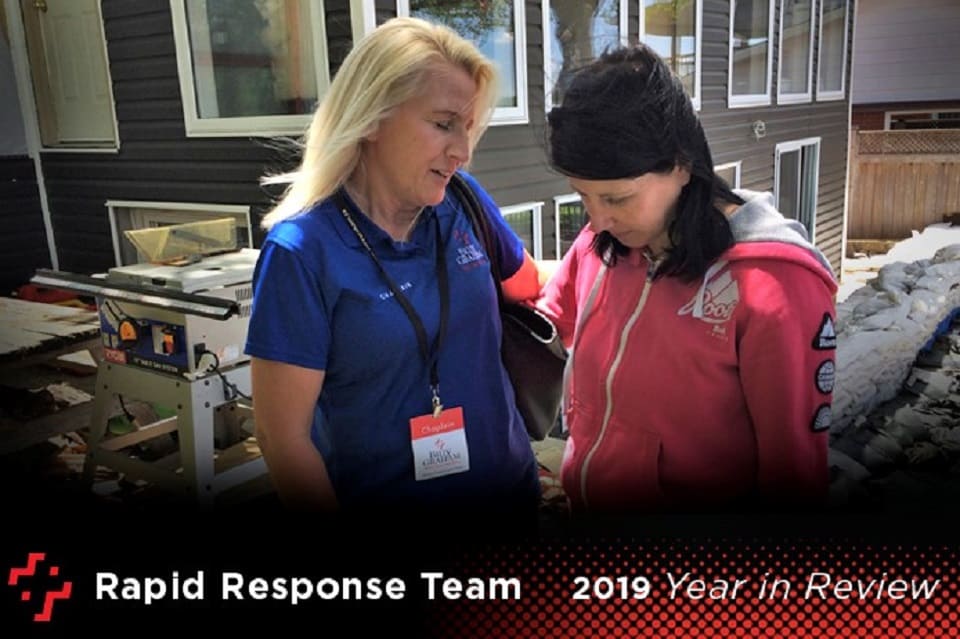 Patricia might have been an angel were it not for her blue t-shirt with the words "Rapid Response Team Chaplain" emblazoned across it.
Thanks to financial support from Canadians like you, the trained volunteer from the Billy Graham Evangelistic Association arrived on the doorstep of Don* and Ruth's* home in Ottawa at just the right time. Patricia had the God-given skillset to minister to the elderly couple, whose home was flooded in May.
As an experienced Alzheimer's disease caregiver, she understood Ruth's pain; Don had Alzheimer's, and Ruth feared he was not capable of making a cognizant decision to become a Christ-follower like herself.
But that day, God provided moments of clarity so Don could have a life-changing conversation with Patricia. After asking if he'd like to hear a story about Jesus, she proceeded to share the Gospel with him using the Billy Graham Evangelistic Association's Steps to Peace With God booklet. Don was hooked.
"I want to pray that prayer"
"I want to pray that prayer," he told Patricia after she asked him if he'd like to start following Jesus and meet Him in Heaven one day. To his wife's joy, Don prayed the prayer and beamed with happiness afterward. He even joked with Ruth, saying, "Are you sure you want me in Heaven with you?"
That is just one 'God story' from our Billy Graham Rapid Response Team ministry in 2019. Read on to discover more ways the Lord has used donors like you to provide emotional and spiritual support to Canadians in the aftermath of disaster and tragedy.
Autumn on Prince Edward Island might evoke peaceful images of colorful leaves and Atlantic waves lapping against red-sand shores. But fall 2019 brought Hurricane Dorian crashing upon the province, tearing off roofs, breaking windows, and toppling century-old trees in the Summerside area.
Sally's* property wasn't spared. A team of Samaritan's Purse volunteers came to help clean up debris from several downed trees in her yard. When Rapid Response Team chaplains arrived, a simple but serious question from one of them made Sally stop and think: What would have happened if the hurricane had claimed her life?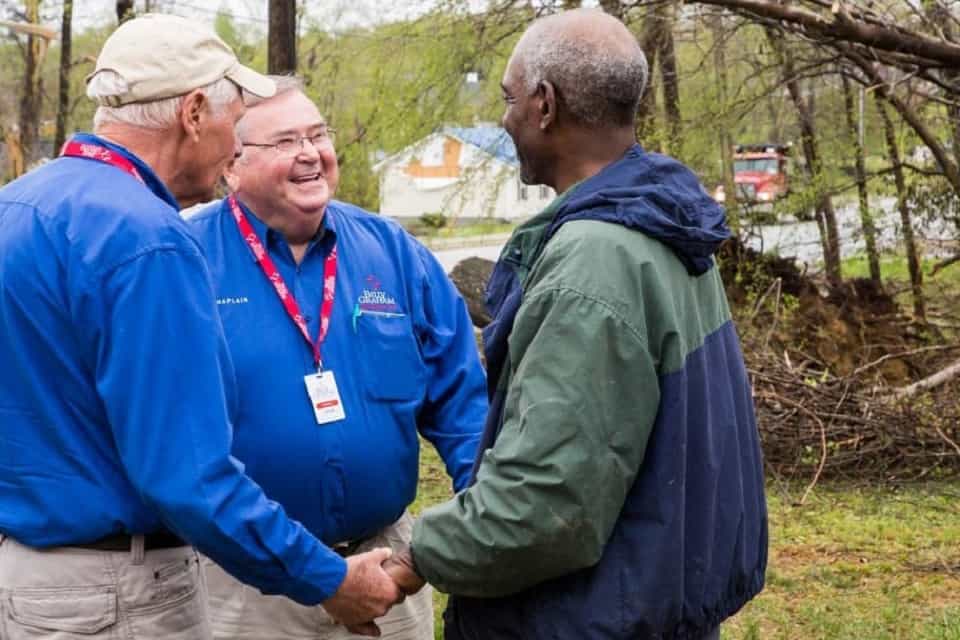 Both of them invited Jesus into their lives
When Sally wasn't sure, the chaplains gave her a Steps to Peace With God booklet and offered to read it with her. In the moments that followed, Sally not only read it, but also invited the chaplains to meet her son. Praise God, both of them invited Jesus into their lives that day, along with an extended family member—and the miracle doesn't end there.
Several youth from a local church were among the Samaritan's Purse volunteers at Sally's house. One of the girls recognized Sally's son from school and invited him to her youth group. The church's youth pastor also promised to help the family get connected, and to disciple them in their newfound faith.
"Everyone then who hears these words of mine and does them will be like a wise man who built his house on the rock. And the rain fell, and the floods came, and the winds blew and beat on that house, but it did not fall, because it had been founded on the rock"
(Matthew 7:24-25, ESV).
God is using your generosity to help Canadians like Don and Sally build their lives upon the Rock. From the east coast to the west—continue reading to learn about another deployment in British Columbia.
Fatal shootings rock communities
Rapid Response Team chaplains are specially trained to minister not only in the aftermath of natural disasters, but also tragedies.
Last spring, they were deployed to Salmon Arm and Penticton, BC, where back-to-back fatal shootings rocked the small and quiet communities.
"It was a privilege for this ministry to have trained chaplains responding quickly to both communities, offering the hope of Jesus, along with spiritual and emotional care," said Rapid Response Team manager Merle Doherty.
In Salmon Arm, the shooting occurred at the Church of Christ where members wrestled the gunman to the ground. Chaplains prayed with and comforted the church's leadership team plus about 30 congregants who witnessed the shooting. In Penticton, the chaplains ministered to the church where two of the victims were members.
Our chaplains also had a powerful presence at prayer vigils held for the shooting victims and their families. They introduced a woman to Jesus Christ at one of them—giving her hope to last beyond this life.
Other 2019 highlights from the Billy Graham Rapid Response Team ministry:
15 deployments
Prayed with and ministered to nearly 3,000 people
4,000 volunteer hours
56 people committed their lives to Jesus
Six people rededicated their lives to the Lord
Your donations help Rapid Response Team chaplains to continue responding when disasters strike anywhere in Canada. Please consider giving generously to this ministry that points hurting Canadians toward the source of their eternal salvation.
*Name changed to protect privacy
Give To Rapid Response Team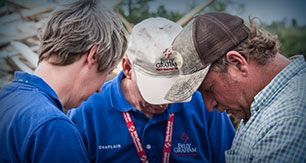 Your gift will provide for the training and deployment of our Rapid Response Team chaplains, who are deployed when natural or man made disasters strike in Canada and abroad. RRT chaplains serve and support hurting people affected by crisis, and share the message of hope found in Jesus.