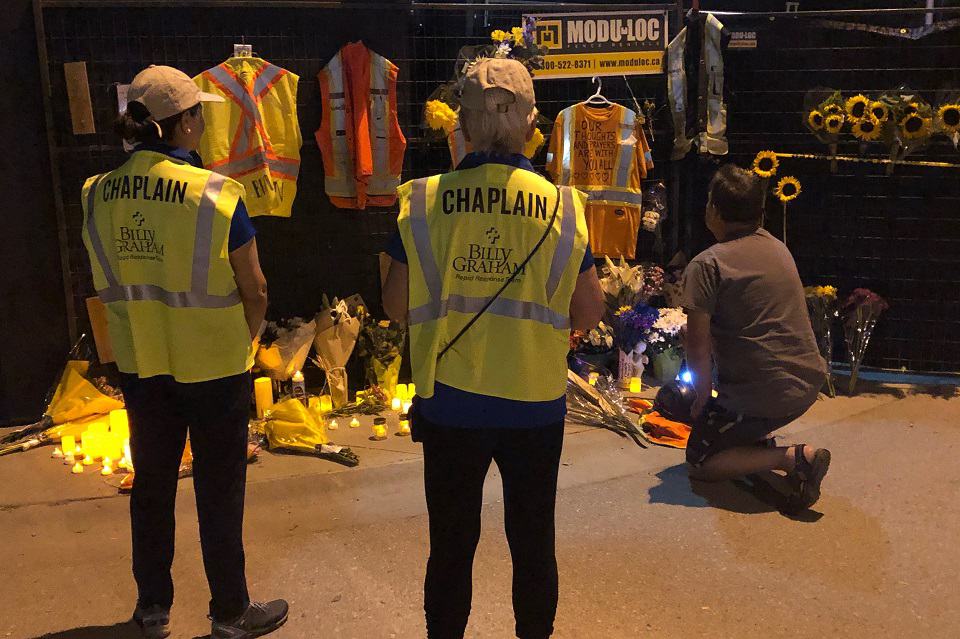 As Kelowna B.C. residents gathered July 17 to mourn the deaths of five people in a crane accident, six chaplains from the Billy Graham Evangelistic Association Rapid Response Team chaplains were at the candlelight vigil.
They were able to be there through the prayers and support of partners like you.
The chaplains spread out amongst the 1,000 people in attendance and offered prayer, spiritual and emotional comfort, and hope because "The Lord is near to the brokenhearted and saves the crushed in spirit" (Psalm 34:18, ESV).
At one point, two chaplains encountered a man who was upset at all that had happened. One of the chaplains sensed a message from the Holy Spirit: "tell him to 'hold the line'." So he did, causing the man to become so emotional that he had to pause.
After composing himself, he told the chaplain that he worked at the site of the tragedy and 'hold the line' was the phrase that workers had been taught in their safety meetings—to hold the line with the person on either side of him.
The man went on to tell the chaplain that hearing the phrase gave him focus and that he needed to continue holding the line with fellow employees. While he declined to hear the Gospel, the chaplains made sure this man knew that the words he heard from them came from God and were an expression of His love.
During the course of the vigil, the Lord made it possible for chaplains to pray with and offer ministry to three families that lost loved ones in the crane tragedy.
"God is so amazingly good in how He orchestrated these families coming to meet us in a crowd of 1,000 people on a congested street," said Merle Doherty, the RRT manager and one of the chaplains in Kelowna.
Through your donations and prayers, you can ensure that more hurting people can hear the Gospel and experience the love of Christ, who "gave himself up for us, a fragrant offering and sacrifice to God" (Ephesians 5:2).
Give To Rapid Response Team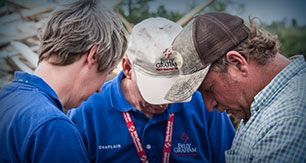 Your gift will provide for the training and deployment of our Rapid Response Team chaplains, who are deployed when natural or man made disasters strike in Canada and abroad. RRT chaplains serve and support hurting people affected by crisis, and share the message of hope found in Jesus.