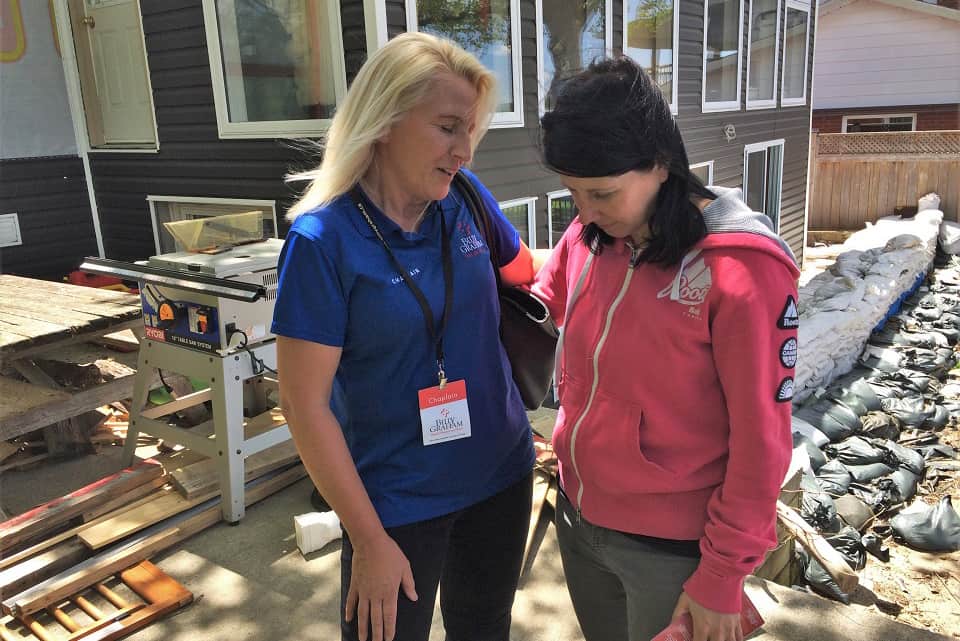 As Ottawa residents struggled to recover from the second Ottawa River flood in three years in May and June 2019, Billy Graham Rapid Response Team chaplains were there to offer Christ's love and compassion.
Our crisis-trained volunteer chaplains accompanied Samaritan's Purse volunteers as they cleaned out flood-damaged basements at no cost to the homeowners.
Chaplains visited one elderly flood-affected couple twice because the husband Don had Alzheimer's disease and Ruth, his Christian wife, needed prayer.
Ruth also needed a loving reminder that "suffering produces endurance, and endurance produces character, and character produces hope, and hope does not put us to shame, because God's love has been poured into our hearts" (Romans 5:3-5, ESV).
Experienced Alzheimer's caregiver
That reminder came powerfully because one of the visiting chaplains, Patricia Preece-Miller, is an experienced Alzheimer's caregiver and could uniquely relate to Ruth's struggles.
During that second visit, Ruth agreed to allow Patricia to ask Don if he'd like to hear a story about Jesus. Don said yes, so Patricia carefully and sensitively presented the Gospel to him using the Billy Graham Evangelistic Association's Steps to Peace With God booklet.
With unusual clarity, Don followed along. When Patricia asked if he wanted to commit his life to Christ "and to have assurance that you'll be in Heaven and meet Jesus there," Don said: "Yes, I want to pray the prayer."
Beaming with happiness
To his wife's joy, Don asked Christ into his life and was beaming with happiness at accepting the Lord's gift of eternal life. He jokingly asked Ruth, "are you sure you want me in heaven with you?" reflecting how he clearly understood his spiritual commitment.
Meanwhile, Patricia, the RRT chaplain, said: "I was rejoicing because it's not often you can get Alzheimer's patients to understand this concept."
During the seven-week deployment in Ottawa, 17 chaplains prayed with almost 725 residents, volunteers, and first responders. God used their efforts to bring five people to faith in His Son.
We praise God for every Heaven-sent opportunity for chaplains to gently proclaim "there is salvation in no one else, for there is no other name under heaven given among men by which we must be saved" (Acts 4:12).
You can be part of this vital Kingdom work through your donations and prayers.
Give To Rapid Response Team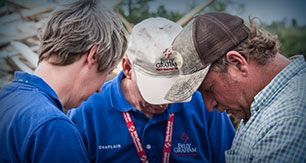 Your gift will provide for the training and deployment of our Rapid Response Team chaplains, who are deployed when natural or man made disasters strike in Canada and abroad. RRT chaplains serve and support hurting people affected by crisis, and share the message of hope found in Jesus.