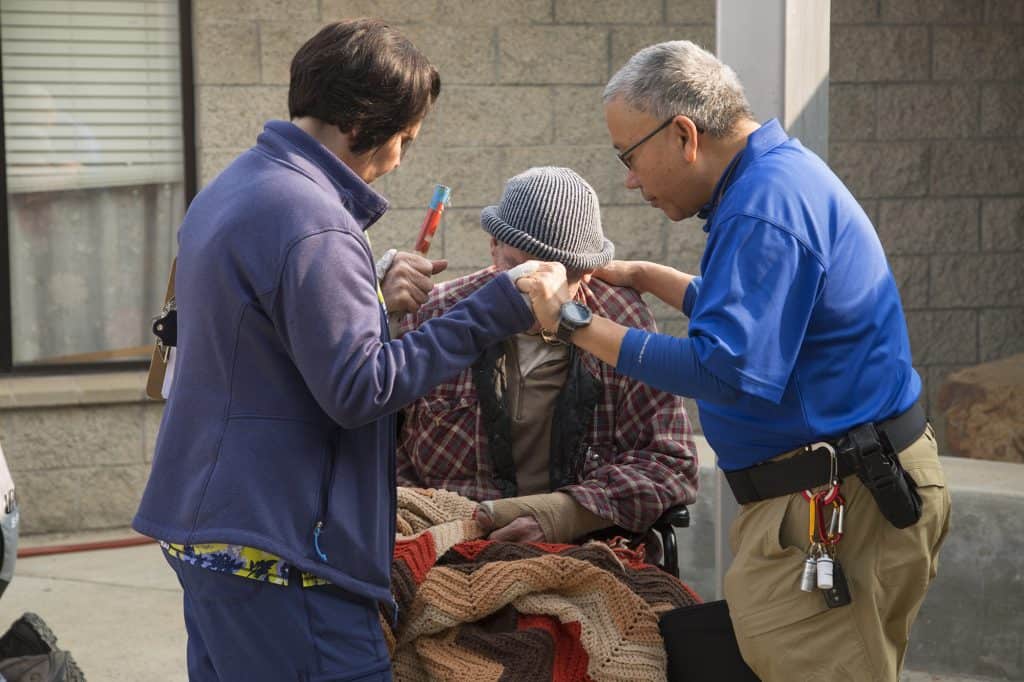 Many people have heard the common phrase "walk through fire," but in the past week tens of thousands of Californians have lived it.
On Nov. 8, flames broke out in the northern part of the Golden State and quickly spread through Butte County. Nearly obliterating the town of Paradise, the inferno has consumed more than 10,000 structures, burned over 100,000 acres and claimed 60-plus lives. Another blaze—known as the Woolsey Fire—began in southern California the same day, taking another three lives less than a week after a nearby mass shooting in a bar.
Firefighters continue to battle the two infernos, and search-and-rescue crews are looking for hundreds still missing. The smoky haze covering surrounding areas is a stifling reminder to residents of their new, uncertain reality.
U.S.-based Billy Graham Rapid Response Team (RRT) chaplains have deployed to offer hope and comfort to those hurting. A team of 11 chaplains is currently in Chico, California, less than 25 kilometers from the hard-hit town of Paradise. The city is packed with thousands of displaced evacuees.
Chaplain Coordinator Pam Rhodes noticed survivors and communities are not acting like they're devastated as much as "they just want to know they're not alone in this—and they're not.
"Jesus will never forsake them," she said confidently.
The following are three short stories of Californians who have turned to God during some of the darkest days of their lives:
'It's Really Sinking In'
Sipping her morning coffee, Kellye Wulff's curiosity piqued as more than a handful of blue-shirted men and women passed by her in a local restaurant.
A week into the Camp Fire, she was used to seeing new groups in the area coming to help.
"Who are you with?" she asked.
The chaplains turned and said, "Billy Graham," explaining their role as a ministry within the Billy Graham Evangelistic Association.
"Thank You, Lord!" Wulff responded. She sat in a booth across from her mother, Anita Harris, and welcomed two of the chaplains to join them as they finished up breakfast.
Crisis-trained chaplain Judy Malavazos slipped into the seat beside Wulffe, who said her house was destroyed in the fire in Paradise.
"We're really sorry you lost your home," Chaplain Coordinator Pam Rhodes said. "We don't know why these things happen. You're in the midst of a circumstance. We just want to assure you that God loves you."
"That's for sure," Wulffe agreed. "He saved my life."
Recognizing that Wulffe had faith in the Lord, Rhodes thought of Isaiah 41:10.
"So do not fear, for I am with you; do not be dismayed, for I am your God. I will strengthen you and help you; I will uphold you with my righteous hand." —Isaiah 41:10
"During these times as followers of Jesus, we have to say, 'God, show me the promise You have for me today,'" Rhodes said. "The world is passing away, but the work was finished on the cross."
Wiping tears, Wulffe said, "I'm so thankful I have Him to lean on.
"It's interesting how people come together in crisis," she continued. "What comes out is what Jesus always wanted … love."
"He's our hope," Malavazos said after hugging Wulffe.
Preparing to leave, Rhodes gave Wulffe a Billy Graham Training Center Bible and a booklet called "When Your Whole World Changes."
"Thank you. It's perfect," she said, her eyes once again brimming with tears. "Jesus just sent you ladies right here to us."
A Foundational Rebuild
Jonathan only relied on himself. After all, he'd been burned in more ways than one.
From the town where the massive blaze originated, he managed to escape. Jonathan shared his fire story with crisis-trained chaplain Mike How.
"The Lord provided for you," How encouraged him.
Jonathan said he didn't believe in "religious stuff," but considered himself a reverend.
Intrigued, How asked what church he belonged to.
Jonathan's answer: "Me."
After listening to Jonathan describe his personal beliefs, How chimed in.
"I'll listen to everything you say if you just give me five minutes to speak, too."
Deal.
For nearly an hour, Jonathan opened up about his views on the church—how people in church mistreated him and his belief that the church's purpose was a fundraising scheme. Fed up, he decided to develop a system of his own.
"It's my turn," How said, pulling out a "Steps to Peace" booklet. The simple tool developed by BGEA explains how to have peace with a loving God.
After flipping through the pages, Jonathan wanted to know more.
"Please explain the rest," he said eagerly. "Please, I really want to know about your Jesus. Finish.
"This is not the Jesus I learned about in church," Jonathan insisted. "Tell me about the real Jesus."
How told him he could have a personal relationship with a heavenly Father instead of working through life. In response, Jonathan prayed to receive God's forgiveness.
"I've got to go look for a biblical church," Jonathan exclaimed. He had a great smile on his face that hadn't been there before.
Beauty for Ashes
Jennifer stepped out of her minivan with her two young sons, each wearing a face mask.
She came to Calvary Chapel looking for help. A resident of Paradise, her home burned to the ground, but thankfully her family made it out of town before the fires "got ugly."
"Do you know of someone who can sift through our things?" she asked Pam Rhodes in the parking lot.
Rhodes took the trio inside and got Jennifer's contact information for Samaritan's Purse. She then made sure Jennifer was OK spiritually.
Jennifer appeared to be holding up, but said she was trying to find the Scripture involving the phrase "beauty for ashes."
Rhodes found it for her: Isaiah 6:1-3.
"The Spirit of the Sovereign Lord is on me, because the Lord has anointed me to proclaim good news to the poor. He has sent me to bind up the brokenhearted, to proclaim freedom for the captives and release from darkness for the prisoners, to proclaim the year of the Lord's favor and the day of vengeance of our God, to comfort all who mourn, and provide for those who grieve in Zion—to bestow on them a crown of beauty instead of ashes, the oil of joy instead of mourning, and a garment of praise instead of a spirit of despair. They will be called oaks of righteousness, a planting of the Lord for the display of his splendor."
"Scripture takes people through the process of what they go through long-term," Rhodes explained as Jennifer became teary-eyed.
A mother herself, Rhodes wanted to make everything right for the young mom but knew she couldn't. Instead, Jennifer will have to learn life's lessons on her own, letting the Lord grow, teach and heal her.
"It's going to be a long road, but take it day-by-day and minute-by-minute," Rhodes encouraged. "Keep your eyes focused on the Word of God and trust in the promises He gives us."
Together, they talked through how God will use the things she's going through to help others, exemplifying the "oak of righteousness" mentioned in Isaiah 61:3.
"I really believe that," Jennifer said.
Despite everything, it seems God is beginning to sift through her heart to reveal trust in Him, bringing beauty for ashes.
Give To Where Most Needed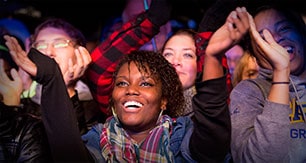 Help us fulfill our mission of proclaiming the Gospel of the Lord Jesus Christ to all we can by every effective means available to us and by equipping others to do the same.