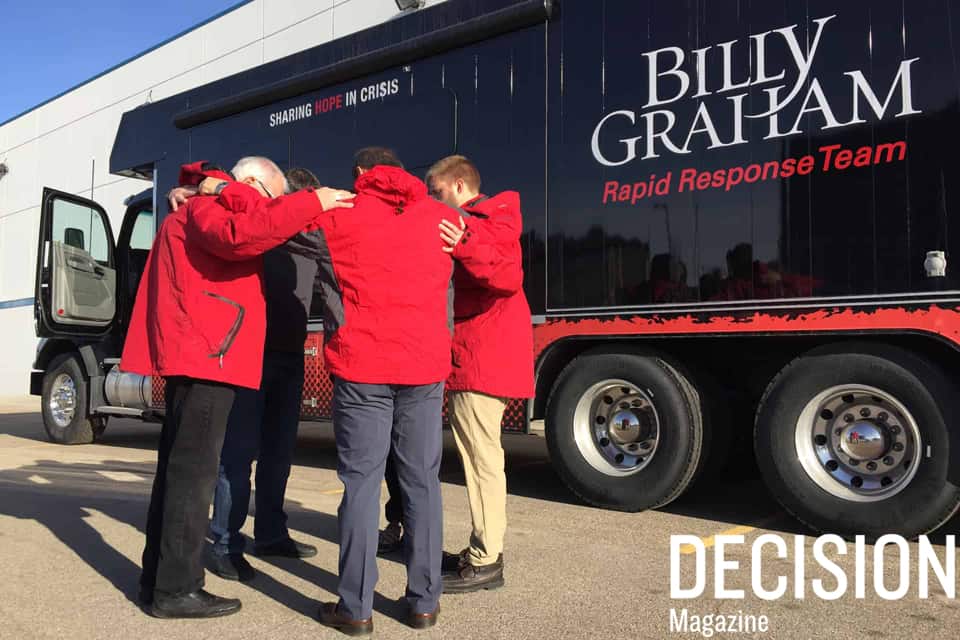 Subscribe to Decision
Get your own subscription, or renewal, or bless someone by giving Decision Magazine as a gift.
SUBSCRIBE NOW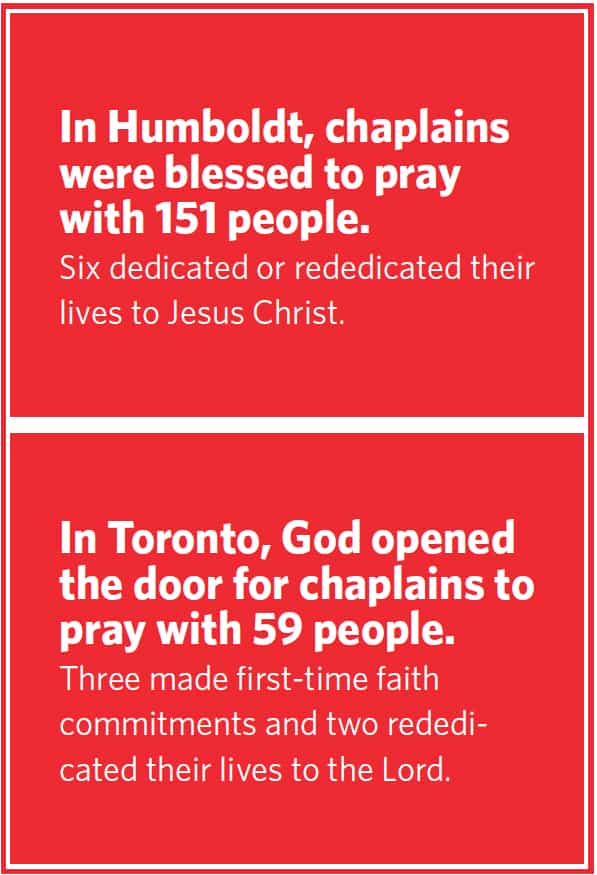 They were horrifying tragedies on a scale rarely seen in Canada. And God put Billy Graham Rapid Response Team chaplains in the aftermath of both.
On April 6, a bus carrying members of the Humboldt (Saskatchewan) Broncos junior hockey team collided with a tractor-trailer near Tisdale SK. Sixteen people died, including the team's coach and the bus driver, and 13 more were injured.
Not only were the 5,800 residents of Humboldt devastated, so were families as far away as Alberta and Saskatchewan, where some of the dead and injured players came from.
Shocked and grieving Canadians had barely had a chance to recover when, on April 23, a man driving a van at high speed ran down pedestrians on a busy street in Toronto. By the time a heroic police officer and his vehicle intercepted the van, the driver had killed 10 people and injured 16.
"The scale of death and injuries has impacted people across the country, and left me and our chaplains heartbroken as we thought of the families of those who died," said Merle Doherty, manager of the Rapid Response Team. "Even now, months later, it's difficult to understand how these tragedies happen."
Thanks to financial support from Canadians, Doherty was able to quickly deploy teams of crisis-trained, experienced Rapid Response Team chaplains to Humboldt and Toronto. They attended memorial events and candlelight vigils, and spent time at makeshift memorial sites where people came to mourn.
Humboldt: Dealing with a "Heavy blanket of grief"
In Humboldt, the chaplains' work was made easier because of the Mobile Ministry Center. It served as a home base for the Rapid Response Team, as well as a place where hurting people could pour out their pain and receive compassionate prayer.
They were given permission to park the large black-and-red truck at the Humboldt Uniplex, a high-profile location where the Broncos play their home games.
"For the most part, a heavy blanket of grief overshadowed the community," said chaplain Holly Lafont, who spent time ministering to Humboldt residents. "There was a collective sense of the need to comfort, support, and care for each other."
An important part of the chaplain's work was to come alongside Pastor Sean Brandow, the Broncos team chaplain. Chaplains were honored to pray with Sean and help him through his own grief so he could offer Christ's love and compassion to others.
Chaplains often found that the bus tragedy caused other emotional and spiritual issues to surface for residents and first responders. One of those first responders shared that he was already dealing with post-traumatic stress disorder from being called to an earlier accident scene. Being at the bus crash site had a profound effect on him.
He was very open to receiving prayer and, when given an invitation to accept Jesus Christ as his Lord and Savior, he said he would accept that invitation in private.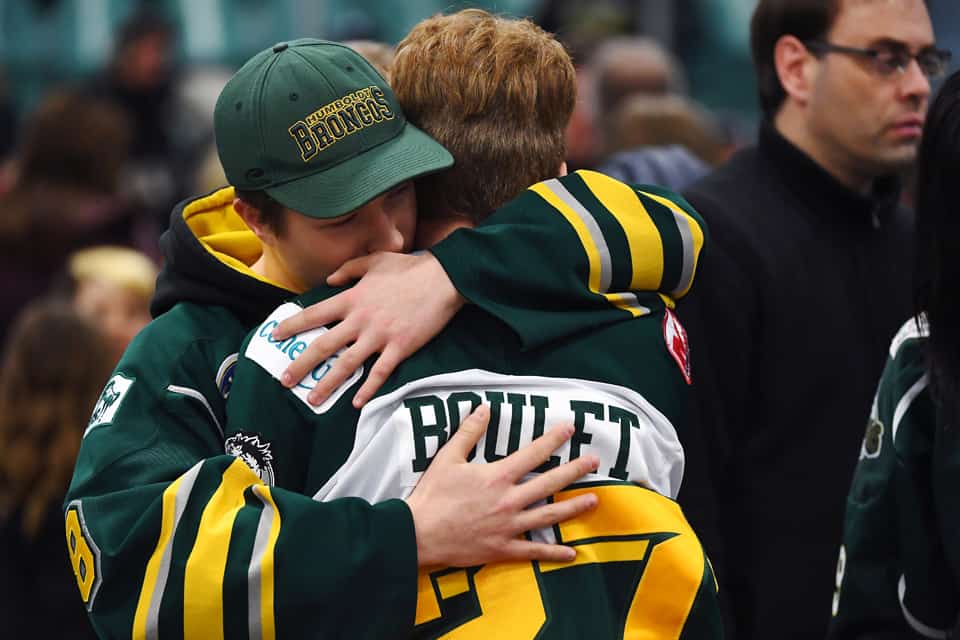 Toronto: Gaining the trust of multicultural mourners
In Toronto, the chaplains' work was complicated by the city's multicultural, multifaith, multilingual population, many of whom knew nothing about Christianity. Don Prince, the Rapid Response Team coordinator, said this required his team to spend much of its time simply being a steady, listening presence at two memorial sites near the van attack.
Eventually, their constant, respectful presence paid off.
"By the fourth day of our deployment, people were actually directing others to us at both memorial sites." Don said. "That was really something, so we began to have a sense that the community was trusting us."
Chaplains were also blessed to have a Bible-believing church, Willowdale Baptist, adjacent to one of the memorial sites. The church opened its doors to anyone needing a drink of water, a bathroom break, a cup of coffee or compassionate prayer. And the pastor knew Don from years before, when they led churches in adjacent southern Ontario towns.
It was at the church where Don's wife, chaplain Judy Prince, connected with a woman in her 50s. She went to one of the memorial sites with the hope that being there would bring closure to a traumatic event from her own past.
That closure didn't happen, so the woman went to the church in an emotional state. Judy noticed her tears and spent time with her, learning she was disillusioned with her faith.
It was a God-given opportunity, so "I spoke to her about how Christianity is all about a relationship with Jesus and she could see that was more desirable (than her previous understanding).
"I gave her our Steps to Peace with God booklet and she allowed me to pray with her before we were interrupted," Judy explained. "I'm praying she read the booklet when she went home."
Please pray for the people of Humboldt and Toronto, and for the families of those who lost their lives in the tragedies. "[The Lord] will wipe away every tear from their eyes, and death shall be no more, neither shall there be mourning, nor crying, nor pain anymore, for the former things have passed away" (Revelation 21:4).
>> Read more from Decision Magazine
Give To Rapid Response Team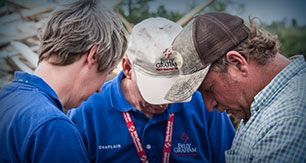 Your gift will provide for the training and deployment of our Rapid Response Team chaplains, who are deployed when natural or man made disasters strike in Canada and abroad. RRT chaplains serve and support hurting people affected by crisis, and share the message of hope found in Jesus.