As Rapid Response Team (RRT) chaplains spread the love and compassion of Christ around the fire-ravaged city of Fort McMurray, AB, even members of other faiths are finding themselves touched by the One who is "the way, the truth, and the life" (John 14:6, NKJV).
A chaplain accompanied Samaritan's Purse volunteers to help a women whose car had broken down. Chaplains listened as she wept and shared some of her story—she had escaped brutal violence in Somalia, was a survivor of domestic abuse, her children were far away, and she feared being laid off from her job.
Chaplains opened a Bible and shared with her the Old Testament story of Hagar, a concubine who bore Abraham's first child and was later cast out into the desert. She was in despair before being rescued by God.
Even though the Fort McMurray woman was from another faith, she was able to relate to Hagar's story. She even asked for a Bible and consented to the chaplain and the Samaritan's Purse volunteers praying for her, that God would become real in her life.
"We are all praying that she will come to know the one true God," said Patricia Kanwischer, leader of the Rapid Response Team in Fort McMurray.
In another instance, a chaplain met a Fort McMurray man who works as a pipe fitter. He committed his life to Christ when he was young, but later turned his back on God. He was waiting for emergency housing when the chaplain approached him.
As the conversation began, one of the man's first comments was "I need to get back to God." The overjoyed chaplain led him in a prayer of rededication and gave us permission to pass his contact information to a local church for mentoring and discipleship.
We expect the chaplains to be in Fort McMurray for at least five weeks, making this the largest RRT response since the 2013 southern Alberta floods. Because of the size of this response, we will need more donations to help as many people as possible.
To support the Rapid Response Team with your prayers and gifts, please click the "Donate Now" button or call 1-800-293-3717.
Give To Rapid Response Team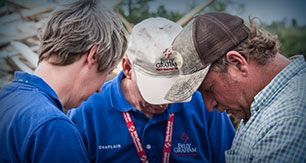 Your gift will provide for the training and deployment of our Rapid Response Team chaplains, who are deployed when natural or man made disasters strike in Canada and abroad. RRT chaplains serve and support hurting people affected by crisis, and share the message of hope found in Jesus.