"Someday you will read or hear that Billy Graham is dead. Don't you believe a word of it! I shall be more alive then than I am now. . . . I will have gone into the presence of God." Billy Graham
It's ironic, but like many millions of Christians all over the world, I can believe that quote by Billy Graham because of Billy Graham.
On Tuesday, as his son Franklin Graham wrote in USA Today, the 99-year-old evangelist "went to sleep in his home in the beautiful mountains of North Carolina and woke up in the arms of Jesus.
"While many around the world mourn his physical death, he is now celebrating the eternal life he spent over 70 years telling millions of people about," said Franklin Graham, who now runs the Billy Graham Evangelistic Association (BGEA) and Samaritan's Purse (SP), an international aid organization with staff around the world.
I am one of the nearly 215 million people Graham preached to at public gatherings in every corner of the globe.
On Oct. 21, 1984, at the invitation of our neighbours, my then-boyfriend Stephen (whom I've been married to for 30 years now) and I went to hear Billy Graham preach at the newly opened BC Place Stadium in Vancouver.
I was eager to see the new stadium because the firm my father owned did the structural steel engineering on the stadium's windows. Those windows are still pretty much the same, but I was mightily transformed after I invited Jesus into my heart.
I expected to hear a small-minded, bigoted stereotype of a Hollywood-portrayed evangelist. Instead, I heard a preacher who referred to stories from that day's local newspapers, who told about the saving power of Jesus in the simplest and humblest of ways.
Before that day, I only knew Jesus as a historical figure. That day, however, I heard that God loves me and everyone else so much that he sent His one and only son to pay the full penalty for all of the sins and mistakes I make in my life. I acknowledged, and still do, that I am a sinner and did not deserve to be in God's presence as a result.
The good news is that I didn't have to pay the penalty for all of my sins because Jesus did it all by suffering on a Roman cross, taking on all of the sins of the world once and for all, and assuring me of eternal life in His presence in heaven.
On Tuesday, I decided to pop by the offices of the Canadian head office of the BGEA and SP in Calgary's northeast.
Great old hymns were playing, photos of Graham were being laid out lovingly and, in the chapel, a 40-minute loop of both colour and black-and-white photographs of Graham through the years played on a screen. There's no question he led a remarkable, adventure-filled, impactful life — meeting kings and queens, impoverished villagers, actors, rock stars and every president of the United States going back some 70 years.
Former president Barack Obama called him "a humble servant who prayed for so many — and who, with wisdom and grace, gave hope and guidance to generations of Americans."
Former president Jimmy Carter said: "Broad-minded, forgiving and humble in his treatment of others, he exemplified the life of Jesus Christ by constantly reaching out for opportunities to serve."
Former president Bill Clinton had the most moving statement: "I will never forget the first time I saw him, 60 years ago in Little Rock, during the school integration struggle. He filled a football stadium with a fully integrated audience (of blacks and whites), reminding them that we all come before God as equals, both in our imperfection and our absolute claim to amazing grace. Billy has finished his long, good race, leaving our world a better place and claiming his place in glory."
Fred Weiss, executive director of BGEA of Canada and SP Canada, said it was an emotional day for the staff at the organizations Graham built and embodies. "We'll miss him but we also know that he has reached his eternal reward," said Weiss, who is inviting everyone to visit at 20 Hopewell Way N.E. to reflect on Graham and have a cup of coffee.
"My guess is the first thing Billy Graham heard when he entered heaven was, 'well done, my good and faithful servant,'" said Weiss. "Who would be more fitting to hear those words?" Indeed.
Weiss says he frequently meets people, like me, who have a story of how they came to a saving faith in Jesus through Billy Graham.
A faith that bettered our lives and makes us certain of our own eternal reward and the ability to say with certainty: Billy Graham is not dead. He is more alive than ever.
Give To Where Most Needed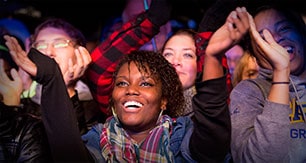 Help us fulfill our mission of proclaiming the Gospel of the Lord Jesus Christ to all we can by every effective means available to us and by equipping others to do the same.