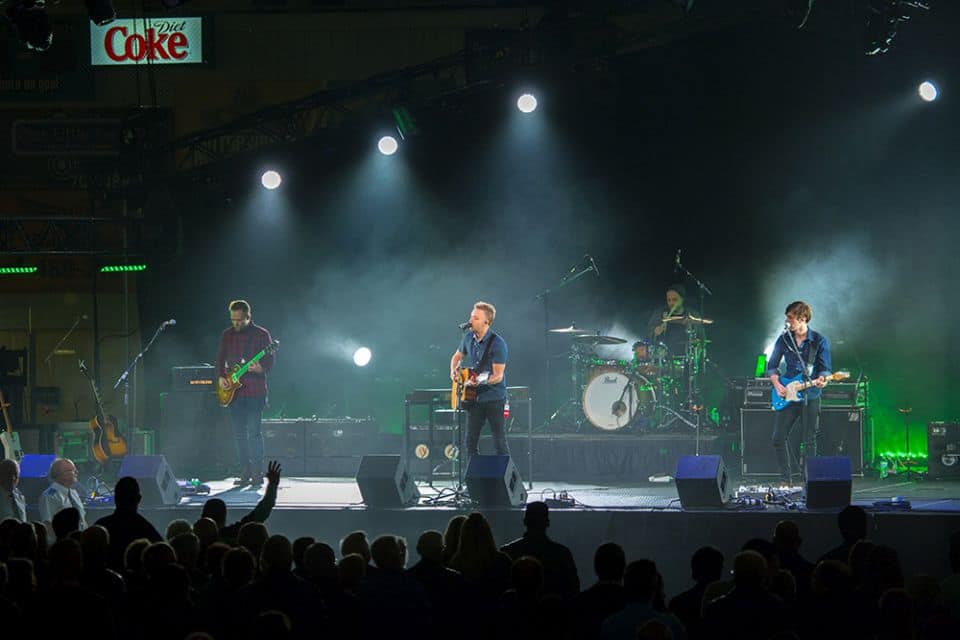 It was a test of faith and courage for organizers and audience alike during the Billy Graham Evangelistic Association of Canada (BGEAC)'s Celebration of Hope in Grand Falls-Windsor Saturday.
During the first night of the two-night Celebration, about 900 people filled the Joe Byrne Memorial Stadium's seats on the floor and in stands. They listened to top Canadian Christian artists­ Manafest, the Color, and the City Harmonic deliver high-energy music with a faith-filled message.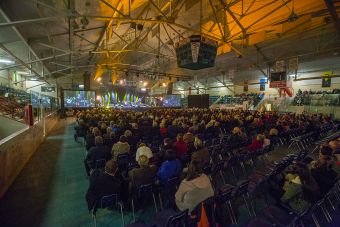 A full house packed out the Joe Byrne Memorial Stadium in Grand Falls-Windsor, NL.
Then Will Graham provided an honest but lovingly direct Gospel presentation to the attentive crowd. Drawing from his own experiences and life lessons Will said far too many people dangerously believe they are 'good enough' before God without accepting Jesus as Savior.
"This is the most important decision you'll ever make in life and I can't make this for you," he pleaded with the crowd. "I promise it will take guts for you accept Jesus publically. Why publically? Because Jesus was hung on a cross in public to die for you. He wasn't ashamed of you."
In response, one by one, more than 60 people came forward to give or re-dedicate their lives to Christ.
Among them was 17-year old Megan, who drove for an hour from Gander to attend the Celebration.
"I felt like I was saved for a number of years, but truthfully I have been going in the wrong direction for quite a while and wasn't going to church," Megan says. "Now I feel like I've made a line in the sand—I'm going to follow Jesus before I make any more bad decisions and I want to spend my life serving the Lord."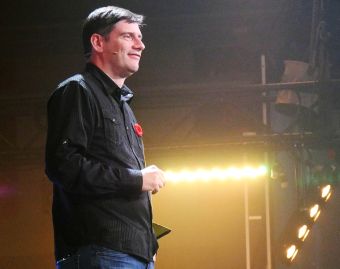 Will Graham, grandson of Billy Graham, shared the Gospel message at the Celebration of Hope.
Megan says she knows the days and weeks ahead will be difficult because she is the only one among her friends and family in a deep relationship with Christ. But after receiving the encouragement she needed from Will's message, from the music, and from, Manafest's testimony, Megan is ready to take on the world, as she prepares to graduate high school and an unknown future.
"I feel better tonight than I have in a long time . . . I feel strong enough to face the world and say 'my name is Megan and I'm a Christian.'"
Earlier Saturday, in the same venue, more than 400 children and their parents enjoyed KidzFest—the important component of BGEAC's Celebration ministry that is focused solely kids.
Mike Ball, local chairperson for the Grand Falls-Windsor Celebration of Hope, said in the days leading up to the Saturday and Sunday night outreach events, he wasn't sure how many people would attend.
"We're a pretty heavily churched region . . . but that doesn't mean that people are really that engaged, and apathy can set in," said Ball. "When you try to set a fire to people, it has been a slow build."
After seeing 400 local people attend KidzFest, and another 900 there on Saturday night to hear Will's message, Ball said: "I was really challenged (by) how small was my faith that I worried the venue might not be filled. Maybe I need to re-think my expectations."
You can start a new life, too. Begin here.
Give To Where Most Needed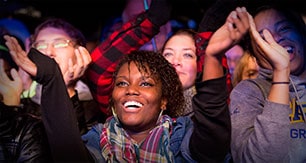 Help us fulfill our mission of proclaiming the Gospel of the Lord Jesus Christ to all we can by every effective means available to us and by equipping others to do the same.