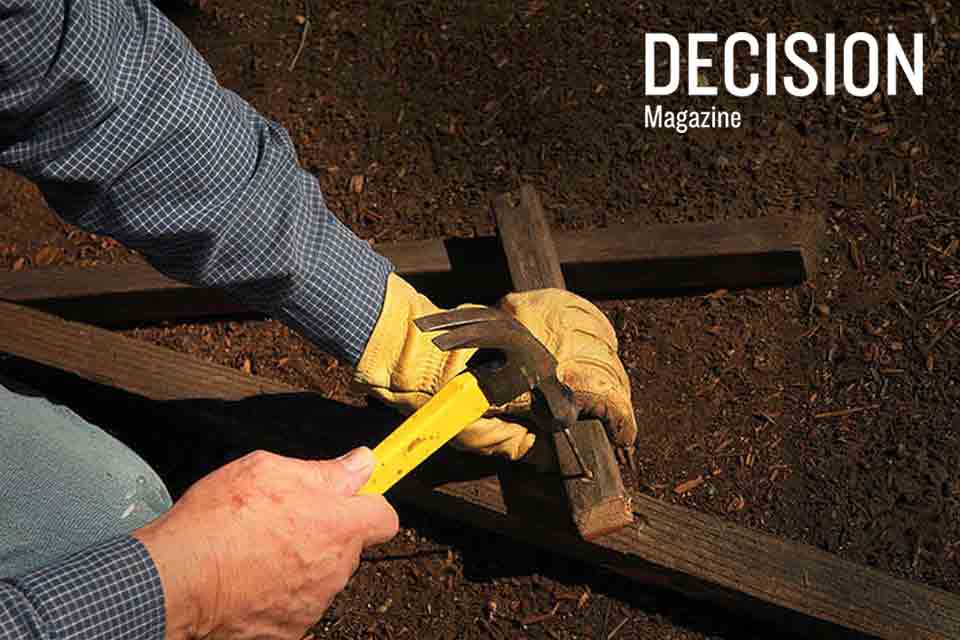 A pastor was building a wooden trellis in his backyard. As he worked, he noticed a neighborhood boy watching him. The boy said nothing; he just leaned against the wall and watched. The pastor kept at it, thinking the kid would get bored and leave, but he didn't. Finally, the pastor set his hammer down and asked, "So, are you just trying to get some gardening tips?" The boy answered, "Nope. I'm just waiting to hear what a preacher says when he hits his thumb with a hammer."
Subscribe to Decision
Get your own subscription, or renewal, or bless someone by giving Decision Magazine as a gift.
SUBSCRIBE NOW
It's a good question, but more than that it brings up a good point: The world is always watching us. The mic is always on and the camera is always rolling. People want to find out what makes a Christian tick—or ticked off! Sometimes when I go out in public, I can feel the eyes on me and see people whispering—That's the preacher guy. I know he can preach, but how will he treat a server in a restaurant? Will he share the bike path? Will he wipe down the gym equipment?
That's what Peter has been telling us in his epistle. As believers, we are being watched. And as we respond to the government, our family and fellow believers, we are to be tenderhearted, loving and non-retaliatory. These traits can open doors for us to talk about what makes us behave this way. But what happens when our goodness is met with grievance? Peter offers us four truths, which he set up with two options: either you do good and you're left alone, or you do good and you're mistreated.
Normally, Goodness Is Profitable
Typically, doing good will work out for you. Peter implied that when he asked rhetorically, "Who is he who will harm you if you become followers of what is good?" (1 Peter 3:13) Even the greatest opponents of the Gospel won't hinder people helping other people. Helping the sick, the sanctity of life, and human rights are concepts that originate from the Bible.
Eventually, Persecution Is Inevitable
However, doing good doesn't guarantee a hassle-free existence. Eventually, because you are the light of the world and you shine your light into a dark world, there will be some kind of problem. The world will tolerate you for awhile, but eventually it will persecute you.
Why? Because the world is used to the dark. If you sit in a dark room long enough, it hurts when someone turns on the light. Look at Jesus: He preached the truth in obedience to the call the Father had put on His life, and it was for preaching that truth that He was killed. At some point, someone is going to ask you why you act the way you act. When you tell them it's because of Jesus, the sparks will start to fly. Don't be surprised! As Jesus said, "They would not be guilty if I had not come and spoken to them. But now they have no excuse for their sin" (John 15:22, NLT).
When you even imply a Gospel that includes accountability for sin and Heaven or Hell awaiting all people, the world won't be happy about it. Only the message of Jesus says that you can be set free from your sin and spend eternity in Heaven with God. But it is an exclusive message, and because of that, people will resist it and go after the messenger. That's why Peter, quoting Isaiah, said, "But even if you should suffer for righteousness' sake, you are blessed. And do not be afraid of their threats, nor be troubled" (1 Peter 3:14). He no doubt recalled Jesus' promise in Matthew 5:11, "Blessed are you when they revile and persecute you, and say all kinds of evil against you falsely for My sake."
But remember, persecution shouldn't be the result of bizarre, obnoxious behavior—God is looking for people who carefully and respectfully listen to unbelievers and then speak the truth in the same manner.
Practically, Reasons Are Beneficial
It would seem that since persecution is inevitable, it would be easier to keep quiet. But Peter didn't let us off the hook: "Sanctify the Lord God in your hearts, and always be ready to give a defense to everyone who asks you a reason for the hope that is in you, with meekness and fear" (1 Peter 3:15). Since people are going to ask you why you believe what you do, be ready to share.
How? First, "sanctify the Lord God in your hearts." Before you go out and face the world, make sure that you are inwardly in the right spot—affirming your commitment that Jesus is your Lord. Then you'll be ready to give a defense. The word for defense in Greek is apologia, from which we get the words apology and apologetics. An apologia was a formal verbal defense—a reasoned argument in favor of something. It was a courtroom word. Peter was implying that we are always in a courtroom: the world.
Every day, people all around you wrestle with spiritual issues. What you say can be deciding factors in their choices. Unbelievers have really good questions; Christians should have equally good answers. Know why you believe what you believe.
Second, do it with "meekness and fear." Carefully articulate the truth of the Gospel with the sort of humility that attracts rather than repels. Remember you're not trying to win an argument but save a soul.
Inwardly, Conscience Is Indispensable
There is no greater possession than a clear conscience. As Peter said, we should have "a good conscience, that when they defame you as evildoers, those who revile your good conduct in Christ may be ashamed. For it is better, if it is the will of God, to suffer for doing good than for doing evil" (1 Peter 3:16-17).
Your conscience is that divinely implanted mechanism whereby you either feel accused or excused. At salvation, your conscience is cleansed (see Hebrews 9:14). But you have to guard it carefully and win the inward war with sin. Peter's point is that a clear conscience will help you face a hostile world. People may accuse you of all sorts of things, but when you have a clear conscience, you can be bold.
In 1999, Australian missionary Graham Staines and his two young sons were burned to death in their car in India. Staines had served among the poor and lepers since 1965. His widow, Gladys, wrote a letter that was published in every newspaper in India. She said, "I have only one message for the people of India. I'm not bitter. Neither am I angry. But I have one great desire: that each citizen of this country should establish a personal relationship with Jesus Christ who gave his life for their sins … Let us burn hatred and spread the flame of Christ's love."
Even bereft of her husband, she chose to see the situation as an opportunity to witness to millions of souls. How? Because of her urgency to do good, commitment to Jesus as her Lord, her pure conscience before Him and the boldness He gave her to speak the truth after so great a loss. Holiness met hostility with a grace beyond understanding, but not beyond grasping. ©2015 Skip Heitzig
Unless otherwise noted, Scripture quotations are taken from the Holy Bible, New King James Version. The verse marked NLT is taken by permission from the Holy Bible, New Living Translation, copyright ©1996 Tyndale Charitable Trust, Tyndale House Publishers, Inc., Wheaton, Ill.
Give To Where Most Needed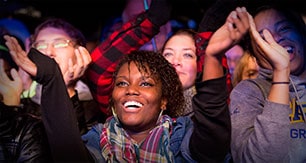 Help us fulfill our mission of proclaiming the Gospel of the Lord Jesus Christ to all we can by every effective means available to us and by equipping others to do the same.