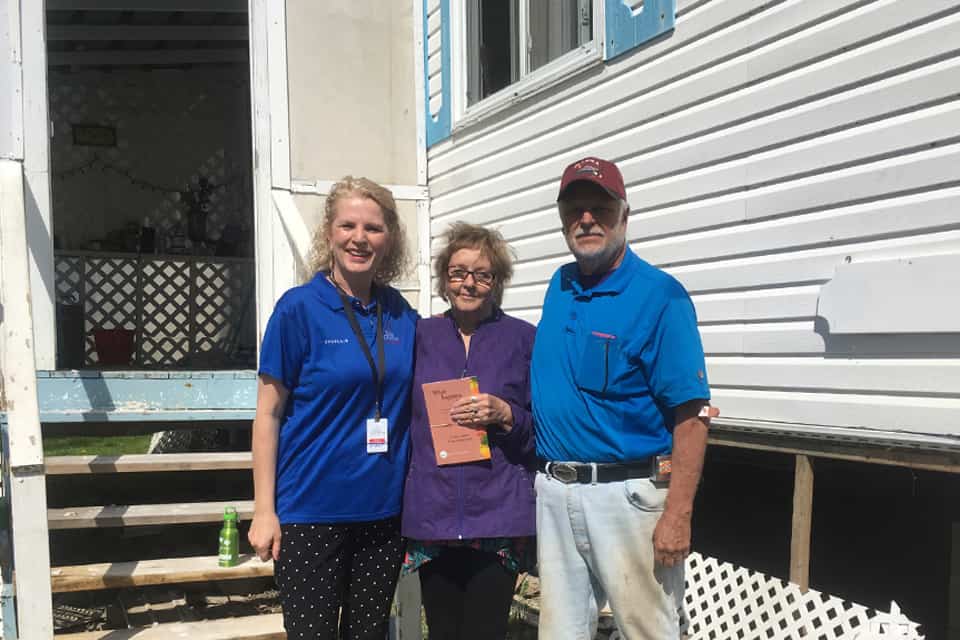 As they drove into the yard of the home in New Brunswick, Billy Graham Rapid Response Team chaplains could smell the musty aroma that lingered in the air after the Saint John River flooded, damaging hundreds of residences in the Fredericton region.
"It's so overwhelming, it's so overwhelming," said 72-year-old homeowner Stan. He spoke while looking at the water-damaged possessions that Samaritan's Purse volunteers had moved out of his house and piled at the end of the driveway for pickup.
This is the fifth time since 2008 that Rapid Response Team chaplains and Samaritan's Purse volunteers have teamed up to provide physical, spiritual, and emotional relief to flooded New Brunswick homeowners.
Stan and Ivy, his wife, lived in their home for more than 40 years, rebounding each time the river flooded and filled their basement. After each flood, they had their home raised higher from the ground, thinking it would keep them safe from the next round. So this time they felt a sense of betrayal.
Chaplains Cindy Martin and Shirley Ferris asked them basic questions such as how they were holding up, whether they were eating regular meals and staying hydrated, and if they were getting enough sleep.
Along the way, the chaplains spoke about the motivation for their work – eternal, life-changing faith in Jesus Christ, "the Word [who] became flesh and dwelt among us" (John 1:14, ESV). In the course of their conversations, Shirley shared BGEA of Canada's Steps to Peace with God booklet.
When given the opportunity to pray to receive Christ, Stan and Ivy asked if they could recite the prayer together. The chaplains assured them they could, so they prayed in unison. When they were done, Cindy said, "Ivy plucked the booklet from Shirley's hand and clutched it to her chest. It was a precious sight."
"Their faces beamed and hope filled their conversation. I could see the transforming power of Jesus before my very eyes."
All of this happened in minutes and Cindy, who was on her first deployment as a Rapid Response Team chaplain, wondered if it was authentic. "Was their commitment genuine? I wrestled with feelings of guilt for my unbelief, but I just wanted to know that it was real," she said.
Cindy's answer came two days later when she and Shirley visited Stan and Ivy again to give them Billy Graham books and discipleship materials.
"Stan and Ivy's circumstance had not changed, but their previously slumped shoulders now defied the weight they had been carrying," Cindy said with joy and relief. "Their faces beamed and hope filled their conversation. I could see the transforming power of Jesus before my very eyes."
Christ followers like you can be part of this vital Kingdom work when you partner with the Billy Graham Evangelistic Association of Canada through your donations and prayers. Please link arms with us so that together, we can offer weary disaster victims the God who is "near to the brokenhearted and saves the crushed in spirit" (Psalm 34:18).
Give To Rapid Response Team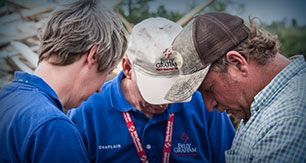 Your gift will provide for the training and deployment of our Rapid Response Team chaplains, who are deployed when natural or man made disasters strike in Canada and abroad. RRT chaplains serve and support hurting people affected by crisis, and share the message of hope found in Jesus.