Maria grew up fearing God.
Whenever life became hectic or too much to bear, she would travel the world. It was her escape, her attempt to find peace.
Upon retiring, Maria got herself a dog named Marley to help cope with her feelings of loneliness.
After six wonderful years together, Marley became sick. When he passed away, Maria felt angry at God and went into a deep depression.
Determined to find lasting peace, Maria tried meditation, counselling, and even travelled to Israel seeking answers. She tried everything, but she could not find the peace that she desperately craved.
Then one lonely Christmas, Maria saw a one-minute commercial featuring Franklin Graham. That's when she accepted God's invitation to begin an eternal relationship with Him through His Son, Jesus Christ.
After making this life-changing decision, Maria visited our website where she was guided to sign up for a free online discipleship course through our Search For Jesus ministry.
Maria was partnered with a volunteer discipleship coach, Suzie, who journeyed through the course with her. "She was patient and she was so encouraging," said Maria. "I can't say enough about having coaches to help us."
"With the help of my dear coach, having her to guide with the help of the Holy Spirit, I have been able to get to know my Jesus at the time I desperately needed Him," said Maria.
Upon completing the course, Maria was encouraged to find a local church where she could continue building her relationship with Jesus. Using our online church locator, Maria found a Bible-believing church nearby where she now attends weekly.
"Thanks to the encouragement of my coach and studying the Word with her, I have two Bibles now, which I read every day," she said.
Many more people like Maria visit our Search For Jesus website. They need a volunteer to help guide them to Jesus Christ. Will you join our team and introduce them to the Prince of Peace?
"It's peace—knowing that there is a God who loves me," Maria declared. "I see Him as my Father standing there with His arms open, waiting for me to come run to Him. And to me, that means the world."
Give To Internet Evangelism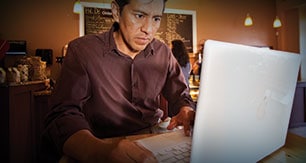 Help hurting people find Jesus online by supporting our internet ministries such as PeaceWithGod.net. Your gift helps us recruit and train e-coaches, buy advertising that promotes this website online, and follow up with Canadians who make online faith commitments.