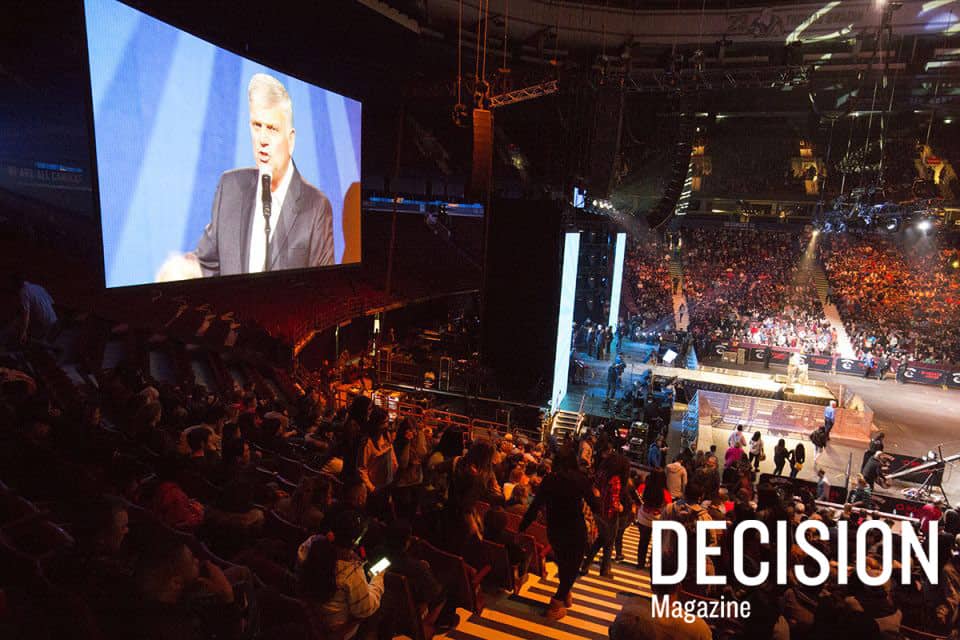 In Vancouver, a thriving coastal city known for its liberal culture, a dozen or so protestors made little difference to the 34,000 people flocking to the Rogers Arena, home of the National Hockey League's Canucks, to hear the Gospel over three nights. Nor did they keep hundreds from finding forgiveness and new life in Jesus Christ.
The Vancouver Festival of Hope with Franklin Graham was the focus of more than two years of prayer and planning and involved more than 400 evangelism-minded churches in western Canada. The churches joined hands to bring Gospel hope to one of the world's most secular cities.
Those who had heard Franklin preach before got what they expected: a clear, uncompromising call to repent of sin and come to faith in Jesus Christ, in exchange for redemption, a new life and the promise of eternity.
Subscribe to Decision
Get your own subscription, or renewal, or bless someone by giving Decision Magazine as a gift.
SUBSCRIBE NOW
"God loves you. He loves you," Franklin repeated emphatically on the opening night of the March 3-5 Festival. All the while, protestors held signs outside the arena accusing Festival leaders of being unloving because of their Biblical stances on sexuality and gender. Franklin continued: "But we have a problem. We have sin—and sin has separated us from God."
Yet, by the power and completed work of Jesus Christ on the cross 2,000 years ago, sin past, sin present and sin future can be wiped from the books—forever, Franklin told the crowd.
By the final night, more than 1,900 people had responded to the invitation, with almost 1,400 making decisions to accept Christ.
Giulio Gabeli, the Festival's executive leader and pastor of Westwood Community Church in the suburb of Coquitlam, said the opposition from a few influential people, including the Vancouver mayor, turned out to be a blessing to Christians involved in the event.
"Are we afraid to preach the Word of God, or are we emboldened to preach the Word of God?" Gabeli asked. "I believe that because of the Festival of Hope, those who have participated have been emboldened to evangelize even more."
There is much Gospel work to do in Vancouver, a city Gabeli described as "very hedonistic." Like much of North America, there is an epidemic of drug addiction, prostitution and homelessness. Several residents also mentioned racial tension among the mosaic of ethnic groups calling Vancouver home, and loneliness is a prevailing problem as well, according to surveys—even though Vancouver is one of the most densely populated cities in North America.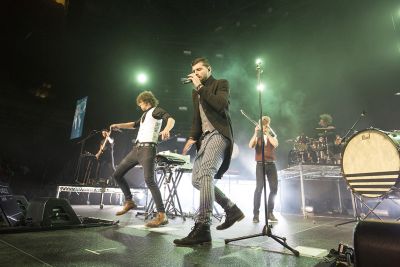 Christian Band For King & Country was one of several artists who led worship at the Greater Vancouver Festival of Hope with Franklin Graham.
"The challenge, very simply, is that we are a very secular city," Gabeli said. "And it's a port city, and because of that we attract a lot of people who do not know the Lord."
In fact, the Vancouver Sun reported that 48 percent of Vancouverites don't believe in God or a higher power. Some of those lost souls came to Rogers Arena and were graciously found during the Festival of Hope.
Pat Schmidt, a Festival counselor, told of encountering a young woman in her early 20s who was glowing after Franklin led the crowd on the floor in a prayer of salvation. "I just received Jesus as my Savior," the woman told Pat, "and I'm going to tell everyone so that Heaven will be full and hell will be empty."
Pat's husband, Tony, also a counselor, encountered a man who had responded to the invitation but said he couldn't speak English very well.
"What language do you speak?" Tony asked. "Japanese," the man responded.
As it turns out, Tony and Pat were missionaries in Japan for 33 years. So Tony started speaking to the man in Japanese.
"You know, God just brought them together—right across that crowded floor," Pat said.
The man, about 20, wasn't ready to commit his life to Christ, but Tony invited him to a Japanese-language church, and during a prayer gathering the next morning, the counselors prayed that he would come to saving faith.
Pat also told of another counselor whose brother-in-law and best friend both professed faith in Christ the previous evening.
"She said she had been praying for them for years," Pat said. "So yes, God has done some wonderful things." Festival counselor Jim Scoten, who works as a secondary school teacher, helped a 17-year-old boy solidify his commitment to Christ.
"I made that same decision when I was about your age," Scoten told the young man. "I know what it's like being a teenager. I considered myself a seeker of truth. Forty-five years later, that still holds true. If anyone can show me anything else that is truer, they should go for it. But they haven't. Jesus is the Way, the Truth and the Life."
A 29-year-old man named John came to the arena on Sunday night, having just spent the last year in drug rehabilitation after battling addiction and a life of prodigal living.
"I came here by God's grace," John said. "I wasn't intending on coming. I was scheduled to work for these three days, but I ended up not being needed tonight, and I got to come."
His eyes filled with tears as his voice began to shake.
"I was in treatment for drug addiction for 13 months," he said. "It's been a battle, you know. Staying true to my faith. Staying true to Jesus Christ. I grew up in the faith. I know He was watching over me when I was out on the street doing drugs."
Sex, alcohol, drugs—it's tough to give up the bad habits after so long, John said. But it felt good to lay it all down.
"I want to make sure I'm serving God with all my heart, not just half of it," he said.
"I had a knot in my stomach coming down. But when Franklin said, 'All of you who are sitting down, we'll wait.' I just felt this pull."
Give To Where Most Needed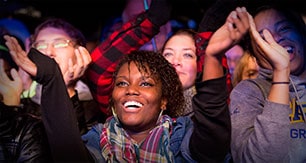 Help us fulfill our mission of proclaiming the Gospel of the Lord Jesus Christ to all we can by every effective means available to us and by equipping others to do the same.