When Kanye West first debuted his pop-up Sunday Service events at the beginning of the year, many were skeptical.
The star-studded gatherings, most recently held at a Houston prison and Joel Osteen's Lakewood Church, didn't have the typical look and feel of church and were far from anything he'd ever done.
Then came Kanye's announcement in September that he'd no longer make secular music because of his newfound faith in Christ. That, followed by the release of his album "Jesus Is King" in late October, got people wondering, "Is he serious?"
Though he's a mega celebrity, Kanye West has experienced pain and problems just like the rest of us: a near-fatal car accident, his mother's untimely death, dealing with mental health issues.
If nothing else, he's living proof we're all facing something and in search of ways to deal with life's battles. But no matter how hard we try, only God can fill the void. Even with all his fame and fortune, Kanye seems to be realizing this.
In his new song "God Is," Kanye says:
I can't keep it to myself, I can't sit here and be still;
Everybody, I will tell 'til the whole world is healed.

King of kings, Lord of lords, all the things He has in store;
From the rich to the poor, all are welcome through the door.

You won't ever be the same when you call on Jesus' name;
Listen to the words I'm sayin', Jesus saved me, now I'm sane.
His words sound like something you'd find in the Bible's Book of Psalms—a collection of Scriptures written by King David and other imperfect people God called on. Together, the songs tell a story of deliverance, redemption, victory and praise.
That can be your story, too.
Following Christ means you are saved, or rescued, from sin—which is anything that goes against God's perfect standards. You are set free from the guilt and penalty of your sins. And you are given back all that was lost because of those sins, including the promise of going to heaven someday.
Gaining all of this with one decision is a trade-off worth talking about, and it causes a radical change—something like what we're seeing in Kanye.
But it requires a choice. >> Decide to follow Jesus.
The Bible says, "If you confess with your mouth the Lord Jesus and believe in your heart that God has raised Him from the dead, you will be saved" (Romans 10:9, NKJV).
No one who calls on the name of the Lord and means it will be denied. Not Kanye. Not you. Not your spouse. Not your child or grandchild. Not your best friend or sibling.
So rather than ask, "Is Kanye saved?" ask yourself, "Am I saved?" And if you are, "Am I doing all I can to truly live a Christian life?"
God wants us all to experience the freedom of salvation.
You don't have to be perfect. You don't have to be famous. You only have to be willing.
Give To Where Most Needed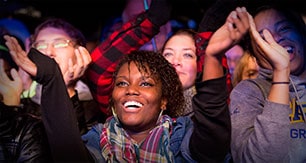 Help us fulfill our mission of proclaiming the Gospel of the Lord Jesus Christ to all we can by every effective means available to us and by equipping others to do the same.