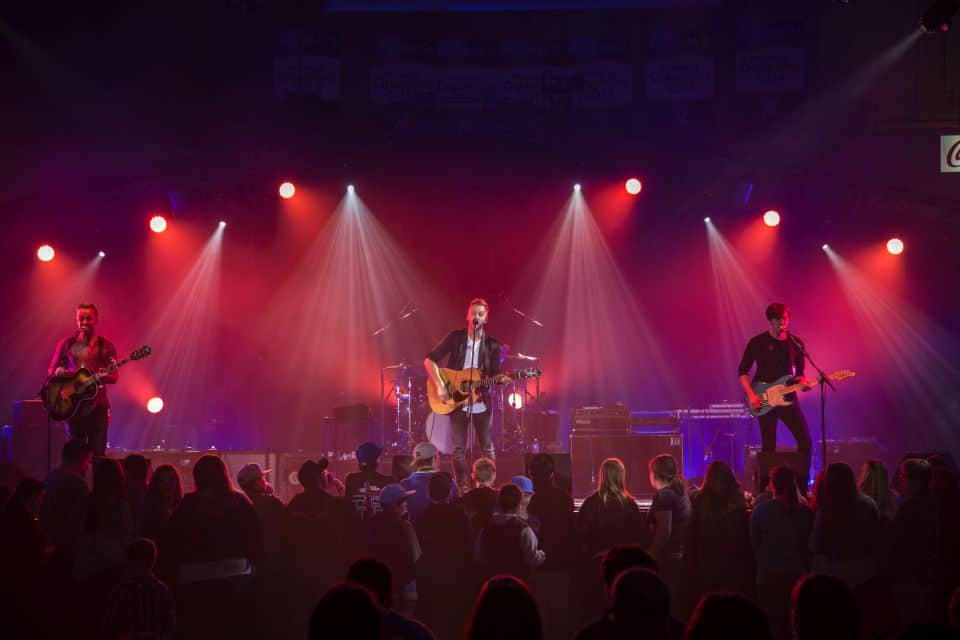 When the communities of Grand Falls-Windsor in Newfoundland and Happy Valley-Goose Bay in Labrador hosted Celebration of Hope events with Will Graham in November, local organizers had many unique prayers but one common goal: that many would accept Jesus Christ as their Lord and Savior.
Subscribe to Decision
Get your own subscription, or renewal, or bless someone by giving Decision Magazine as a gift.
SUBSCRIBE NOW
And through powerful music and testimony from some of Canada's top Christian bands, and stirring Gospel messages from Will Graham, thousands of people heard the message of Christ and many accepted Him as Lord.
Organizers in Grand Falls-Windsor welcomed the Celebration of Hope into what they describe as a "heavily churched" region to wake Christians from apathy in their faith.
In Happy-Valley Goose Bay, pastors saw the Celebration as a way to reach those who would likely never hear the Gospel in a traditional church setting. Will's message of hope, they say, is badly needed in a region laden with drug and alcohol abuse and one of the highest suicide rates in Canada.
CELEBRATION IGNITES LOCAL CHURCH AND NEW UNITY IN GRAND-FALLS WINDSOR
Mike Ball, co-chair for the Celebration of Hope in Grand Falls-Windsor, said his community has a history steeped in Christian faith, but he's fearful that without a spiritual awakening, this Christian foundation will erode within a generation.
"We have a lot of [religious] buildings and a lot of people who are at some level affiliated with a church, but that doesn't mean they are really engaged," Ball said. "Apathy sets in when people have gone to the church for a long time … people get a little numb."
The Celebration of Hope in Grand Falls-Windsor culminated in two nights of praise, worship, and lifting the Name of Jesus for a packed house in the Joe Byrne Memorial Stadium after months of prayer, planning, and preparation.
For many locals, including Ken Doyle, the effort will have an eternal impact.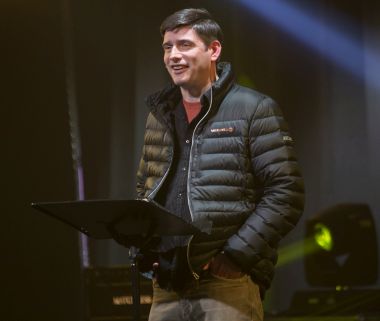 Will Graham shared a message of hope at the Celebration in Newfoundland-Labrador.
"[When Will Graham called on the audience to give their lives to Christ], I tried to stay in my seat, but I couldn't," Doyle said. "I just couldn't. But I really didn't want to come forward. My wife is a Christian, but I always sat on the fence … I always felt like I was in control, but if I was really in control, I likely would have still been sitting back there in my seat."
Ball says participation of so many of the community's churches made the Celebration possible, while also improving unity in the community.
Grand Falls-Windsor has a deep division that goes back well over a century. The first major industry in Grand Falls was a paper mill established in the early 1900s. In those days, only employees of the mill and workers from private businesses were permitted to live in the town. Other people settled north of the rail line in a "shack town" known as Grand Falls Station, which became Windsor.
"We've had this 'insider and outsider' community mentality for much of our history," Ball said.
He describes the way the two communities came together for the Celebration of Hope as a perfect way to celebrate the 25 years that Grand Falls-Windsor have been legally amalgamated. The combined community held a "come together" Sunday church service in the Byrne stadium, after the first night of the Celebration. That event further cemented church and individual unity before the second night of the Celebration, which drew a capacity crowd of more than 1,900 people.
"This is a pivotal point in our history that has shown us we can do so much more as a unified church body," Ball said. "We can stand and say 'we're together, we're one' … we're a unified body, and just look what we've done as that body."
BREAKING THROUGH THE CLOUD OF DESPAIR IN HAPPY VALLEY-GOOSE BAY
Many people in Happy Valley-Goose Bay in north-ern Labrador are often far from being happy. Despite being surrounded by immense natural beauty, the community has been plagued by some of the highest suicide rates in Canada, especially among the region's indigenous youth.
"With the staggering amount of suicides, family breakdown, and addictions, the need for true hope here is huge—and people need to know that it is real," said Pastor Jon Beers. "That hope can only be found in Jesus Christ."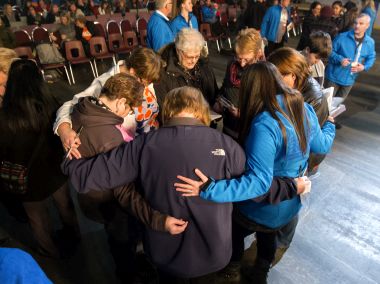 Counselors pray with new believers at the Celebration of Hope in Happy Valley-Goose Bay.
Shane Earl, 20, knows well the challenges aboriginal youth face in Happy Valley-Goose Bay. After losing his little brother to a suspected drunk driver when the boy was only 6 years old, Shane's life spiraled out of control for years. He and his family have experienced alcoholism and drug abuse, and Shane had even contemplated suicide to escape a life filled with pain and no sense of purpose.
Thankfully, Shane came to Christ a few months before the Celebration of Hope in Happy Valley-Goose Bay, and now he is dedicated to reaching others for Christ. The Celebration, he said, is the perfect way to reach those who might otherwise be unreachable.
On the second night of the Happy Valley-Goose Bay Celebration, Shane saw God move in an unlikely way in one of his childhood friends.
Will Graham challenged the audience with a simple question: What's the most important news you've ever heard?
"Was the news something good, or was it that someone you loved had died, or overdosed?" Will asked. "I want to share with you the greatest news I've ever heard, and I don't know where that will meet you tonight. Are you desperate for meaning? Maybe this feels like your last chance tonight."
Sharing from John 3:16 ("For God so loved the world that he gave his only Son, that whoever believes in Him shall not perish, but have everlasting life"), Will said while sin separates people from God, anyone can have forgiveness and freedom by simply accepting the gift of Salvation though His Son, Jesus Christ.
"God loves you enough that He sent his Son to the cross to die in your place," Will said. "You're not here by accident tonight, and I'm asking you to come forward and accept what God is offering—but it will take courage to stand before others and do this."
And from among a pack of friends—the most unlikely to even attend a Christian event, says Shane—one young man rose to his feet and came forward to accept Christ as his Savior.
"I've known him since we were just little guys," Shane said. "Out of all people, he's the last one I would've expected to come up" because he was still abusing drugs and alcohol before taking the bold step forward. "I was so surprised to see him."
Shane's friend was counted among the more than 200 people who committed their lives to Christ over the Celebration weekends in Newfoundland-Labrador.
REACHING THE NEXT GENERATION FOR CHRIST
If church leaders in Grand Falls-Windsor and Happy Valley-Goose Bay had any doubts about whether locals would respond with enthusiasm to Celebration of Hope events in their communities, those concerns ended during KidzFest, a youth-focused outreach ministry that kicked off both Celebrations.
The KidzFest gatherings on two consecutive Saturday mornings gave Grand Falls-Windsor and Happy Valley-Goose Bay their first glimpse into what God had in store for the days ahead.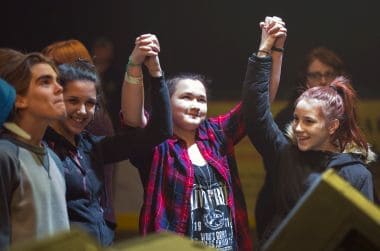 "I had to rethink my expectations even after KidzFest," said Mike Ball, co-chair for the Grand Falls-Windsor Celebration of Hope. "To see that many people show up on a Saturday morning with their kids when there are so many other things going on—the turnout was more than double what I expected."
In each community, more than 400 children and their parents filled the local venues and enjoyed a carnival-like atmosphere with games, bounce houses, face painting, as well as Christian performers who shared the Gospel in an age-appropriate way. Between the two KidzFest events, more than 60 children and several adults gave their lives to Christ.
Among the kids who came forward was 11-year-old Monica and her 9-year-old sister Margaret, from Happy Valley-Goose Bay. Their mother, Fidelia, was grateful that her daughters were given the opportunity to learn about God in such a fun-filled and encouraging setting. ©2016 BGEA
Give To Where Most Needed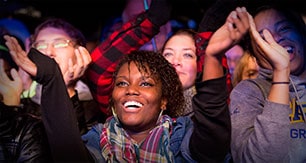 Help us fulfill our mission of proclaiming the Gospel of the Lord Jesus Christ to all we can by every effective means available to us and by equipping others to do the same.