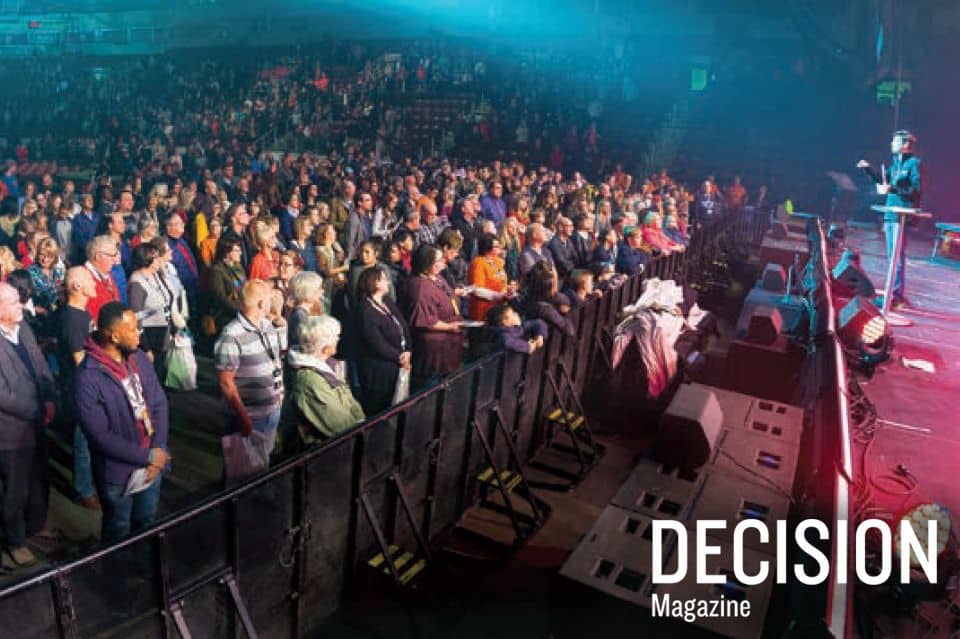 When Jenny and her friend Karen learned that the popular Christian band For King & Country would be one of the groups providing music at the Avalon Celebration of Hope with Will Graham, they decided to go.
They were sure they'd enjoy themselves at the Nov. 3 event at Mile One Centre in St. John's NL. What they didn't count on was God moving powerfully through their lives that night.
"I've always believed in God, but I didn't expect to do this" said Jenny, 33. "Jesus spoke to me as will proclaim the Gospel bracket; my heart pounded, and my knees started shaking."
Subscribe to Decision
Get your own subscription, or renewal, or bless someone by giving Decision Magazine as a gift.
SUBSCRIBE NOW
Jenny and Karen with him were among the 540 people who made spiritual commitments to Christ at the celebration, which attracted 6,448 people from throughout Newfoundland's Avalon Peninsula and beyond. Another 21,500 watched the Celebration on line. About 165 of these live streaming viewers responded to Will's invitation to give their lives to "our great God and Savior Jesus quite Christ" (Titus 2:13, ESV).
The three nights in Christian music, testimonies, and gospel presentations from Graham November 2 – four came after a nine-month journey in the Avalon region of prayer meetings evangelism training events, and community outreach projects.
All of it was organized by the Billy Graham evangelistic Association of Canada bracket BGEAC in partnership with almost 70 churches.
Jenny's friend Karen, 32, is also a fan of for King and country like Jenny, Karen decided to stay after the band finished to listen to Will's message. It was a decision that changed her life.
Preaching from Luke 15, Jesus' parable of the prodigal son, Will said: "You need to come to your senses and realize that where you are is not a good place. You need to remember there's a home that's waiting for you. Tonight, I'm going to ask you to take a step and come home to God."
Karen, who came to faith in Christ 15 years ago but walked away from all of it when her marriage ended, joined Jenny in committing her life to Jesus.
"I feel refreshed – I'm clearer about everything," she said after word with Jenny by her side. "I'm open back up to Jesus and I'm going to approach my ex-husband differently. I'll have softer eyes and a softer heart."
Transformations like these were like manna from heaven to Derrick Sharron, a local pastor who co-led the local celebration organizing committee.
"I was very overjoyed with everything that happened this weekend," Derrick said. "The results far exceeded our expectations. And the unity of Avalon's churches was very evident and gratifying."
The Celebration's outreach weekend began on Friday night with KidzFest– featuring children's entertainer Angie Rogers, a child focused message of hope from Will, and a live presentation of The Greatest Journey, BGEAC's discipleship and evangelism ministry.
More than 20 per cent of the 1,300 children and adults at kids fast responded to the gospel.
The number of children who came forward to accept Christ astounded visiting pastor Maj-Britt Edwards from Sudbury, ON. "When I saw those children coming up to the stage, I was in tears," she said.
Maj-Britt and her pastor husband, Jeff, were among church leaders from several communities in Canada and the United States who came to St. John's to learn more about the Celebration ministry and decide whether to partner with BGEA and its donors to organize a Celebration in their own communities.
The Celebration's second night–when Jenny and Karen came forward–included Canadian Christian rockers The Color and Newfoundland's The Informants Worship band.
The third and final night featured Canadian country music star George Canyon; Jason Crabb, formally of the Crabb family gospel music group; and Newfoundland Christian bands of blue East
Wills gospel message that final night focused on Christ's sacrifice on the cross, flanked by two crucified criminals, including one who changed his heart and mind as he encountered God's son.
"Jesus changed everything for that man, and he can do that for you," Will said. "If you've never asked Christ into your life, then you're missing out. The man in the middle changes everything.
God use that message to transform the life of Keith Glynn who came to the Celebration after seeing some local advertising.
Keith used to go to church regularly, but he said he was just going through the motions. After accepting Will's invitation to make Christ his Lord and Savior, Keith said: "I feel relieved now, and a bit emotional."
When people like Jenny, Karen, and Keith come forward and make faith, commitments at us Celebration or other BGEA – organized event, they are matched up with a trained counsellor who ensures they understand their commitment, prays with them, and gives them discipleship materials.
The counsellor invites them to provide their names and contact information so BGEA's partner churches can follow-up – encouraging them to attend Sunday services and be surrounded by Christians to support and mentor them.
The result of the Avalon celebration has left Celebration cochairman Lorne Pritchett and other local church leaders excited and energized.
"We have hundreds of people who are bearing fresh witness to the saving power of Jesus Christ," Lawrence said. "The gospel comes alive in these new testimonies, that is uplifting and encouraging for those of us who stand in the pulpit and proclaim the gospel."
Pritchett, a Salvation Army pastor at a church near St. John's, is also excited by the unity and Celebrations help to build among individual Christians and churches.
The diversity of denominations involved in the Avalon Sea celebration was "was deeply encouraging to me," said the co-leader of the celebration organizing committee.
Give To Where Most Needed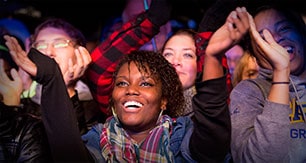 Help us fulfill our mission of proclaiming the Gospel of the Lord Jesus Christ to all we can by every effective means available to us and by equipping others to do the same.