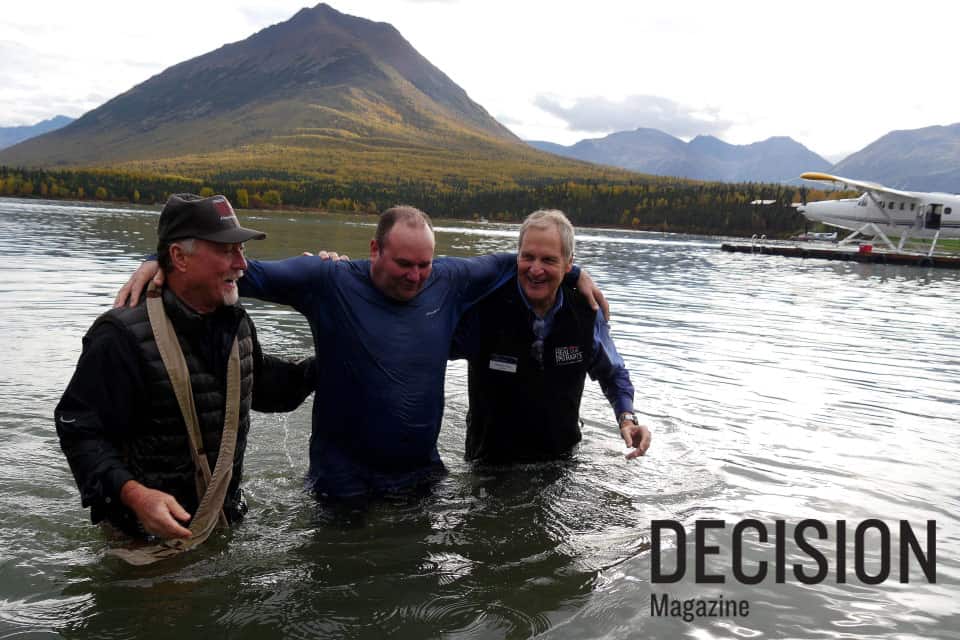 They grew up in nominally Christian homes, but Lisa Miller and Ross Thistle had long left their faith behind by the time the stresses of being in the military put their marriage in jeopardy.
Then the Trenton, ON, couple learned about Operation Heal Our Patriots, a Samaritan's Purse ministry that provides a week of no-cost and no-strings-attached compassionate care and marriage enrichment at a scenic lodge in Port Alsworth, Alaska.
At the retreat, held in late September, they met Laurent and Irene Trabadello, specially trained chaplains who were there to assist the Operation Heal Our Patriots chaplain leaders. The Trabadellos, part of the Canadian Billy Graham Rapid Response Team, would provide Lisa and Ross and the other nine military couples with:
a listening ear
a shoulder to cry on
the offer of prayer at any time
the opportunity, if any of them wished, to accept Jesus Christ as Lord and Savior
Lisa and Ross accepted that opportunity, and today their marriage and lives are being transformed by Christ, who in Acts 10:38 "went about doing good and healing all who were oppressed by the devil, for God was with Him" (NKJV).
Subscribe to Decision
Get your own subscription, or renewal, or bless someone by giving Decision Magazine as a gift.
SUBSCRIBE NOW
Ross walked away from any relationship with God in 1992, after witnessing atrocities during a Canadian peacekeeping mission in the former Yugoslavia. Lisa had a troubled past and often struggled with the behavior of Christians. She raised her concerns with the Trabadellos.
"They told me God would help me through this process," Lisa said. "I was so relieved at not feeling guilty for having these questions."
The Trabadellos were understanding, Lisa said. They were coaching, but not pushy, and they spent a lot of time with the 10 couples—accompanying them on staff–organized activities such as hiking, fishing, kayaking, and bear-watching.
"Whenever we were part of an activity, it was an opportunity to hear their stories and answer questions about Christianity," Laurent says. "People opened up about their struggles and their family histories."
During one of those outings, at a picturesque waterfall, Lisa and Ross decided to make an eternal decision.
"Lisa decided she was going to open herself up and commit herself to Jesus," Ross recalls. "Myself, we were at the falls and Jesus walked into my life right there. I know He was knocking on the door for a long time. It felt like a weight was lifted off my shoulders."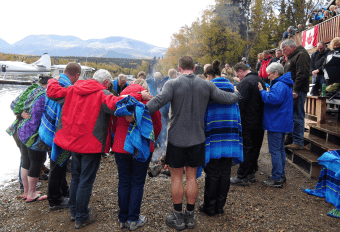 Billy Graham Evangelistic Association International President Franklin Graham (upper right) led the couples in prayer after their baptisms.
During the week, the Trabadellos were also part of a dinner table conversation that led to one man giving his life to Christ, and inquiring about being baptized, all before the meal was finished.
"It was moving because I could see God touching his heart profoundly," Laurent says. "Irene and I were in awe. We had a front-row seat to witness God changing a life."
The compassionate care, the willingness to answer tough questions, and the Bible-based marriage enrichment classes made such a difference to the 20 Canadians at the lodge that by the end of their weeklong stay, Lisa and Ross and 11 others were baptized in the frigid waters of nearby Lake Clarke.
"I wanted to complete the circle (of making a faith commitment)," Ross says. "Why start something and not finish it?"
Although the Canadian couples are back home now, the work of the Rapid Response Team chaplains continues. Laurent and Irene are staying in contact with each of the couples who attended the retreat—helping new believers connect with local churches, encouraging everyone to stay in contact with each other through a private Facebook group, answering follow-up questions or concerns, and praying for everyone.
"Our goal is to journey with these couples and encourage them," Laurent explains. "It's almost like a discipleship process."
The journey includes all of the couples who attended the retreat, not just those who made commitments to Christ.
"We adapt our after-care to however much each couple needs," Laurent said. "And we let them know they can call us with questions or prayer requests. We don't push. We just want to give them tools or resources—websites, books, and anything else to grow their faith or improve their marriages."
As for Lisa and Ross, they still live with chaos and stress on their jobs. But spiritually, they are on a different level.
"We're praying a lot more with each other," Ross said. "We never said grace before our meals before, and now we do. On a spiritual level, I feel a lot closer to Lisa."
Adds Lisa: "There's no amount of thanks I can give for this opportunity. If there's any way more Canadian military couples can be part of this ministry, it would be such a blessing." D 2016
If you would like to support our Billy Graham Rapid Response Team ministry through your prayers and financial support, you can
donate at BillyGraham.ca/RRT
or by calling 1-800-293-3717
Give To Where Most Needed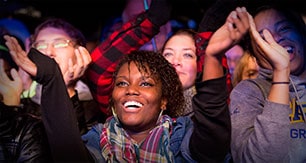 Help us fulfill our mission of proclaiming the Gospel of the Lord Jesus Christ to all we can by every effective means available to us and by equipping others to do the same.