Calgary, Alberta – Sept. 12, 2019 – Crisis-trained Billy Graham Rapid Response Team (RRT) chaplains have arrived in Prince Edward Island and begun offering emotional and spiritual support to victims of Hurricane Dorian that hit last Saturday.
"We are praying for the people of PEI, and our chaplains are providing Christ's compassion, care, and love to residents and emergency responders," says Merle Doherty, manager of the Billy Graham Evangelistic Association of Canada's RRT chaplains.
Hurricane Dorian damaged thousands of homes throughout the scenic island. The hurricane's strong winds tore off roofs, broke windows, flattened fences, and toppled massive century-old trees that sometimes fell on homes, cars, and other property.
Many of the homeowners are elderly people trying to cope with the damage that has occurred, while still being traumatized by the sound and power of Dorian's ferocious winds, Doherty said.
Some of the hardest hit homeowners are in Summerside, Kensington, and Cavendish in central PEI.
"Many people here are facing a lot of turmoil," said Kensington Mayor Rowan Caseley. "The chaplains can play an important role in helping them."
The Billy Graham association has sent its Mobile Ministry Center to the region. The Calgary-based ministry center is a large specially equipped truck that offers a quiet place for hurricane victims and emergency responders to rest and receive comfort from RRT chaplains.
"The mobile center provides an exceptional, centralized, visible office for our chaplains that the community can see and walk up to," said Doherty. "As a result, people receive support, encouragement, and prayer that many of them desperately need."
The chaplains will work alongside volunteers from the Billy Graham association's "sister" organization, Samaritan's Purse, as they clean up properties and prepare damaged homes for repair.
Media interview availability: Merle Doherty, Manager of the Rapid Response Team can be reached at 403-619-7099.
Donations Needed
To support the Billy Graham Evangelistic Association's chaplain efforts, please give online or call 1-800-293-3717.
About BGEAC
The Billy Graham Evangelistic Association of Canada, established in 1953, partners with churches and Christian communities across Canada and worldwide to proclaim the Good News of Jesus Christ in word and deed. Through relevant language and methods, we share the saving message of Jesus to spiritually searching people of all ages and cultures. To learn more, please visit BillyGraham.ca.
Media inquiries:
Jeff Adams, Senior Communications Advisor
1-800-293-3717 (ext. 8723) or 403-615-8747 (mobile)
[email protected]
Give To Rapid Response Team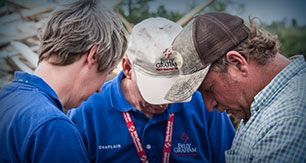 Your gift will provide for the training and deployment of our Rapid Response Team chaplains, who are deployed when natural or man made disasters strike in Canada and abroad. RRT chaplains serve and support hurting people affected by crisis, and share the message of hope found in Jesus.