Billy Graham Evangelistic Association specialists to offer comfort after terrorist attack
Calgary, AB, July 15, 2016 – A team of crisis-trained Billy Graham Rapid Response Team (RRT) chaplains, including at least three Canadians, are arriving in France tomorrow in response to a terrorist attack in Nice yesterday that has left at least 84 people dead and more than 100 injured.
"We'll provide support and compassion in the Name of Jesus following another terrorist tragedy in France," said Merle Doherty, manager of the Billy Graham Evangelistic Association of Canada's RRT ministry. "It was only eight months ago that we were in France in equally tragic circumstances, comforting people after a similar terrorist attack. People are hurting so much. We need to be there."
In the attack last November, a similar multi-national team of chaplains provided listening ears, comforting hearts, and offers of prayer after the worst violence that France had experienced in more than 70 years. Armed ISIS terrorists attacked six sites in the heart of Paris, including a concert hall where more than 80 people died, plus a national soccer stadium, and two restaurants.
The team of volunteer chaplains last November included two Canadians, both of them French-speaking. This time, the team is comprised of the same French-speaking Canadians, both of whom know Nice well after having lived there years ago, plus other chaplains from the U.S. and United Kingdom.
"Will you join me in praying for the grieving families?" BGEA president Franklin Graham asked in a post on his Facebook page, shortly after approving the RRT chaplain deployment to Nice.
Only last March, RRT chaplains from Canada and other nations were deployed to Brussels, Belgium after a terrorist attack at the airport there.
Meanwhile, RRT chaplains are continuing to provide emotional and spiritual support in Fort McMurray as residents of the northern Alberta city adjust to the grim reality of more than 2,000 buildings destroyed by a massive forest fire last May that forced the month-long evacuation of more than 80,000 people.
"We are very grateful for Canadian donors and their ongoing support of our RRT chaplain ministry that makes these urgently needed deployments possible," said BGEA Canada executive director Fred Weiss. "That support has enabled our chaplains to provide emotional and spiritual support in response to more than 15 crises and tragedies in Canada, the U.S and Europe in the past 3 years. In each situation, the chaplains offer the compassion and hope of Christ."
Donations Needed: To support BGEAC's RRT ministry, or learn more about it, call 1-800-293-3717 or go to BillyGraham.ca, click on the "What We Do" tab, and click on "Rapid Response Team".
About BGEAC
The Billy Graham Evangelistic Association of Canada, established in 1953, partners with churches and Christian communities across Canada and worldwide to proclaim the Good News of Jesus
Give To Where Most Needed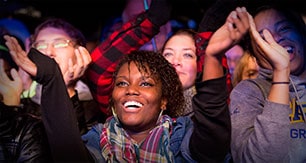 Help us fulfill our mission of proclaiming the Gospel of the Lord Jesus Christ to all we can by every effective means available to us and by equipping others to do the same.