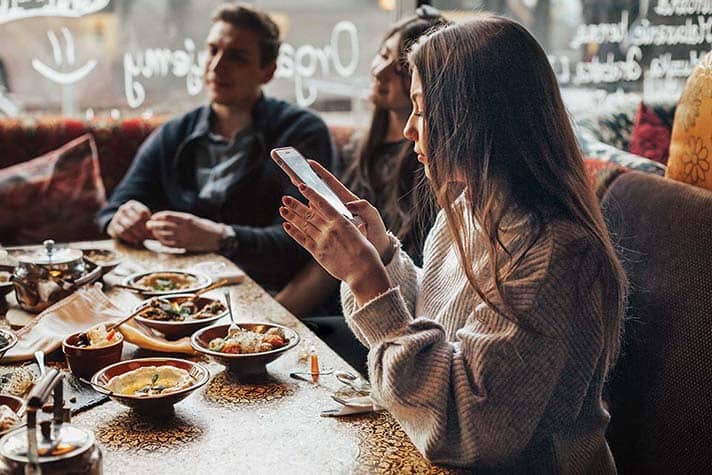 "The gospel … is bearing fruit and growing all over the world."
—Colossians 1:5–6, HCSB
Nearly 1,200 people every hour explore the Gospel through BGEA's internet evangelism ministry, Search for Jesus (SFJ).
SFJ uses interactive websites to share God's love and the forgiveness He offers. So far this year, the top 10 countries reached through this ministry are the United States, Nepal, Syria, Egypt, Algeria, Morocco, Colombia, Canada, Lebanon and Tunisia.
From an East African woman struggling with guilt to a mother who had been praying for her daughter's salvation, here are four stories of people who found hope online.
'If I believe in Jesus, I will not die?'
"I am in a miserable condition." That's how Maya* introduced herself to Carolyn Bruno, a trained, online Search for Jesus volunteer in Connecticut. Although it might not have shown when she was among friends at her university, inside she was struggling in her faith and wrestling with important personal decisions.
Maya lives in Syria and told Carolyn she had once been a Muslim, but now follows Jesus Christ. Amidst the turmoil, danger and uncertainty that characterize life in Syria today, she didn't feel safe going to church and didn't know where to turn for help or who to trust. She discovered SFJ's free, online Know Jesus discipleship course and signed up. Each person who signs up is guided through the five-part study by a trained discipleship coach like Carolyn. Carolyn poured love and encouragement—and Scripture—into Maya's life throughout the course.
Maya responded to study questions with thoughtful answers that showed her eagerly applying what she was learning. When asked about ways Jesus was making a difference in her life, she wrote first about His help in coping with fear and uncertainty. On a later question, she described how the Holy Spirit strengthens her in times of weakness and helps her know how to pray.
At the end of the monthlong course, Maya wanted to be certain about one final thing: "If I believe in Jesus, I will not die?" Carolyn answered with Scripture passages about eternal life, resurrection and heaven, along with verses on how to be sure of our salvation. Maya thanked Carolyn and told her, "I adore your gentleness."
"I praise God" says Carolyn, "that He allowed me to be a part of her spiritual journey even though we live on opposite sides of the world!"
*Name changed to protect privacy.
>> Read more: South African woman asks Search for Jesus volunteer if God's view of sin changes over time
'My daughter is saved!'
"My youngest daughter has been 'sitting on the fence' for a while now," a mother wrote about her teen daughter's wavering belief in Jesus. "She is an intelligent young soul, yet, like all other of today's youth, is overwhelmed with our secular world and its negative influences from the enemy." Last fall, the mom and daughter Googled "how to become saved" and found SFJ's evangelistic site, PeaceWithGod.net. "My prayers … have been answered!" the mother wrote on the PeaceWithGod.net Facebook page. "She and I sat and prayed together from your web page. … Tears of joy continued to fall as she prayed, confessed, and accepted our Lord and Savior, Jesus Christ, into her heart and soul tonight! Thank you Jesus, MY DAUGHTER IS SAVED! I can hear the angels rejoicing to celebrate her victory!"
'Nothing else could fill that hole in my soul'
Victor visited PeaceWithGod.net where he recommitted his life to Christ and passed on his contact information so he could receive spiritual growth emails. A couple of months later, he returned to PeaceWithGod.net and left this message: "I was in need of God. I've even tried alcohol to calm down my problems, but then I knew that 90 percent of my problems were because I really needed Jesus Christ in my life, and nothing else could fill that hole in my soul. I wanted to be born again, and then suddenly I found [your] website. I can finally feel peace in my life."
'I was ashamed of confessing'
A trained Search for Jesus volunteer named Elisabeth Faitsch had the privilege of guiding a woman through SFJ's discipleship course, Know Jesus. The young woman, who had moved to the U.S. from East Africa, was struggling with guilt and shame and had no one to talk to. She found God's forgiveness and at the end of the course, she wrote to Elisabeth: "You helped me confess my hidden sins I was ashamed of confessing. … You never judged me a bit. I thank God for you."
Would you like to point people to Christ online? Explore volunteer opportunities with Search for Jesus. 
Give To Internet Evangelism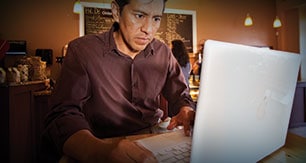 Help hurting people find Jesus online by supporting our internet ministries such as PeaceWithGod.net. Your gift helps us recruit and train e-coaches, buy advertising that promotes this website online, and follow up with Canadians who make online faith commitments.