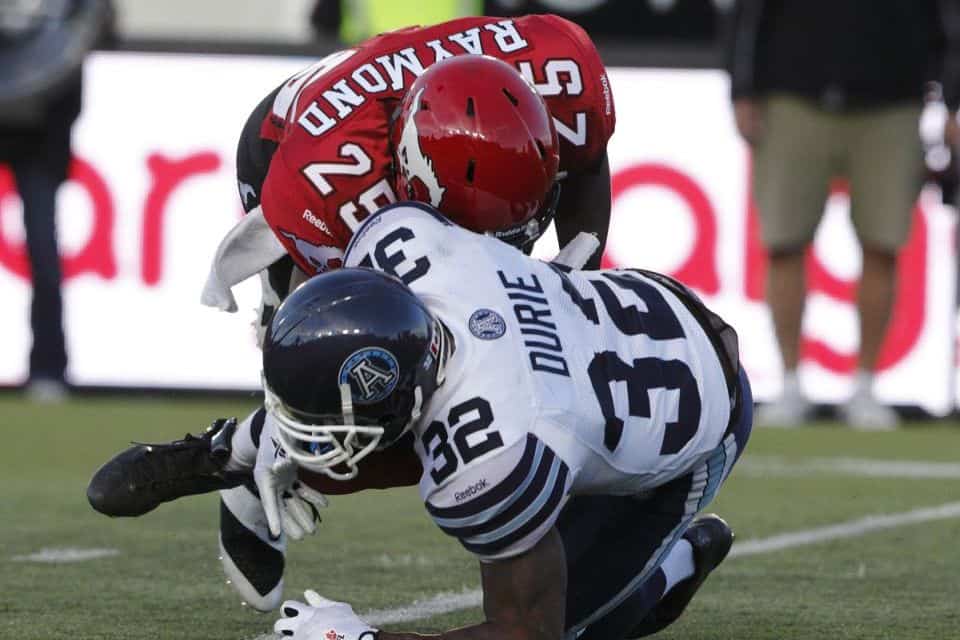 God is still moving His people around the world today. For Keon and Bianca Raymond, that has meant leaving a stable home and church in Tennessee to follow God's call and settle in Calgary, where Keon is one of the longest-serving members of the Canadian Football League's Calgary Stampeders.
It wasn't an easy decision.
"It was scary to move to a new country, but Calgary is a great city and I knew my family would love it," said the 31-year-old cornerback, who has been with the Stampeders since 2008 and recently signed a contract extension.
During his first two playing seasons with the Stampeders, Keon lived in Calgary while Bianca and their three boys remained in Tennessee, more than 3,000 kilometers away. After the 2009 season, however, it became too difficult for him to leave his family for six months each year, so Bianca and their sons—Keon Jr., Dashaun, and Ramael, now 11, 9, and 7—moved north to join him.
"We had a great church home in the States, and they were sad for us leaving," Keon said. "But they knew it was God's plan."
Speaking in the kitchen of their newly built home in northwest Calgary, while repeatedly hugging his Canada-born daughter Gabrielle, 3, Keon took a moment to consider the family's move from a spiritual perspective: "You have to leave what you know so God can lay His hand on you and shape your thinking."
Neither Keon nor Bianca was strongly aware of God's hand during their early years. Both came from broken homes and occasionally attended church as children. Bianca became a believer as a little girl, but Keon didn't give his life to Christ until later.
"There was always something empty (inside me)," Keon recalled. A football star in high school and college, he attended the training camp of the NFL's Tennessee Titans in 2006. While with the Titans, another player, receiver Jonathan Orr, gave Keon his first Bible.
Keon started reading, and that Bible became the key to changing his life. After a pre-season game against the Denver Broncos, when he felt the opportunity to make the team slipping
away, he got on his knees in the hotel room and prayed for salvation.
"I said 'God, whether or not I make this team, I appreciate the opportunity, and I trust whatever You have in store for me."
Those words were the start of a period of prayer that lasted for five hours—and transformed the direction of Keon's life.
"I was physically drained and my emotions were everywhere," Keon said. "I had no idea how important it was to give my life to Christ and how this choice would aŒffect my family. I went to practice the next day with heavy eyes from crying all night, but I had a sense of peace."
A lot of things changed after that.
Keon was cut by the Titans—on the same day Bianca gave birth to little Ramael. Despite this setback, the couple started attending church. They began to change who they associated with and the way they spoke.
"I (also) started a journal about my personal relationship with Christ," Keon said.
Bianca deepened her walk with Christ as she saw changes in her husband. Meanwhile, Keon continued to pursue professional football. He played with two Arena Football League teams, including one with the far-from-Christ name of the New Orleans Voodoo. But the pay was poor, and the couple eventually found themselves facing a financial and spiritual crisis. They had so little money that at one point they couldn't afford to renew the license plate on their car.
"This was one of those times [like] when the disciples were in the boat and the water was crashing against it," Keon said. "But I said to God: 'I'll trust You. I know You'll deliver us from this.'"
And that's exactly what happened. Just before the renewal deadline, the Raymonds received their income tax return and had the funds to renew the plates.
Looking for a better football future, Keon joined the Stampeders midway through the 2008 season and continued to improve game by game. But the team opted to play veteran Brandon Browner (now in the NFL) as cornerback in the Grey Cup contest that year, and Calgary won over the Montreal Alouettes.
"It hurt," Keon told the Calgary Herald at the time. "It wasn't meant for me to play in that one, but it was meant for me to experience it."
Since then, he's become a mainstay of the Calgary defence, twice being named a CFL West Division all-star and earning the team's Presidents' Ring award twice.
Keon intends to finish his football career wearing Stampeder red and white. Meanwhile, he reads and studies a book of the Bible during every training camp to help him focus on Christ more than football.
During the oŒff-season, he is studying to become a real estate salesperson, co-hosting with Bianca a weekly segment on a local Christian radio station (Shine FM), and making public-speaking appearances throughout southern Alberta.
Keon's faith-based life has had an impact on other CFL players. Former teammate Brandon Isaac has said publicly that Keon is "a church-going guy, a family-oriented guy. If I had a kid, I'd try to mould him to be like Keon."
This isn't a surprise to Rodd Sawatzky, who serves as chaplain for the Stampeders.
"I'm not about to tell you Keon's perfect, but his walk [with Christ] is really solid and he's my most consistent speaker. Players are most comfortable going to him for prayer when I'm not around."
Ironically, at home it's Bianca who keeps the Raymond family centered in prayer, often telling Keon: "Before we do anything, let's pause, pray and let God work."
"We make a strong effort to pray with our kids, no matter if times are good or bad," Bianca said. "When we do things that aren't led by God, they fall apart."
Her words explain a timeless truth for believers, no matter where they may be on the move for God: "Be anxious for nothing, but in everything by prayer and supplication, with thanksgiving, let your requests be made known to God" (Philippians 4:6, NKJV). ©2014 BGEA
Give To Where Most Needed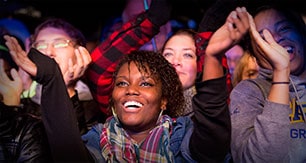 Help us fulfill our mission of proclaiming the Gospel of the Lord Jesus Christ to all we can by every effective means available to us and by equipping others to do the same.