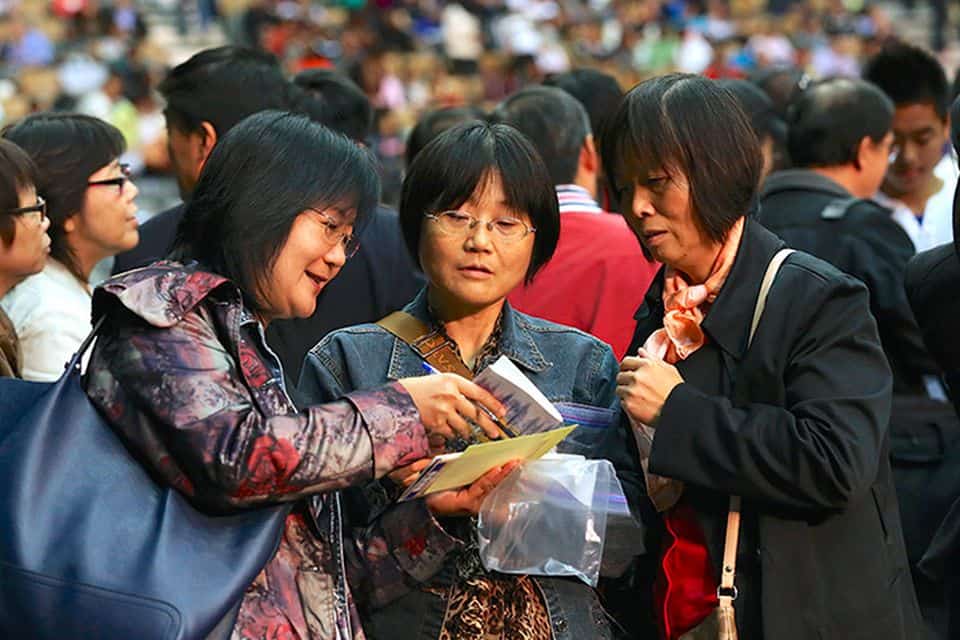 Every tongue. Every nation.
That idea of reaching the ends of the earth for Jesus Christ was realized in a way unfathomable in year's past.
On Friday night, Toronto became the matrix of preaching the Gospel message to all nations, with the floor at the Air Canada Centre transformed from its space normally reserved for hosting professional basketball (Raptors) and hockey (Maple Leafs).
Instead, it was Franklin Graham's message of hope—and the transforming power of the Holy Spirit—that moved in this metropolitan region where more than 160 languages are spoken.
The unwavering Good News was not just heard by the 10,000-plus in attendance. Through live Internet streaming, more than 17,000 watched online from over 100 different countries.
"The beauty of the human race is found in the diversity of the human race," said Newsboys lead singer Michael Tait as he closed out the night.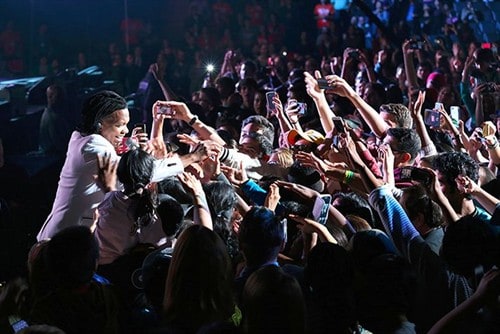 From "He Reigns" to "God's Not Dead," the Newsboys and lead singer Michael Tait closed up a powerful night of worship.
That message rang true at the Greater Toronto Festival of Hope. Not only was the night's events translated into six language—Cantonese, Mandarin, Spanish, Farsi, Arabic and Russian—but trained language counselors helped those speaking subset tongues to understand fully what it means to be a follower of Jesus Christ.
The City Harmonic lead singer Elias Dummer (pictured below, left), a native of nearby Hamilton, Ontario, talked about how much more the church can do together than apart.
"You're helping them understand the truth," said Mandarin language counselor Sharon Zhao, who added one in 10 Toronto residents have roots in China's mainland.
A Sunday school teacher at Richmond Hill Christian Church, Zhao felt called to use her bilingual talents to counsel Mandarin-speaking seekers and her efforts were doubled.
Mother and daughter Mandarin speakers, Fengin, 65, and Judy, 40, both responded to Franklin Graham's invitation—after an impactful message from Jonah 1—to receive Christ into their lives.
For Fengin, the timing was impeccable.
A few years ago, her mother, a strong believer, died and Fengin started her quest to find the truth. That led her to start going to church regularly, but until Friday night, she simply wasn't ready to commit her life to the Lord Jesus.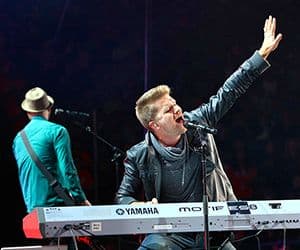 "I think it just takes time sometimes," Zhao said. "Just because your parents are Christians doesn't mean you will believe right away."
But the clock was ticking. Fengin, who lives in northern China, was in Toronto visiting her daughter for the summer and has a Wednesday flight scheduled to return home.
Just five days to spare.
"I know she's happy she had the opportunity to come to this event before she left," Zhao said. "She knew all about Jesus Christ, but didn't believe until tonight."
And this is exactly the scenario Franklin Graham thought was possible. When you have people from so many countries being reached for Christ in Toronto, what happens when their lives have been radically changed?
"Oh she'll definitely go back (to China) and tell her family," Zhao said.
Let the ripple effect begin…
"This is one of the most multi-ethnic cities in the world," Franklin Graham said earlier in the week. "It gives me goose pimples when I think about the opportunity."
And that opportunity to reach the nations is just a click away this weekend. Anyone with a computer, tablet or smart phone can log onto BillyGraham.ca/Live, where they can watch top Christian artists, hear a Gospel message from Franklin Graham, and have an opportunity to say a prayer to receive Christ.
Hundreds indicated making a life-changing decision online Friday night and those who opted to do so, will receive follow-up materials just like the hundreds that made decisions at the Air Canada Centre.
And just like Fengin, who was very serious about getting her hands on discipleship materials, regardless of the shipping.
"She really wants those follow-up materials," Zhao said. "Even though she's going back to China, she wants them mailed to her."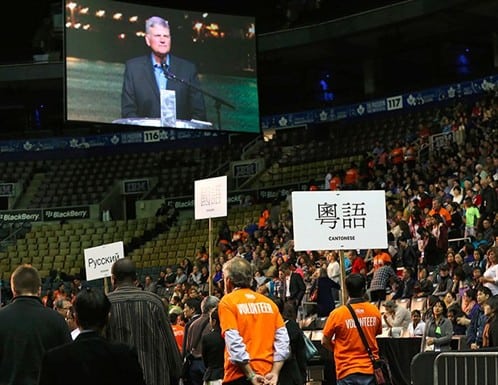 Friday's Greater Toronto Festival of Hope drew more than 10,000 to the Air Canada Centre with hundreds packing the floor to make a decision for Christ.
Give To Where Most Needed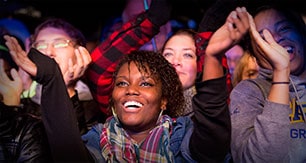 Help us fulfill our mission of proclaiming the Gospel of the Lord Jesus Christ to all we can by every effective means available to us and by equipping others to do the same.