A Billy Graham Crusade in Calgary abruptly changed Daniel Friesen's life. The 1981 event sent the hard-drinking anti-Christian Friesen on an amazing journey that now has his him serving as a pastor in Rankin Inlet, and helping to organize the Billy Graham Evangelistic Association's first-ever Celebration of Hope in Canada's Arctic.
"I'm excited about the Celebration of Hope coming here because I've been fasting and praying for many years for God to move mightily and for souls to get saved and for lives to be changed," the 61-one-year-old said in an interview.
The Celebration of Hope in Rankin Inlet, on the northwest shore of Hudson Bay 1,460 kilometers north of Winnipeg, will feature evangelism training, prayer sessions, and several other phases. Everything will culminate on Oct. 26 and 27 with two days of music, testimonies, and messages of hope from Will Graham, grandson of the same Billy Graham who had such a profound impact on Friesen almost 37 years ago.
Back then, Friesen was working in Fort McMurray, AB. He was married with two young children but had fully embraced the oil industry's rough-and-tumble lifestyle, meaning he liked to drink, smoke, and fight.
Although his wife regularly attended church, Friesen was totally opposed.
"I'd come home after working 12 hours, (plus) an hour to work and an hour home, and they'd have a Bible study and I'd just kick them all out of my house."
The family was on a brief vacation in Calgary when Friesen, then 26 and a country music fan, learned Johnny Cash would be performing at McMahon Stadium. The fact Billy Graham would also be preaching meant nothing to Friesen. He was there to hear Cash.
"So I went, and after he (Cash) was done singing, Billy Graham got up and preached," Friesen recalled. "When he was done preaching, I felt the spirit of the Lord upon me and he (Graham) gave an altar call. I remember it as distinctly today as if it was yesterday– I threw my cigarettes behind me and I walked down the stands and up to the front."
Friesen says he saw an image of Jesus in front of him as he committed his life to Christ.
The change was so abrupt and thorough that as soon as he returned to Fort McMurray, Friesen began encouraging his co-workers to join him in embracing Christ, and in reading the Bible at coffee breaks.
He was baptized, began attending church, and within a short time, was appointed a part-time pastor—serving at one Alberta church after another. He was helping lead a church in Leduc in 2006 when the first-ever Celebration of Hope with Will Graham happened there. Friesen served as a counselor, helping to welcome and pray with those who responded to Will's invitation to commit their lives to Christ.
Sadly, Friesen's wife eventually abandoned Christianity and walked out on their more than 30 years of marriage. The break-up left him so crushed that Friesen wanted to die. Instead, feeling called by God to uproot himself, he accepted a job in 2014 in Rankin Inlet—teaching students at the Nunavut Arctic College to drive massive mining trucks and other heavy equipment.
Soon, Friesen was also serving as a part-time pastor at the local Glad Tidings Church. In 2016, he married Maria, a Filipino woman who founded and co-pastored churches in the Philippines and Indonesia with her first husband before his death. Maria immigrated to Canada in 2016 to join Friesen in Rankin Inlet.
Together, they are excited to be part of the Celebration of Hope.
"I'm hoping a lot (of people) will make a commitment to Christ and have their lives changed" in 2018, just as his was changed in 1981, Friesen said.
Give To Celebration with Will Graham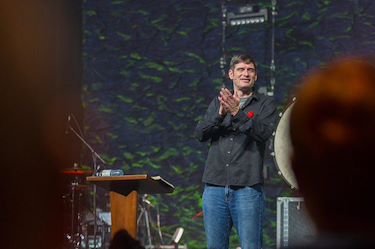 A Celebration with Will Graham is about proclaiming the Gospel of hope in Jesus Christ and equipping others to do the same. Your gift will enable us to partner with churches and believers in Canadian cities so that together we can proclaim the Gospel.