Leo and Rhoda Napayok say most of their 30-year marriage has been like riding the waves of Hudson Bay, near the Inuit couple's home in Rankin Inlet.
"We would go up and then go down," Leo lamented.
There would be spiritual highs when they felt very close to God followed by drug-induced lows when they felt very far apart from God.
Rhoda, now 52, became a Christian in her early teens while living in Coral Harbour, 290 kilometers northeast of Rankin Inlet. She responded to an altar call, accepted Christ, and "felt warm all over."
Leo, now 56, was about five when he was walking along a beach and felt but couldn't see someone walking beside him.
"This person wanted to grab my hand, so I grabbed his hand," Leo recalled. He could see there were holes in the person's feet. "Then I knew it was Jesus. I was walking with Jesus."
Unfortunately, Leo took some painful detours after becoming an adult.
"I was having problems because my parents were alcoholics. I started getting into trouble and going to jail . . . for break-and-enters."
It was while serving a sentence in the late 1980s at the Drumheller Institution in southern Alberta that Leo reached for God's hand again. He prayed: "I'm tired of going back to prison. Lord, change my life."
Leo had a Bible, and felt an urge to open it to Ezekiel 37:27 where it says God will make a dwelling place for his people.
"That Bible verse started to work in my heart," he said. "That was the seed that got into my heart."
Unfortunately, the spiritual high didn't last. When he got out of prison, Leo returned to Rankin Inlet and started have problems again. His father insisted Leo move to Coral Harbour to stay out of trouble.
It was there that he met Rhoda. The words of Ezekiel 37:27 came back to Leo: "He (God) was making a new way for me and for my future wife."
They married, but Leo began to smoke marijuana—occasionally at first, and then persistently. He eventually became heavily addicted, and dragged Rhoda down with him. They had children, but acknowledge today that they weren't very good parents back then.
"We were really skinny" and the kids missed meals because "we used to waste our money on drugs," Rhoda said.
They finally landed on solid ground about five years ago. They found the strength in their renewed faith in God to quit drugs and become much more responsible parents.
Leo says he and Rhoda have experienced first-hand the great need for the Celebration of Hope the Billy Graham Evangelistic Association of Canada is planning for Rankin Inlet in late October.
"People are hurt, and really need something to heal them. This is so hard when they are not a Christian. There is no hope for them. "He (God) can give them new life like He gave to Rhoda and me new life."
When asked who they plan to invite to the Celebration to hear Will Graham's nightly Gospel messages, Rhoda said: "Everybody! We're not going to force them to come but we're going to ask them."
Leo and Rhoda were enthusiastic participants in the Celebration launch event in Rankin Inlet on March 7. With them were some of their children and grandchildren.
Give To Celebration with Will Graham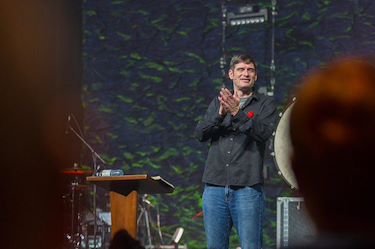 A Celebration with Will Graham is about proclaiming the Gospel of hope in Jesus Christ and equipping others to do the same. Your gift will enable us to partner with churches and believers in Canadian cities so that together we can proclaim the Gospel.