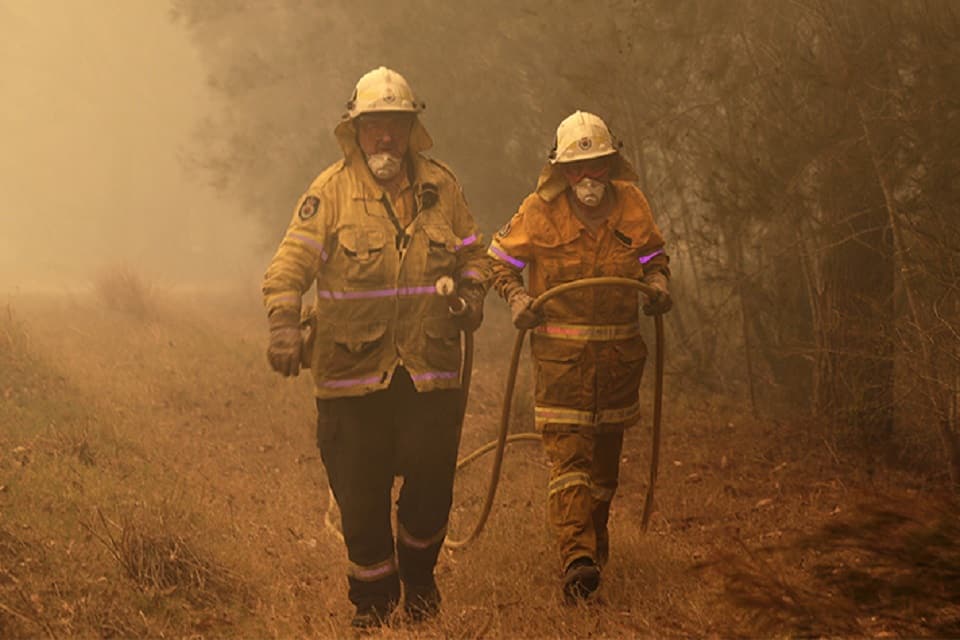 Since late September, Billy Graham Rapid Response Team (RRT) chaplains have been ministering to Australian communities facing one of the country's worst ever bushfire seasons.
The massive blazes have killed at least 25 people and dozens remain missing. In addition, more than 2,000 homes have been destroyed and over 21 million acres burned.
Three crisis-trained Canadian Billy Graham Rapid Response Team chaplains will be traveling to Australia to help Australian chaplains provide spiritual and emotional aid to people who have lost their homes and possessions to catastrophic wildfires.
"So many lives have been devastated by these fires," said Merle Doherty, who manages the Rapid Response Team. "The need is great for people willing to provide a compassionate, listening ear and, if requested, prayers."
"Our hearts go out to the people of Australia as they battle wildfires that have burned millions of acres and taken the lives of 17 people with others still missing," Franklin Graham previously shared on Facebook. "Our Samaritan's Purse Australia disaster relief teams and Billy Graham Evangelistic Association Rapid Response Team chaplains are responding."
>>Australian chaplain gives fire update
"Last February I went across that country preaching the Gospel in 6 cities, and we have many friends there," Graham said. "I want the people of Australia to know that many around the world are praying for them."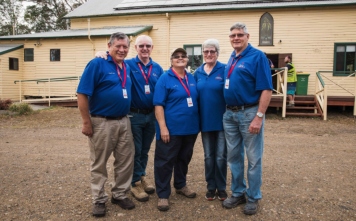 Fueled by record-breaking high temperatures, strong winds and years of drought, the deadly blaze has continued to spread over the last several months, affecting 131 regions across Australia. Many people have been struggling with despair as their homes and property smolder in the aftermath. As a result, chaplains have been ministering among the continent's most populated states, including New South Wales, Victoria, South Australia and Queensland.
"The power of being present when a community responds to trauma affirms the reality that God is in the storm with us," said Stewart Beveridge, RRT manager of Australia/New Zealand.
In November, 10 RRT chaplains deployed for a month to Taree, New South Wales. The chaplains offered a listening ear and prayer to local churches and communities, working alongside Samaritan's Purse volunteers who are helping fire-affected homeowners clean up properties and recover possessions.
One of the crisis-trained chaplains spoke with a woman named Heidi*, who lost her phone and was frustrated while running late for an appointment. The chaplain chatted with her and lent her a phone. Heidi shared that her house had burnt down and she'd been living in a tent for some time, which was getting very difficult.
Grabbing a "Steps to Peace with God" booklet, the chaplain told Heidi about a hope that never fails. After reading the booklet, Heidi made the decision to accept Jesus as Lord. She didn't own a Bible, so she gladly accepted the one offered to her by the chaplain. Heidi said the moment was a "new beginning" for her life.
"I feel a strength I've not known before," she added.
Every conversation a chaplain has with a person is a privilege. Please pray for Heidi, first responders and for all those the Rapid Response Team speaks with, that they will find hope in Jesus.
*Name changed for privacy.
Give To Rapid Response Team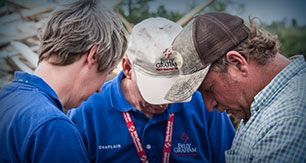 Your gift will provide for the training and deployment of our Rapid Response Team chaplains, who are deployed when natural or man made disasters strike in Canada and abroad. RRT chaplains serve and support hurting people affected by crisis, and share the message of hope found in Jesus.