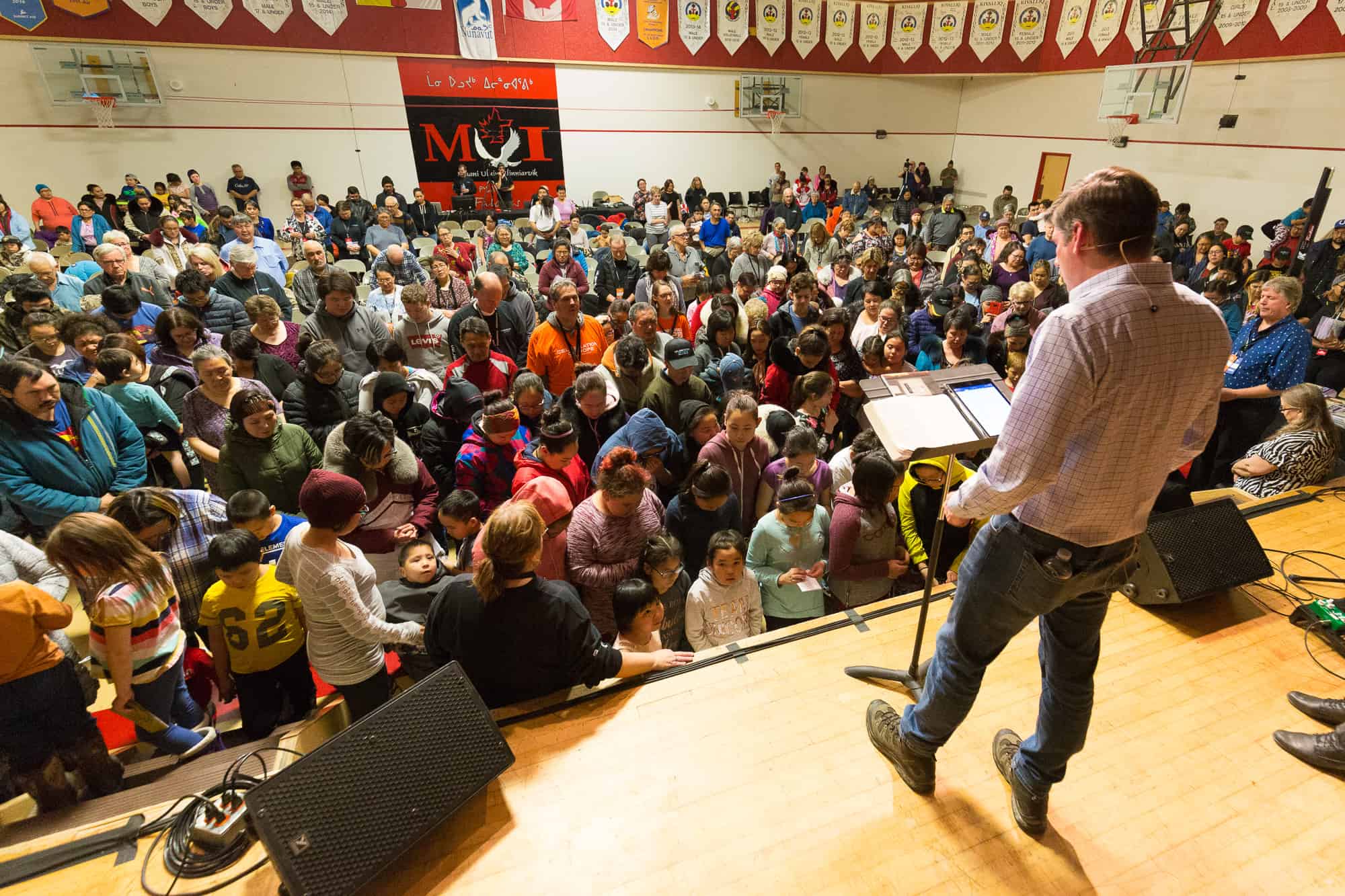 Eva's childhood years in the Canadian Arctic were a nightmare most of us can't even imagine.
She was sexually assaulted by a family member at age seven, then again by someone else in her community at nine. She suffered through more sexual assaults during the next couple of years—leaving her so despondent that she tried to commit suicide several times.
At 13, Eva dedicated her life to Christ. But by 16, she was pregnant and living with her boyfriend. The common-law couple had five children before he abandoned all of them in November 2017.
"When he walked out, I was so broken,"recalled. "started to drink alcohol—drinking and drinking to numb the pain. But I decided to come here tonight instead of more drinking."
"Here" was the second and final night of the Celebration of Hope in Rankin Inlet, Nunavut, on the icy northwestern shores of Hudson's Bay. Eva was among more than 385 people gathered in a high school gym who heard Will Graham warn them against waiting longer before committing their lives to Christ.
"Someday, you're going to pass away and stand before God,"said. "don't know when our last day on earth will be."
Those solemn words—and Will's portrait of God lovingly waiting for us just as the Prodigal Son's father waited for him—convinced Eva, 34, to come forward and pray a prayer of repentance and salvation.
"You never know—I might be dead soon," she said later. "I want to commit my life to Christ."
Through tears of joy, Eva said she could already feel a new sense of resolve and strength after accepting Christ as her Savior: "Before, I was struggling without the help of Jesus in my life. Now I have Jesus."
Eva learned later that her mother Shirley had attended the first night of the Celebration on Oct. 26, welcomed Jesus into her life, then prayed that her troubled daughter would come the following night and respond to Will's invitation. "I had no idea she was praying for me," Eva said with a thankful smile.
Eva and Shirley heard Will tell everyone: "Maybe there are some of you tonight that, deep down inside, you're miserable. Maybe you're crying yourself to sleep. I'm here to tell you that God sees everything. He sees what you're struggling with and He loves you."
More than 140 other people joined Eva and Shirley in making spiritual commitments to Christ at the Celebration—the Billy Graham Evangelistic Association of Canada's first outreach event in the Arctic.
I'm here to tell you that God sees everything. He sees what you're struggling with and He loves you."
~ Will Graham
Celebrations of Hope, including one Nov. 2-4 in St. John's, NL, feature partnerships with local churches and months of evangelism training, worship events and prayer times. They culminate with multiple nights of live Christian bands, powerful testimonies, and Gospel messages from Will Graham.
In Rankin Inlet, the Christian entertainers included Canadian band The Color; Juno-award-winning Inuit singer Susan Aglukark (who grew up in Rankin Inlet and still has family members there), and illusionist Jim Munroe from Dallas, TX.
Between songs each night, The Color's lead singer Jordan Janzen told audiences about the five-year struggle he and his wife had before she could become pregnant. The experience taught him that "God loves you no matter challenges you have in your lives," Jordan said.
Susan, herself a childhood victim of sexual assault, encouraged her mostly Inuit listeners to embrace the love and sense of purpose that God is offering all of us through a personal relationship with Him.
"Without God in my life, I wouldn't be who I am today," Susan said. "I wouldn't have grown enough; I wouldn't have healed enough. He has given us all the things to have an awesome life, but we still need to make good choices. What can carry us through is the amazing grace and mercy of God."
Jim used his illusionist skills to emphasize that while our lives can see random and chaotic, God wants to bring order and purpose. To loud cheers from his audience on the final night, Jim said: "Jesus has a plan to meet each one of you. He showed up and did an awesome thing here this weekend."
Give To Celebration with Will Graham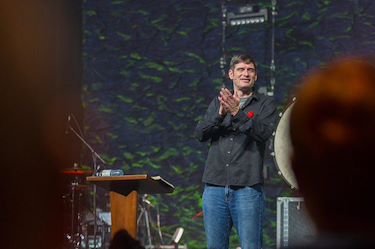 A Celebration with Will Graham is about proclaiming the Gospel of hope in Jesus Christ and equipping others to do the same. Your gift will enable us to partner with churches and believers in Canadian cities so that together we can proclaim the Gospel.