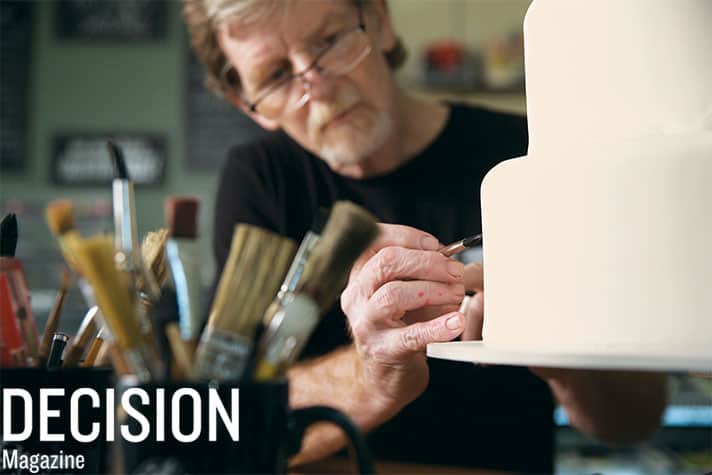 Subscribe to Decision
Get your own subscription, or renewal, or bless someone by giving Decision Magazine as a gift.
SUBSCRIBE NOW
Update: On June 4, the U.S. Supreme Court ruled 7-2 in favor of Colorado baker Jack Phillips, stating that the Colorado Civil Rights Commission failed in its Constitutional obligation to show religious neutrality in its treatment of Phillips. In a victory for religious liberty and freedom of speech, the court upheld Phillips' freedom to live and work consistently with his beliefs.
On his Facebook page, Franklin Graham posted these comments in response to the ruling: "We thank God for answered prayer! … This is a huge win for religious freedom!"
Some monumental cases have been decided by the U.S. Supreme Court in recent years, and this summer's slate of decisions from the high court could have seismic ramifications for religious freedom.
In January, the high court declined to hear challenges to a Mississippi law that protects businesses and government employees from prosecution for acting according to a sincere belief that marriage is the union of one man and one woman.
Albeit a small victory, religious liberty advocates are praying the court's pass on the Mississippi law is a harbinger of good things to come in late June when two significant religious liberty rulings are expected.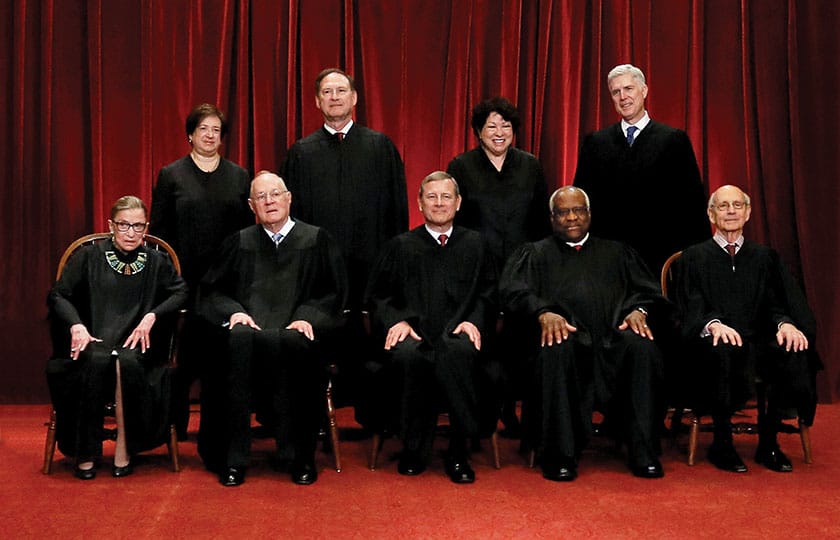 One of these, Masterpiece Cakeshop, Ltd., v. Colorado Civil Rights Commission, has been described as the most anticipated and consequential decision on religious liberty in decades.
The case, which the court heard Dec. 5, illustrates the collision between beliefs about marriage as an inherently religious exercise and the norms of new-wave sexuality, including the Supreme Court's 2015 decision that foisted gay marriage on every state.
The other case at hand, argued in March, is National Institute of Family and Life Advocates v. Becerra. It challenges a California law that forces pro-life pregnancy centers to notify clients, in up to 13 different languages, how they can obtain free or low-cost abortions provided by the state. It also requires burdensome regulations for crisis pregnancy centers that publicly advertise their services.
Kristen Waggoner, senior vice president and general counsel at Alliance Defending Freedom, which represents plaintiffs in both cases, says ADF is hopeful that religious liberty rights will prevail. She acknowledges that both rulings could have sweeping ramifications.
"In both Masterpiece Cakeshop and in the NIFLA case, the issue is compelled speech," Waggoner told Decision. "It's whether the government has the power to compel someone to speak a message that violates their religious convictions. Most constitutional scholars believe that Masterpiece will have a significant impact, perhaps for a generation, and that it's the most significant religious liberty case in generations."
Waggoner said that in the Masterpiece case, the justices "expressed very serious concerns about how the State of Colorado had treated Jack [Phillips] and expressed concerns about the positions of both Colorado and the ACLU. So we remain optimistic."
In the Masterpiece case particularly, Waggoner says Justice Anthony Kennedy, a social moderate, would likely cast the swing vote, as he has in many cases involving cultural and moral issues.
Observers of the NIFLA case saw signals during oral arguments that the court could be poised to rule for the pro-life pregnancy centers, but Waggoner says it is always risky to make assumptions.
"The court expressed deep concerns about the state taking the power unto itself to force someone to speak a message that violates their convictions. If the state has a message that it wants to get out to its citizens, it has the capacity to do that itself without    co-opting private voices And that's the core issue in both of these cases."
Back in 2012, before gay marriage was legally recognized in Colorado, Jack Phillips, the owner of Masterpiece Cakeshop in the Denver suburb of Lakewood, was thrust into legal trouble and the media spotlight after explaining to two gay men that he couldn't in good conscience design a cake for their wedding. According to Phillips, the men left angry and within hours he was being boycotted and verbally harassed, even receiving explicit death threats.
Phillips says he and his wife began the cake shop in 1993 as "an art gallery of cakes," combining his love of art with baking. A devout Christian, Phillips offered to sell the men any premade cake they wished or a designed cake for another event, but not a wedding cake.
Waggoner says Phillips drew lines "clear and early" in his business about what he would and would not design, refusing such things as Halloween cakes or cakes that disparage others. The name of his shop alludes to his Master, Jesus Christ, Waggoner notes.
But the state of Colorado determined Phillips had illegally discriminated, which caused him to drop the wedding portion of his business—some 40 percent of his revenue. Instead of 10 employees, he now has four.
In a Washington Post op-ed, Phillips wrote that the questions before the court go to the heart of whether or not Biblically guided citizens will have a place in society. "Those who are opposing me in court have compared me to racists and argued that I'm deserving of their fate—social marginalization. But a ruling for me would reject all that and declare to the world that my faith is not a scarlet letter."
"There's no case in this nation that we're aware of that's being litigated because someone has declined to serve someone just because of how they identify. It always comes down to being forced to speak a message out of your own mouth or with your own hands and participate in a religious ceremony that violates someone's core convictions."
—Kristen Waggoner, ADF
The Masterpiece case will also likely affect another prominent case involving Waggoner and currently before the high court for consideration: Arlene's Flowers v. State of Washington. In that case, floral shop owner Barronelle Stutzman was sued by the state and held liable by the state's Supreme Court for refusing, based on her religious beliefs, to design a floral display for a gay wedding.
Similar cases involving other bakers, calligraphers and a videographer are also likely to be directly affected.
Gay activists accuse Christian vendors of refusing service to LGBTQ people,  much like white businesses that refused service to black Americans during segregation. It's a false and dishonest narrative, Waggoner argues.
"There's no case in this nation that we're aware of that's being litigated because someone has declined to serve someone just because of how they identify," Waggoner notes. "It always comes down to being forced to speak a message out of your own mouth or with your own hands and participate in a religious ceremony that violates someone's core convictions."
Mat Staver, attorney and chairman of Florida-based Liberty Counsel, which litigates religious freedom cases, says the prospect of a ruling against Masterpiece Cakeshop would signal that LGBTQ rights supersede the religious liberties guaranteed by the First Amendment.
Staver says that Justice Kennedy, though not socially conservative, has tended to side with religious liberty when it is directly in question. Based on that, he says he is hopeful.
"If this decision goes the wrong way, that would open up a watershed to literally overwhelm religious freedom," Staver adds. "It would really invalidate religious freedom and free speech in the context of sincerely held religious beliefs and conscience. So it's huge because it's not only bakers or photographers or people who have businesses or ministries around weddings at issue here. The implications will spill over to other businesses, individuals and organizations, including churches."
Elections and the Courts
Elected officials tend to appoint judges who reflect their own values. Ultimately then, the composition of state and federal courts could be changed over time by informed Christians voting their values, says Staver, whose Liberty Counsel is one of several groups challenging the pregnancy center law in California.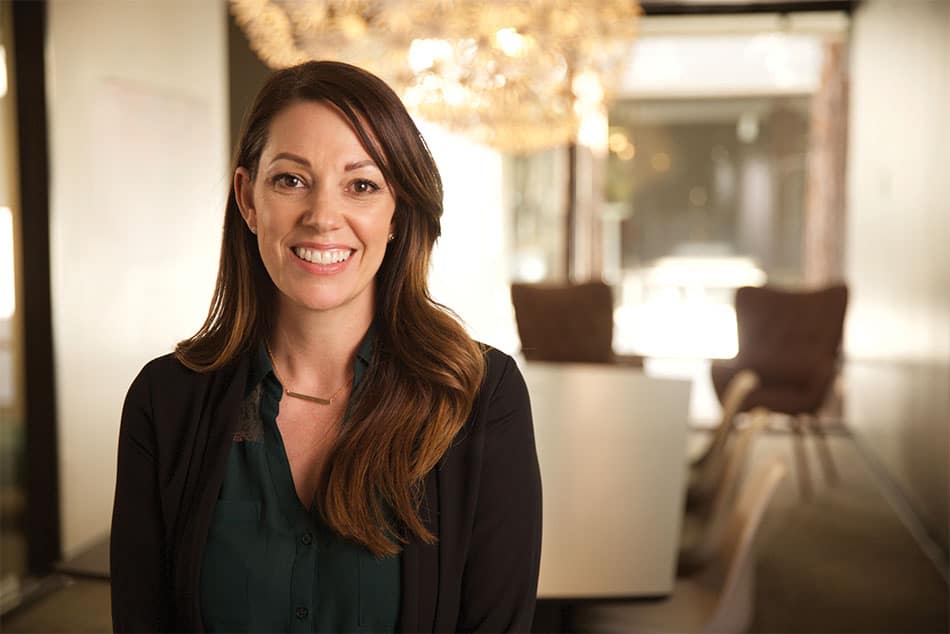 The upcoming mid-term elections could prove a watershed moment for the nation, he says, noting rumors that Justice Kennedy could soon retire.
"There are so many different cases that are significant, life-altering kinds of cases that are hanging in the balance based upon the next Supreme Court justice," Staver says. "Now President Trump has had in his first year of office more judges confirmed than any other president in American history. And these are not just seats being filled by individuals, but these are very solid constitutionalists on all different levels of the federal courts, including a very strong constitutionalist on the United States Supreme Court.
"This battle over the next person on the Supreme Court will literally be a battle for the future of the country. And all of that could be determined by this next mid-term election."  ©2018 BGEA
>> Read more from Decision Magazine
Give To Where Most Needed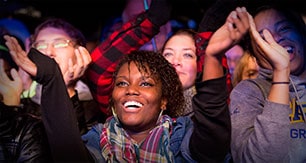 Help us fulfill our mission of proclaiming the Gospel of the Lord Jesus Christ to all we can by every effective means available to us and by equipping others to do the same.