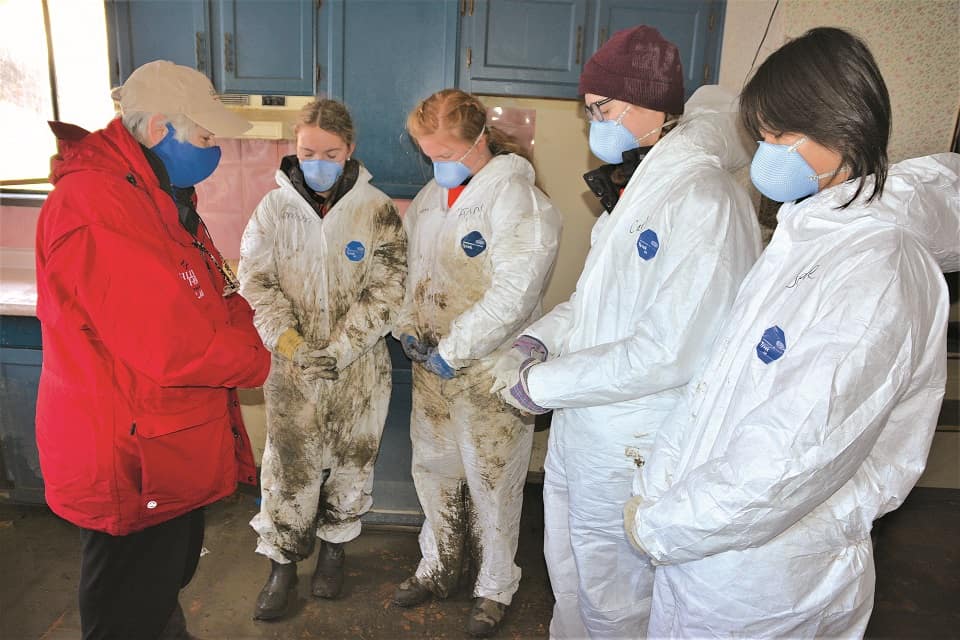 Some of the worst tornadoes in modern history ripped through the South and Midwest United States, leaving a trail of death and destruction over 300 kilometres long. We immediately deployed our Billy Graham Rapid Response Team chaplains to several of these areas.
What do our chaplains do? The immediate need is prayer. People have lost loved ones, their businesses, their homes—many have lost hope. I think it is important that we have men and women of God there to comfort storm victims, pray with them, and minister to them, sharing the hope of Jesus Christ. Many who would never go to a church or talk to a pastor, will talk to one of our chaplains on the street. BGEA chaplains are deployed alongside Samaritan's Purse disaster relief teams, and as the clean-up work is done, our chaplains are there ministering to those families and community members.
Wherever they deploy—and whatever tragedy they respond to—these chaplains provide a ministry of presence and prayer, to point suffering people to "the Father of mercies and God of all comfort, who comforts us in all our affliction" (2 Corinthians 1:3–4, ESV). In the aftermath of a crisis, hope is the greatest need there is.
Please pray for the devastated communities all along the path of the deadly tornadoes. Ask the Lord to comfort them with His love, to heal their broken hearts, and to give them lasting hope through Jesus Christ.
Gospel TV spots
Our Gospel TV spots aired around Christmas and on New Year's Day, inviting people to receive the "Savior, who is Christ the Lord" (Luke 2:11, ESV).
James* called our prayer line after seeing one of our spots. He does not have much longer to live due to complications from his years of alcoholism. He had only attended church a few times in his life and was not a Christian. But he called saying he would like to know Jesus as his Savior. Our staff member talked with him in more detail about the Gospel. James decided to repent of his sins and surrender his life to Christ. By the end of the conversation, he was weeping with joy, knowing he will spend eternity with the Lord, free and healed forever. Praise God for every person being reached with the life-changing Gospel message through these spots and the prayer line.
Every life is valuable to God
Last month marked the 48th anniversary of the March for Life rally in Washington, D.C. In 2020, my daughter Cissie Graham Lynch and I marched together at that event, and she was scheduled as a speaker at this year's event. The march was born in response to the United States Supreme Court's tragic 1973 decision in Roe v. Wade to legalize abortion.
The Supreme Court has finished hearing the case of Dobbs v. Jackson Women's Health Organization, which will determine whether or not states can enact bans on abortion. If the Court upholds Mississippi's law, it could signal the reversal of Roe v. Wade.
Please pray for the outcome of this case. The Bible is clear that life begins at conception and that God knows each individual child in the womb. BGEA is preparing to share the Good News around the world in 2022. Work is underway for the God Loves You Tour in the United Kingdom, and we just announced another in New Zealand. Please pray for God to work mightily to bring people to faith in Jesus Christ during these evangelistic tours.
Thank you for your partnership in this ministry of evangelism. Your prayers and gifts touch lives all over the globe, and I am thankful for you.
May God richly bless you,
Franklin Graham
---
The spirit of helping
Dale and Kim have faced many challenges since taking over a small country market in Abbotsford, BC. But nothing compared to the trauma of fleeing the business as it filled with flood water.
November's catastrophic rain and flooding in Abbotsford and another BC community, Merritt, devastated thousands of people as their homes were severely damaged. In many cases, these people were further crushed as their farming operations and livestock were swamped by the raging water.
Unlike most of the affected residents, Dale and Kim at least had time to move goods, food, and other valuables out of harm's way before the water arrived. When they were allowed to return, many of their fridges were flooded and the walls were soaked.
Dale and Kim had help from Samaritan's Purse volunteers to clean up the mess and prepare for repairs. But what about dealing with the crush of emotions that came with seeing their business under water? That's where prayers and support like yours made it possible for a pair of trained Billy Graham Rapid
Response Team (BG-RRT) chaplains to come alongside Dale and Kim. In a time of crisis, the chaplains provided a key element of support: the ministry of presence.
By the end of the deployment, about 20 BG-RRT chaplains from across Canada spent time ministering to families, first responders, and disaster relief workers in Abbotsford and Merritt.
It's one of the largest BG-RRT deployments since the massive 2016 wildfire in Fort McMurray, AB.
As the chaplains ministered, they looked for God-given opportunities to show this vital truth: "The Lord is near to the brokenhearted and saves the crushed in spirit" (Psalm 34:18, ESV).
"The chaplains have the spirit of helping and asking 'How are you?'" said Dale. "If you didn't have people like them showing up to offer help, I think some people could turn to drink or addictions."
In Merritt, chaplains spent time talking with one homeowner while volunteers cleaned out his home. When chaplains told Jim* that Jesus has given them a reason to love people he said, "I'm not a Jesus person." Chaplains responded by gently telling Jim that God loves him, and there is nothing he could do to make God love him any more.
Upon hearing this life-changing truth, Jim became emotional, saying, "I wasn't always a good guy." Chaplains gave Jim a copy of our "Steps to Peace With God" booklet and encouraged him to read it.
Jim wasn't ready to make a commitment to Christ, but we thank God that he was willing for our chaplains to pray with him. In total, chaplains prayed with more than 150 Merritt residents and volunteers. Through your donations and prayers, you can help many more hurting people to hear about the love of God through chaplains and hear His plan of salvation.
"For 'everyone who calls on the name of the Lord will be saved'" (Romans 10:13, ESV).
*Names changed for privacy
Give To Rapid Response Team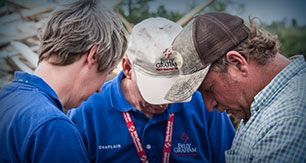 Your gift will provide for the training and deployment of our Rapid Response Team chaplains, who are deployed when natural or man made disasters strike in Canada and abroad. RRT chaplains serve and support hurting people affected by crisis, and share the message of hope found in Jesus.