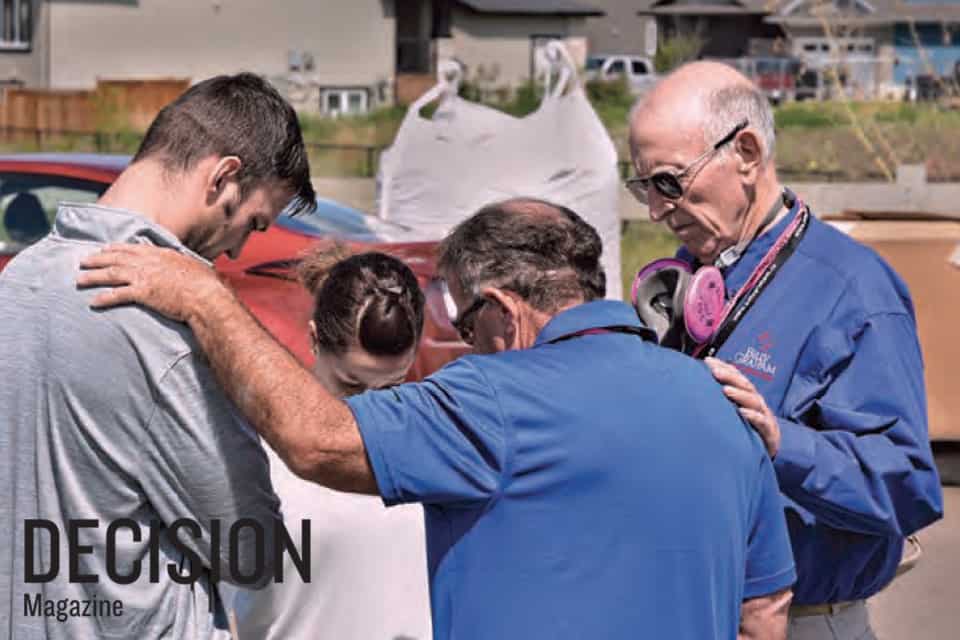 Subscribe to Decision
Get your own subscription, or renewal, or bless someone by giving Decision Magazine as a gift.
SUBSCRIBE NOW
Seminar equips Christians to offer Christ's compassion to hurting people
Cheryl Cook, a Brockville, ON, nurse, once used her skills to serve with Samaritan's Purse in war-torn Iraq. It was during that deployment she realized she needed a better understanding of how to present the Gospel in times of disaster and overwhelming emotion.
So she gave up a Saturday in September to attend Sharing Hope in Crisis, one of the Billy Graham Evangelistic Association's most important training events for those who want to share the love and compassion of Jesus Christ in crisis situations. More than 30 people attended the seminar.
"We all need to have a better understanding of not pushing ourselves on people, but serving in real ways and allowing those moments of evangelism to come naturally," Cheryl said during a break in the daylong course in Calgary. "This seminar presents a good overall picture of how to serve and let people see Jesus in you."
Sharing Hope in Crisis is the first required training step for people who want to serve as volunteer chaplains with the Billy Graham Rapid Response Team (RRT).
The RRT ministry, created after the 9-11 terrorist attacks, has seen Canadian chaplains extend Christ's hope, compassion, and offer of salvation to hurting people in almost every province in Canada as well as in France, Germany, the United States, and Belgium. Chaplains have helped victims of hurricanes, floods, wild-fires, tornadoes, terrorist attacks, and shootings in more than 35 deployments so far.
In these challenging situations, chaplains offer a listening presence, a shoulder to cry on and, if appropriate, prayers for people in the midst of overwhelming shock and grief.
The Sharing Hope in Crisis seminar examines:
Trauma's nature, symptoms, and contributing factors
Trauma can cause confusion, dizzy spells, shock, anger (sometimes at God), withdrawal from others (including the faith community), and difficulty making decisions.
The intensity of the event, the level of casualties/injuries, and the amount of media coverage are all contributors to trauma, said Merle Doherty, seminar instructor and the Billy Graham Evangelistic Association's Canadian RRT manager.
The characteristics of grief and how to best respond
Often, ministering to people in the midst of grief simply means being with them. "Let the Holy Spirit minister to them in quietness," Doherty said. "It's a valid component of minis-try, like the friends of Job" who stayed with him without saying a word for seven days after his family died and his riches were taken away (Job 2:13).Doherty recalled the aftermath of the 2011 earthquake and tsunami in Japan where a Samaritan's Purse volunteer sat silently with a grief-stricken survivor, on the roof of his damaged home, for three days. "Today, that man is a Christian and is leading other Christians in his community," Doherty reported.
Ways to communicate (and not communicate) in crisis situations
This is an especially useful part of Sharing Hope in Crisis. Participants learn some of the wrong things to say, such as "I know how you feel" or "The Lord gives, and the Lord takes away," along with some of the right things, like "How are you holding up?" and "I cannot imagine how difficult this is for you."
"People often say wrong things when they don't know what to say," Doherty explained. "If you're in a situation like this, ask the Holy Spirit if you should just stay quiet."
The steps to becoming an RRT chaplain
The easiest way to start the process is to attend an RRT training seminar. Visit BillyGraham.ca/RRT to learn when and where seminars are planned. You can also call 1-800-293-3717 or email info@bgea.ca.
The value of the Sharing Hope in Crisis training goes far beyond preparing people to be chaplains, Doherty said.
"This is an amazing course if you're at home, in church, or at a soccer game," he said. "You don't have to know all the answers in order to minister to hurting people. They don't care what you know, they just want to know that you care."
Speaking as someone well acquainted with grief, seminar participant Shauna Caldwell said, "This course is very on-target. I walked through our own journey as Merle walked us through each topic."
Shauna and her husband, Jason, lost their twin teenaged sons, Jordan and Evan, in a fatal 2016 accident on the bobsled run at Calgary's Canada Olympic Park. They decided to take the Sharing Hope in Crisis seminar with the goal of eventually becoming Rapid Response Team chaplains.
"The grief and recovery process can last a lifetime, so don't feel you have to solve people's problems in five or 10 minutes," Shauna said. "God might insert you somewhere for a season, then bring others along for other parts of the journey."
What about the Gospel during times of crisis?
Sharing the Good News of salvation during times of disaster or extreme emotion is entirely appropriate, says Merle Doherty, the Billy Graham Evangelistic Association's Canadian Rapid Response Team manager. But he stressed that it must be done with great thought, care, and discernment.
"Don't come into a situation with your theology. Come in with your love." – Merle Doherty
"If you have an agenda, people are going to see it," Doherty told participants in BGEA of Canada's recent Sharing Hope in Crisis seminar in Calgary.
"When people know you care about them, they're more willing to listen. So wait for that nudge of the Holy Spirit."
Doherty said one of his chaplains begins every encounter with a hurting person by offering them a bottle of water.
"We're in the business of offering hope, and sometimes that hope is represented by a drink of water."
During their deployment in Williams Lake, BC, last summer, chaplains had lunches with them while homeowners, who were evacuated because of a wildfire threat, did not. So, Doherty said, chaplains did the natural thing and shared their food. In this way, God opened the door for spiritual conversations.
"Don't come into a situation with your theology," he said. "Come in with your love. And be aware that what's going on in their lives might prevent them from understanding you."
A key element to sharing Christ's offer of salvation with others is to know your own story.
"Our testimonies are the most powerful 'tract' we have," Doherty said. "So are you prepared to tell your story in four minutes?"
While he was ministering to a man in La Loche, SK, after a 2016 shooting, Doherty quickly summarized his life story "and it was similar to his, so that broke the divide between us."
Host a Rapid Response Team training event!
Your community group or church can host a Rapid Response Team training event, including a Sharing Hope in Crisis seminar. Just contact the Billy Graham Evangelistic Association of Canada at 1-800-293-3717 or info@bgea.ca.
You can also support this vital ministry through your prayers and donations. Please visit BillyGraham.ca/RRT for more information.
Give To Where Most Needed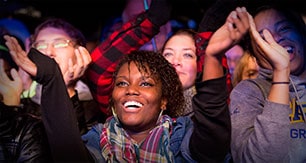 Help us fulfill our mission of proclaiming the Gospel of the Lord Jesus Christ to all we can by every effective means available to us and by equipping others to do the same.