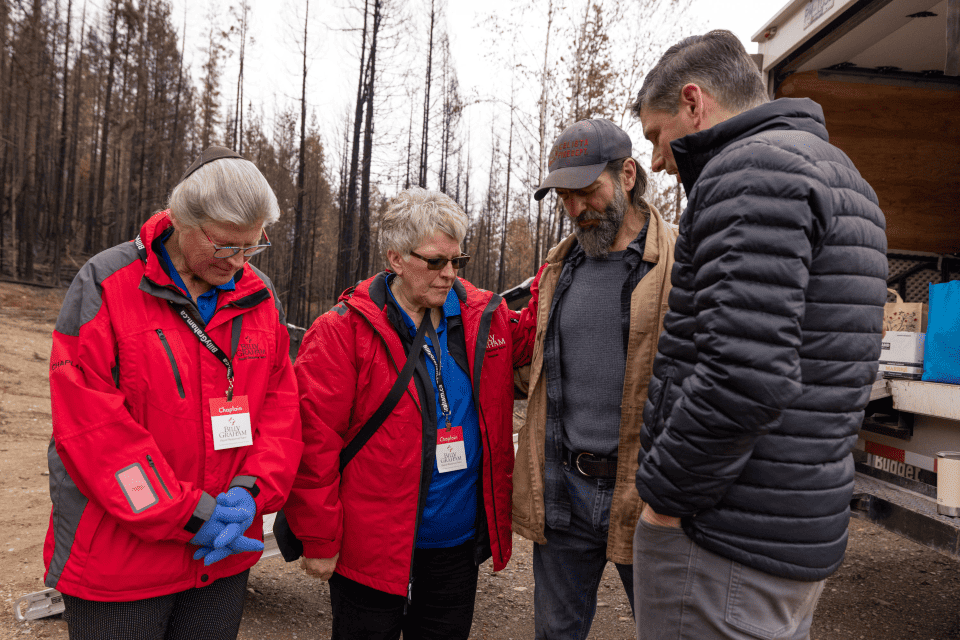 "The morning of the fire, the air … there was like a yellow light here, and it was eerie and there was ash just raining down," said Jade as he surveyed his scorched land, recounting the day his homestead in the mountains near Shuswap Lake in the Thompson-Okanagan region British Columbia burned to the ground.
"We moved as fast as we could to get everything out. It was a very strange, ominous feeling with the color and then the ash falling, and just this massive plume of smoke right up in the sky over top of us," said Jade. "We couldn't see the fire in here at the time, but … we could hear it coming. You'll never forget the sound. It was this huge roaring mix of waterfall and engine. Just a noise. A very strong, powerful noise."
Jade, a soft-spoken farmer with a sun-worn face and gray beard, shared the story like it was yesterday, explaining how he, his wife, and their three-year-old son had escaped down the mountain in their RV—their temporary home as they built their new house from the ground up. When they reached the bottom, they learned that the main road was closed, leaving them no choice but to go back up to where the fire was methodically chewing up their 40 acres.
Jade spent the next several hours fighting the fire, trying to save his neighbor's home, even as he watched the massive inferno claim his own land—his family's possessions, hard labor, and dreams. Eventually, as the flames arced over his neighbor's house, he had to pull his family back to relative safety in the RV, which he had parked in an open field away from the flaming canopy of dry trees.
From there, they watched the roaring blaze claim his neighbor's home as well.
"Yeah, it was probably the hardest moment of my life. I mean, even when you have faith and you know the impermanence and the temporary [nature] of this, it still really hits you hard to lose so much," said Jade.
As Jade and families across this region process their harrowing experiences of survival and loss, chaplains from the Billy Graham Rapid Response Team (BG-RRT) have been at their side to pray and share hope in Jesus' Name.
"Right now, just to know that we're cared for is big," said Jade.
Will Graham Encourages the Hurting
In addition to BG-RRT chaplains, Jade had a special visitor when Will Graham, grandson of Billy Graham and son of Franklin Graham, visited his property.
Will is in town for the Thompson-Okanagan Look Up Tour, a three-city evangelistic outreach this weekend in nearby Kamloops, Vernon, and Kelowna, British Columbia. While in the area, Will wanted to visit those who have been affected by the devastating wildfires and encourage them however possible. He spent roughly a half-hour visiting with Jade, listening to his story, and praying with him.
"We just come along and try to help people. That's what we want to do. It's a privilege to help others. It's a joy to help others. Even more than that, it's a calling for us," said Will.
"We don't live in a perfect world. We live in a fallen world, where things are out of our control and things happen. So when we come, there are people that are hurting, people that have questions, and I don't have every answer," said Will. "But I just want to tell them about a God that loves them and has sent us to help them—pointing them to Christ if we can."
A Time for Prayer
The prayer need is great in the Shuswap and several other areas where the ministry is responding to devastation caused by wildfire. "Pray for the Holy Spirit to help these families in grief know Christ's comfort," said Holly Lafont, who leads the BG-RRT team in Canada.
"People are so open to prayer," said Cindy Martin, another chaplain. "We've not had anybody say that we can't pray for them, but it's amazing how many times you finish praying, and you say 'Amen,' and you look up and tears are streaming down their face. You have no idea the work that the Holy Spirit is doing, but you know that something significant is shifting and taking place inside."
As you pray for the impacted homeowners, and the BG-RRT chaplains, pray also for this weekend's Thompson-Okanagan Look Up Tour with Will Graham. While the physical needs across the region are great, the spiritual needs are even greater. Eternity is at stake.
Give To Rapid Response Team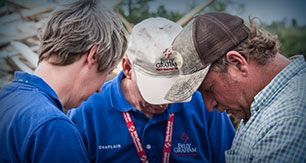 Your gift will provide for the training and deployment of our Rapid Response Team chaplains, who are deployed when natural or man made disasters strike in Canada and abroad. RRT chaplains serve and support hurting people affected by crisis, and share the message of hope found in Jesus.