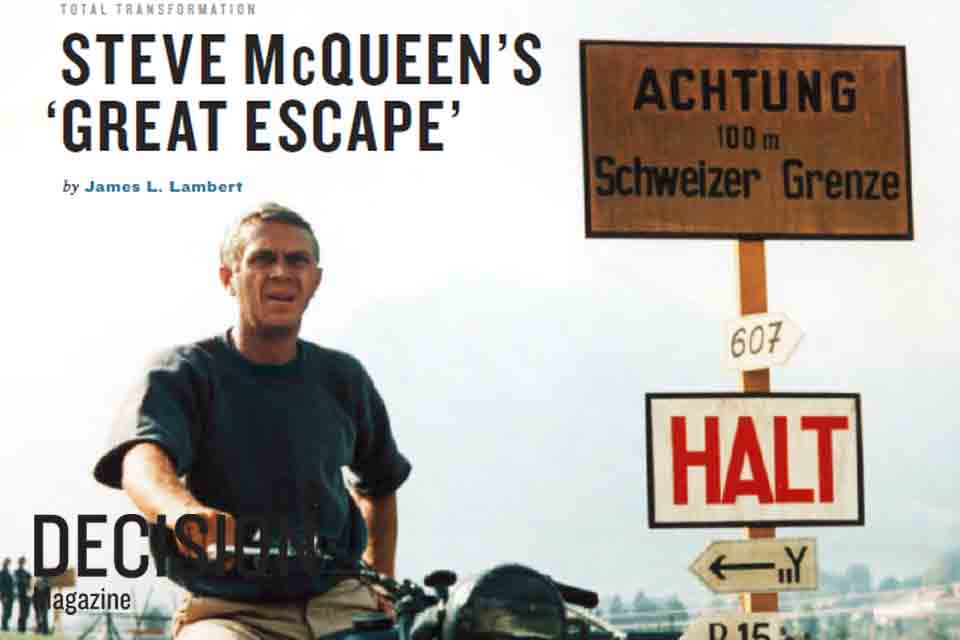 In the late fall of 1980, Hollywood's King of Cool slipped into eternity with a well-marked Bible from Billy Graham resting on his chest and Heaven in his sights.
Steve McQueen's nickname, the King of Cool, spoke to his persona among fans of his movies in the 1960s and '70s. His tough-guy image was the epitome of American machismo. Movies like The Great Escape, Bullitt, The Towering Inferno, The Magnificent 7, Papillion, Le Mans, The Thomas Crown Affair, and The Sand Pebbles made him a Hollywood icon.
Years after his death, "Steve McQueen is still considered hip and cool, and he endures as an icon of popular culture," says the movie website IMDb.com.
Subscribe to Decision
Get your own subscription, or renewal, or bless someone by giving Decision Magazine as a gift.
SUBSCRIBE NOW
But few people know of the radical change the actor experienced after trusting Jesus Christ as Savior more than a year before his death and several months before doctors found aggressive mesothelioma that was taking its toll. Nor do they likely know about Billy Graham's ministry to McQueen in his dying hours.
It was 35 years ago last month—Nov. 7, 1980—when McQueen died of heart failure following radical cancer surgery in Juarez, Mexico.
Several days before that, Mr. Graham found a changed man when he met with McQueen at the actor's hideaway—a ranch far from Hollywood that McQueen used to find solace and to satiate his love for fast cars, motorcycles and airplanes.
Flying was the hook God used, it turned out, to pull McQueen in. He had purchased a vintage Stearman bi-plane and hired an expert pilot named Sammy Mason to train him to fly it. Mason was a devout Christian, and over a period of months and many conversations, McQueen gave in to the Holy Spirit's pull. His wife, Barbara Minty, also became a Christian, and the two began attending church with Mason.
By September 1980, McQueen was battling advanced cancer yet blooming as a young believer. He wanted badly to meet Billy Graham, but the two men missed each other just before Mr. Graham traveled to Japan for several Crusades. "I didn't know he was sick until I read about it in the English newspapers in Japan," Mr. Graham was quoted as saying in an account reported by Asheville, N.C., newspaper columnist Bob Terrell.
After returning from Japan, Mr. Graham stayed over several days in Los Angeles and received a message at his hotel from Grady Ragsdale, McQueen's ranch manager. "Steve really wants to talk to you," the message said. "He's in a bad way."
The next day Ragsdale drove Mr. Graham to McQueen's ranch near Santa Paula, north of Los Angeles. When Mr. Graham first saw McQueen, the actor looked "all wrinkled and shrunk," Mr. Graham told Terrell. "But his eyes sparkled above the oxygen mask he was using."
In an account Mr. Graham provided for a 1983 book by Ragsdale called Steve McQueen: The Final Chapter, he recalled that McQueen sat up in the bed and greeted him warmly. "He told me of his spiritual experience," Mr. Graham said. "He said that about three months before he knew he was ill, he had accepted Christ as Savior and started … reading his Bible and praying. He said he had undergone a total transformation of his thinking and his life."
That afternoon McQueen got a cherished gift: A well-worn Bible that Mr. Graham had carried with him. McQueen mentioned that he couldn't locate his Bible, and Mr. Graham offered him his to keep. According to Mr. Graham's account in the Asheville Citizen on Dec. 12, 1980, McQueen asked Mr. Graham to read to him.
From Romans, chapter 8, Mr. Graham read aloud: "There is therefore now no condemnation to them which are in Christ Jesus, who walk not after the flesh but after the spirit." Mr. Graham read the rest of the chapter to McQueen and prayed. The two men continued to visit, with the actor asking numerous questions.
McQueen was preparing to leave that afternoon on a private jet to El Paso, Texas, and then cross the border to Juarez, Mexico, for a risky surgery not available in the United States.
Before McQueen's plane departed, he asked Mr. Graham to pray for him once more. Mr. Graham prayed, "Lord, it's Your will. If You want to take Him to Heaven, Thy will be done. He's ready to go." McQueen smiled and said: "That's what I'm praying too. I am ready."
In Ragsdale's book, he recounted last seeing McQueen entering the hospital in Juarez clutching the Bible Mr. Graham gave him. The next morning, as his heart failed, the actor idolized by millions made his ultimate "great escape" into the presence of Jesus.
Minty, McQueen's widow, later wrote that "being born again in Christ was important to Steve and helped him find inner peace that eluded him so long."
In a foreword to Ragsdale's book, Billy Graham wrote: "I look back on that experience with amazement. I had planned to minister to Steve, but as it turned out, he ministered to me. I saw once again the reality of what Jesus Christ can do for a man in his last hours. It was also interesting to me that Steve had accepted Christ some weeks before he even knew he was ill. Otherwise people might have thought it was a deathbed decision." D ©2015 JAMES L. LAMBERT
JAMES LAMBERT IS THE AUTHOR OF 16 AMAZING STORIES, WHICH DETAILS THE CONVERSION STORIES OF MCQUEEN AND OTHERS, AND IS A FREQUENT EVANGELISTIC SPEAKER ON COLLEGE CAMPUSES. HE CAN BE REACHED THROUGH HIS WEBSITE: 16AMAZINGSTORIES.COM.
Give To Where Most Needed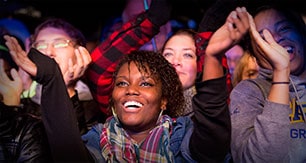 Help us fulfill our mission of proclaiming the Gospel of the Lord Jesus Christ to all we can by every effective means available to us and by equipping others to do the same.