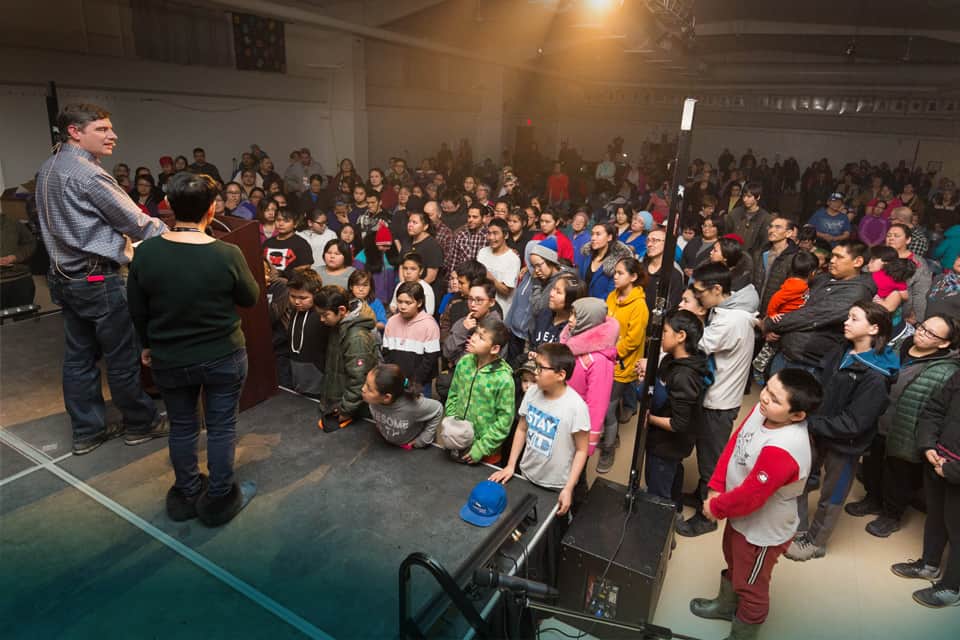 On a cold night in the tiny Arctic community of Baker Lake, almost 300 people squeezed inside Qamanittuaq Recreation Centre for the Celebration of Hope with Will Graham.
Like so many isolated Nunavut communities, Baker Lake struggles with suicide, crowded housing, lack of jobs, and a high cost of living. So many of those in attendance were coming to find hope in the midst of their difficult lives.
John and Mary* were among them. The young, married couple occasionally went to church, but neither knew that faith in Jesus Christ could give them real hope and joy that they'd never experienced before.
John and Mary went to the second night of the Celebration of Hope, which took place Oct. 25-27. That's when they heard music and testimonies from popular Christian artists, and Will Graham's Gospel presentation.
As Will revealed "the unsearchable riches of Christ" (Ephesians 3:8, ESV) and invited people to repent of their sins and place their trust in Jesus, Mary came forward where she met a prayer counselor named Kevin.
Kevin felt God calling him to serve as a volunteer counselor during the three-night event and had travelled by plane from Rankin Inlet—a Nunavut town where Will held a Celebration of Hope in 2018.
God uses connection
At first, Mary's husband stayed in his seat. But then he spotted Kevin. The two knew each other from when John lived in Rankin Inlet; they had often spoken there, and God used that friendly connection to bring him to Kevin.
"I thought John came forward just to catch up, but he stayed with me," said Kevin.
Having already heard the Gospel from Will Graham, the Holy Spirit inspired Kevin to tell John and Mary that the message Will shared wasn't about attending church; it was about trusting every part of their lives and their marriage to the One who is "the way, and the truth, and the life" (John 14:6).
The couple, who had been struggling with marital challenges, understood and accepted Christ together. That's what was so significant to Kevin: "They both needed the Lord in their lives," he said.
Hundreds respond to the Gospel
We praise God for the 780 people who attended the Celebration and for the 324 who responded to the Good News of Jesus Christ. And we praise Him for Canadians like you, who made the Celebration possible through prayers and donations.
The three churches in Baker Lake, a hamlet of about 2,000 people, have also been at the heart of the Celebration through prayer and providing crucial volunteers. In the coming weeks, these congregations will be following up with those who made decisions, inviting them to join their community and learn more about how to follow Christ. Please pray for these churches and new believers.
Even as we celebrate what God has done in Baker Lake, we know there are many other communities across Canada and the world that need to know that "God sent his only Son into the world, so that we might live through him" (1 John 4:9).
Will you help answer that need through your prayers and financial support?
*Names changed to protect privacy
Give To Festivals and Celebrations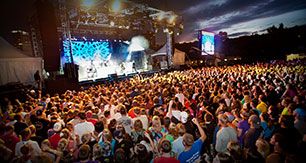 Your support will help us proclaim the Gospel of hope in Jesus through our Festival and Celebration evangelism events, which feature inspiring music from well-known Christian artists, powerful stories of transformation and Gospel messages by Franklin and Will Graham.