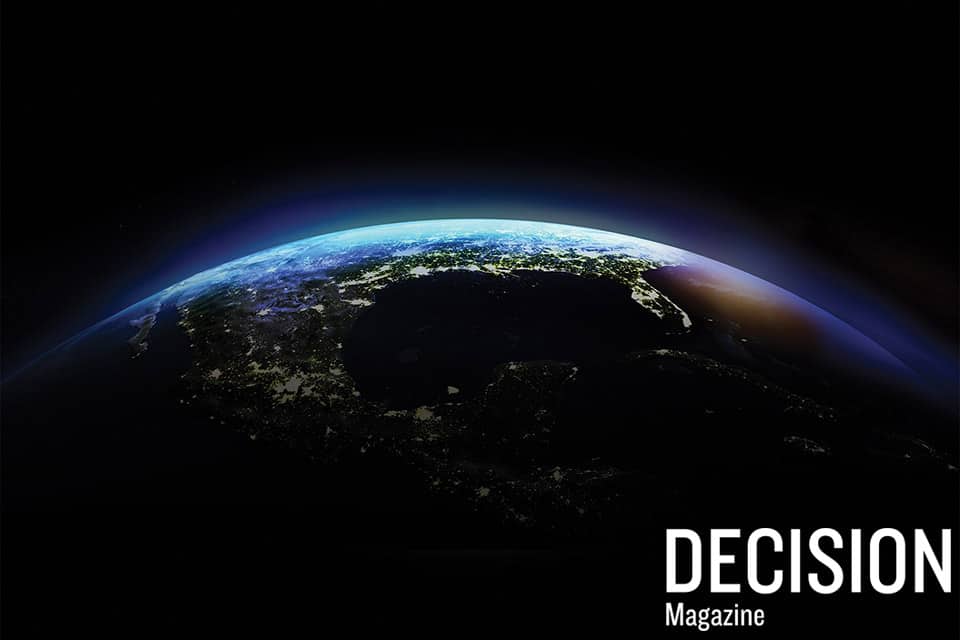 Subscribe to Decision
Get your own subscription, or renewal, or bless someone by giving Decision Magazine as a gift.
SUBSCRIBE NOW
Last Oct. 1, after a gunman with no serious criminal history unloaded more than 1,100 rounds of bullets into a crowd of thousands during the Route 91 Harvest music festival in Las Vegas, the public was stunned.
From his hotel room high above the outdoor concert, 64-year-old Stephen Paddock, a high-rolling gambler down on his luck, sent bullets and shrapnel into nearly 600 people scurrying for cover, killing 58.
The shooting, in an era when violence has become a risk factor anywhere crowds gather, followed a summer of exceptional tragedy from hurricanes and wildfires. Paddock had amassed in his room an arsenal of firearms to kill and maim on a large scale. More startling, however, is that for all the mind-numbing violence, authorities can't pinpoint his motive.
On Oct. 31, a 29-year-old Muslim extremist, Sayfullo Saipov, rammed a rented pickup truck into a crowded bicycling and jogging path along Hudson River Park in New York City, killing eight people and injuring 12. Afterward, he reportedly ran from the truck yelling "Allahu akbar!"
Then, only six days later, on a peaceful autumn Sunday morning in rural Texas, a vengeful, sadistic 26-year-old Devin Patrick Kelley entered the First Baptist Church in Sutherland Springs and fired more than 500 rounds of ammunition, systematically executing young and old, men and women, boys and girls—an unborn baby among them. In a church that might draw 50 people on a Sunday, Kelley shot 46 who begged for mercy and tried their best to shield the elderly and children. In all, 26 people died, their bullet-ridden bodies strewn under pews and across the sanctuary of the small church building.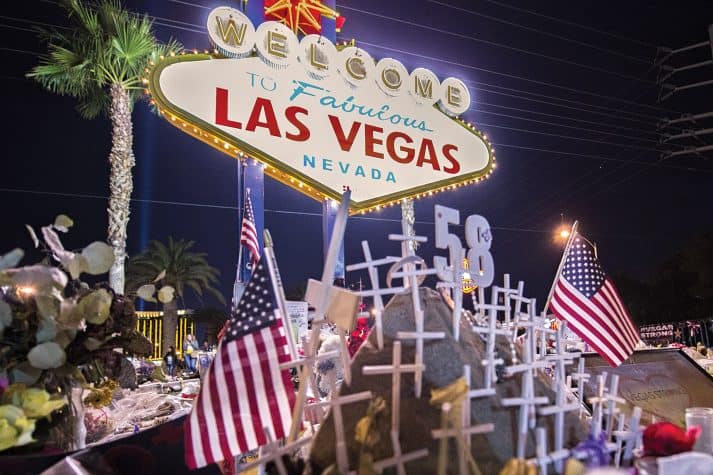 Last year's rapid succession of tragedy was dizzying. Over Thanksgiving weekend alone, 44 people were killed or wounded in gun violence in some of the roughest neighborhoods of Chicago, where such mayhem is at crisis levels.
While politicians decry gun violence, the culture seems blind to the demise of morality that feeds it. Abortion has long been an American tragedy, with our nation approaching 60 million since the landmark Roe vs. Wade decision legalized it nationwide in 1973.
Closely related, the global "right to die" movement is making euthanasia palatable for the masses; six U.S. states and the District of Columbia now allow so-called assisted suicide.
Add to the mix: unprecedented political division, even hatred, along partisan and ideological lines; surging racial and ethnic tensions as alt-right and far left groups bait the public to join the fray; some college campuses resembling Marxist totalitarian enclaves; an explosive list of sexual harassment complaints against powerful men in varied arenas; ongoing turmoil over sexual mores; an epidemic of pornography addiction; the opioid epidemic. The woes stretch ad nauseam.
"So we are experiencing the passive wrath of God, where He is progressively taking His hands off the culture, which automatically allows more deviance and decadence and decay into the culture." —Tony Evans
Meanwhile, international tensions are heightened, with a nuclear-armed Iran as a viable future threat, and a rogue communist dictator in North Korea firing intercontinental ballistic missiles that could reach both his Asian neighbors and the West, including the U.S.
The spread of Islamic fundamentalism in the Middle East, Africa and parts of Asia has made being a Christian (and in some cases merely a nominal Muslim) a matter of life and death. The scourge of radical Islam has created a Christian void in Iraq and Syria. In Iraq alone, some 80 percent of the Christian population has been displaced, and the 20 percent who remain live under constant threat. The Islamic State has demolished Christian churches and sites and claimed them for Islam.
Our Heart of Darkness
As the public scratches its collective head, Scripture tells a story that runs counter to the modern mind: "The heart is deceitful above all things, and desperately wicked; Who can know it?" (Jeremiah 17:9).
The stain of human sin covers every sphere of our world, and its shadow seems wider each day.
"When you sin and you refuse to repent, God backs away," says Anne Graham Lotz, whose book The Daniel Prayer encourages desperate, fervent prayer for personal and corporate revival. "You don't repent and you continue to sin and you become defiant, and He backs away further until in the end, God just turns you over to yourself.
"That's where America is today. Look at the end of Romans 1. He's just backed away from us, turned us over to ourselves. As they say, 'America, how's that working for you?'"
Lotz told Decision Magazine it seems that God is trying to rouse humanity's attention through the exhausting run of natural disasters, violence and even the natural phenomenon of the total solar eclipse last August that made a path across the entire continental United States—a phenomenon that some Jewish rabbis considered a divine warning to a secular nation.
Lotz says she believes severe judgment is coming and has partly begun. "And I'm talking about something like a nuclear strike, an earthquake that splits us in two, an EMP (electromagnetic pulse) attack that devastates our electrical grid. Something major that would be a game-changer for America, because we are so defiant and rebellious and idolatrous and immoral, and we know better."
Global tensions and shifting geopolitical alliances only add to the "birth pangs" that Jesus spoke of pertaining to the days before His return, she adds.
In late November, for example, Russia hosted the presidents of Iran and Turkey for talks over how to bring peace and political reforms to war-torn Syria; Iran and Russia have together backed Syrian President Bashar al-Assad through a bloody civil war, while Turkey has backed Assad's foes. Lotz says a Russia-Iran-Turkey alliance would fit with prophecies in Ezekiel 38 about Gog and Magog and a coming Mideast war.
Indeed, Matthew 24:7 speaks of a time when "nation will rise against nation, and kingdom against kingdom. There will be famines, pestilences and earthquakes in various places."
Wherever we are in God's timeline, Tony Evans agrees that North America and the West are amid what he terms the "passive wrath" of God, à la Romans 1.
"The passive wrath of God is when He releases a people to the consequences of their abandonment of Him," says Evans, pastor of Oak Cliff Bible Fellowship in Dallas. "And so the further God is removed from His place in an individual life, a family or even a society, the more decay sets in, according to Romans 1:18 and following. So we are experiencing the passive wrath of God, where He is progressively taking His hands off the culture, which automatically allows more deviance and decadence and decay into the culture."
The Light of The Church
And while conservative pundits throw rhetorical darts at liberals and secularists, Evans warns, "God will not skip the church house to fix the White House."
"That's where America is today. Look at the end of Romans 1. He's just backed away from us, turned us over to ourselves. As they say, 'America, how's that working for you?'" —Anne Graham Lotz
Thus, he argues, much of the blame should be placed at the feet of professing Christians. By developing "fans and not true followers," Evans says the church has been a co-conspirator in society's demise, too often adopting the world's ways.
"My point is that only God's people can play a part in turning it around." In 2 Chronicles 15, Evans notes that God, on the heels of chastening Israel, "lets them find Him in the midst of a decaying culture." A time of peace ensued upon their repentance.
"So if there's any hope for America," Evans emphasizes, "it rests with the church. It doesn't rest with the White House."
Evans takes encouragement from Jeremiah 29, where God reminds the captive Jews that He still has a plan for them.
"I'm not a discouraged kind of a guy. God tells the captives in Babylon through Jeremiah that He can still restore things if they will seek and search for Him. So I tell people, just like Jeremiah did, that there's hope in the midst of a dark situation.
"But it starts in your own individual life and your own family," Evans says.
Lotz agrees that if repentance occurred among Christian people, God might relent from His judgment, based on how He dealt with the Jews in Joel 2.
"God tells them, 'If you will return to Me and rend your hearts, not your garments, who knows but that I will return to you and leave behind a blessing?' So if America—and I don't mean America as a whole because I wouldn't expect America as a whole to repent of her sin—but if Christians would come back to the cross, and if we would rend our hearts. …
"Rending your heart means it's a deep-down commitment that you make to change," Lotz adds, "to live unto God, to be the person He's called you to be."
Lotz says even as the larger culture has seemingly become numb to their Creator, "Our hope is based on the belief that there is a God and He has a plan and He's working it. The world is not out of control. It's not unraveling. It's falling into place right at the feet of Jesus." ©2017 BGEA
Scripture quotations are taken from The Holy Bible, New King James Version.
Give To Where Most Needed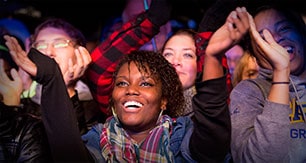 Help us fulfill our mission of proclaiming the Gospel of the Lord Jesus Christ to all we can by every effective means available to us and by equipping others to do the same.