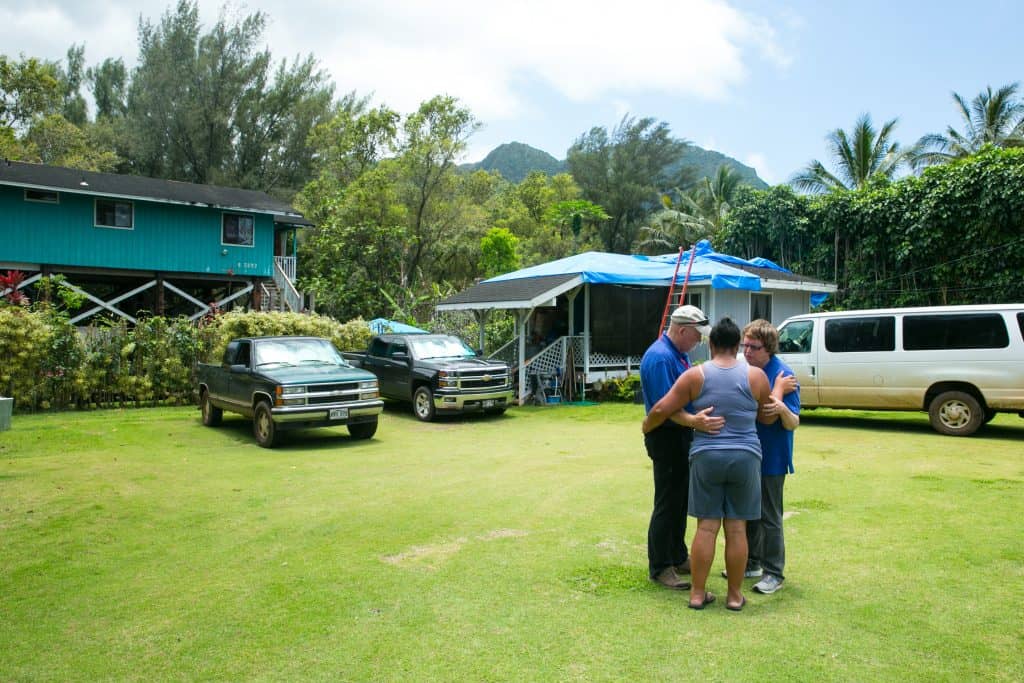 This week marked one month since a small group of U.S.-based Billy Graham Rapid Response Team chaplains arrived in Kauai, Hawaii, following devastating floods.
A record-breaking four feet of rain fell on parts of the island during a 24-hour period in late April, triggering mudslides and heavy flooding. Some residents lost their homes, and others just barely escaped the rushing waters.
Chaplains Ken and Marilyn Sides have spent the last three weeks getting to know the local residents. As the chaplains have worked alongside Samaritan's Purse volunteers who are rebuilding and shoveling mud out of homes, Ken and Marilyn have seen God's hand on the people there—people He loves deeply, even if they don't yet know Him.
"The people are delightful," Marilyn said. "They are very loving, they are respectful of the land. But when it comes down to it, so many are just in [spiritual] darkness."
The mountainous terrain by the sea is covered with trees and colorful flowers, making it a breathtakingly beautiful place to live—a place some residents consider their own piece of "heaven on earth," as Marilyn explained.
But the floods served as a difficult reminder that even God's most stunning creation is in continual turmoil, and Heaven's perfection will never be fully attainable in this life.
Behind their smiles and aloha spirit, the chaplains have found the people of Kauai are facing the same struggles as anyone else—like illness, family issues, depression, anxiety and fear. The floods brought some of that fear into the light as residents were forced out of their homes or lived through close calls during the height of the deluge.
Since April 29, the team of eight chaplains has had the opportunity to pray with more than 500 people. For Marilyn, who has served as a chaplain for 13 years and has deployed to disasters like Hurricane Katrina and the catastrophic 2010 Haiti earthquake, one of the sweetest parts of serving is seeing God transform people's hearts in a visible way.
She said one of the local homeowners, a single mom, was stoic and closed off when the Samaritan's Purse team and chaplains first arrived to help out with her damaged house.
The chaplains continued to check in on her every day, and Marilyn, who is a mom and grandmother, gradually established a friendship. The woman opened up when the two of them shared a picnic lunch.
"She started sharing about her life," Marilyn said. "She felt like God was telling her to do certain things and that He was using the [Samaritan's Purse and BGEA] teams to open up areas of her heart that she had never thought about."
The homeowner shared some concerns about her son, and the two women prayed for him together.
A couple nights ago, she joined some of the team for dinner, and she accepted a new Bible they gave to her as a gift. Having a group of strangers voluntarily come to her home to help her rebuild—"the hands and feet of Jesus," as the chaplains describe it—slowly led her to open her heart to Christ, and she decided to rededicate her life to Him.
"She was saved when she was young but had not owned a Bible in maybe over 20 years," Marilyn said. "Now she's like a shining light. When she shows up, everybody working on her house is just so happy to be around her. There's this beautiful hope in her face and in her heart."
Her story is one of many the chaplains are witnessing as they continue to minister in Kauai. They're asking for believers everywhere to pray for this unique place where God appears to be moving in a powerful way. Just a few weeks ago, a new church—the only one in the area—was planted by a local pastor. It's meeting in a restaurant and bar and has seen 30-50 people at each of its first few services. The chaplains have been attending and are excited to see what God will do next as the community comes together to learn more about His love.
As many residents have learned recently, even in a place that looks like "heaven on earth," true hope isn't always easy to find.
"What they don't realize is this [life] is a short time," Marilyn said. "It makes you realize why we're here, why God sent us to this beautiful, beautiful place where they need Jesus for eternity."
You can have hope in this lifetime and eternal life thereafter. Find peace with God today.
Give To Rapid Response Team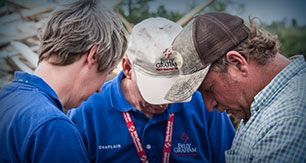 Your gift will provide for the training and deployment of our Rapid Response Team chaplains, who are deployed when natural or man made disasters strike in Canada and abroad. RRT chaplains serve and support hurting people affected by crisis, and share the message of hope found in Jesus.