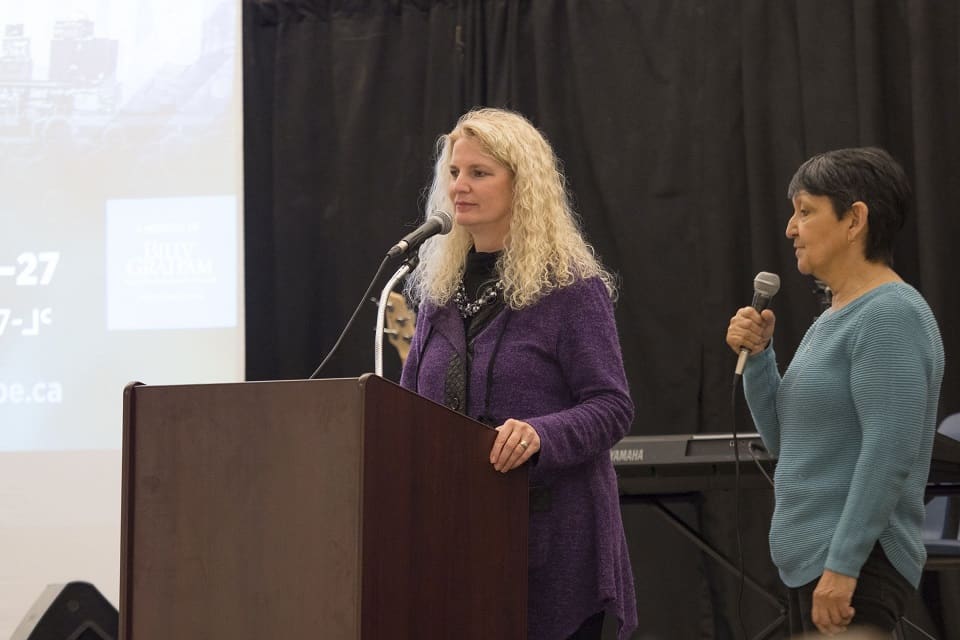 "If you've been looking for something in life, or not having the peace that you've been searching for within you, this would be a very good place to find hope."
That's how Kathy Nateela describes the Celebration of Hope with Will Graham that will be held in her Arctic community of Baker Lake, Nunavut, this fall through the support of donors like you.
Like many of the roughly 2,000 people in Baker Lake, about 1,600 km north of Winnipeg, Kathy is welcoming the Celebration and its prayer gatherings, evangelism training classes, and worship events.
After that, on Oct. 26-27, there will be two nights of music by popular Christian artists and powerful messages from Will Graham about the lasting hope found in a relationship with Jesus Christ.
"The Celebrations is something we've been needing for some time," Kathy said. "The way it's being planned involves the churches. It's not just in somebody coming in to do a service and then leaving. The way we are being prepared, I believe, is going to [lead to] a very good outcome."
Her parents were born-again believers who passed on their Christian faith to their daughter.
"At a young age, I accepted Jesus Christ as my Lord and Savior," she said. "I don't know of any other life."
The Inuit woman is thankful that the Billy Graham Evangelistic Association (BGEA) has always used a wide range of communications technology. It began with radio, then TV, and now the internet, all to share the Gospel far and wide.
"When I was a child, my father didn't understand English very well, but he knew Billy Graham and tuned in on the shortwave radio to listen," Kathy recalled.
The song Just as I Am that ended almost every Billy Graham Crusade, including all of those broadcast into Canada's far north, had special meaning to Kathy's father: "He would sing that in Inuktitut."
So it is fitting that Kathy served as an English-to-Inuktitut translator during the Baker Lake Celebration's launch event in March. She is eager to serve in the same way during the main outreach event in October.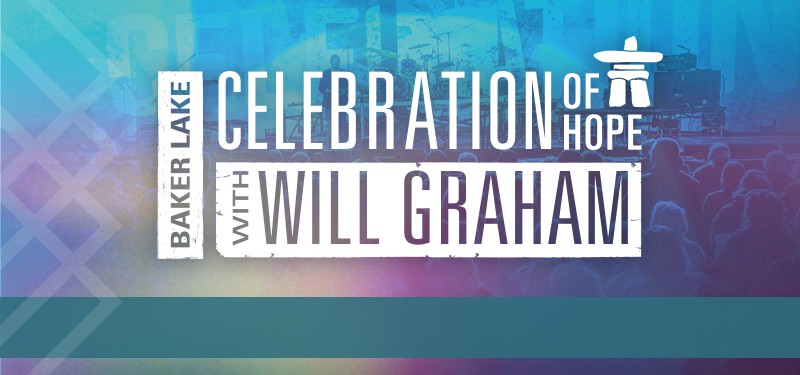 "My wish for our young people is that they will understand that from the time they were conceived, God had great plans for them—and it's not too late," she said. "Everybody goes through hard times in our lives. The way that I have been able to continue on is by faith in God and by my prayer time."
Kathy is praying that every resident of Baker Lake will come to the Celebration. Her reason is simple: "The 'something' that you're seeking in life is a relationship with our Creator."
The Celebration in Baker Lake is the second that BGEA of Canada has organized with churches in the Arctic. The first was last year in Rankin Inlet, about 320 kilometers to the southeast. This year, we are also organizing a Celebration of Hope in the Quinte region of eastern Ontario.
You can help make these Celebrations a success through your prayers and donations. Please join us so that many would "come to know and to believe the love that God has for us" (1 John 4:16, ESV).
Give To Festivals and Celebrations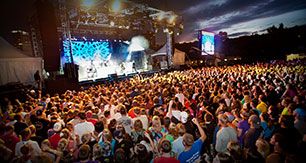 Your support will help us proclaim the Gospel of hope in Jesus through our Festival and Celebration evangelism events, which feature inspiring music from well-known Christian artists, powerful stories of transformation and Gospel messages by Franklin and Will Graham.