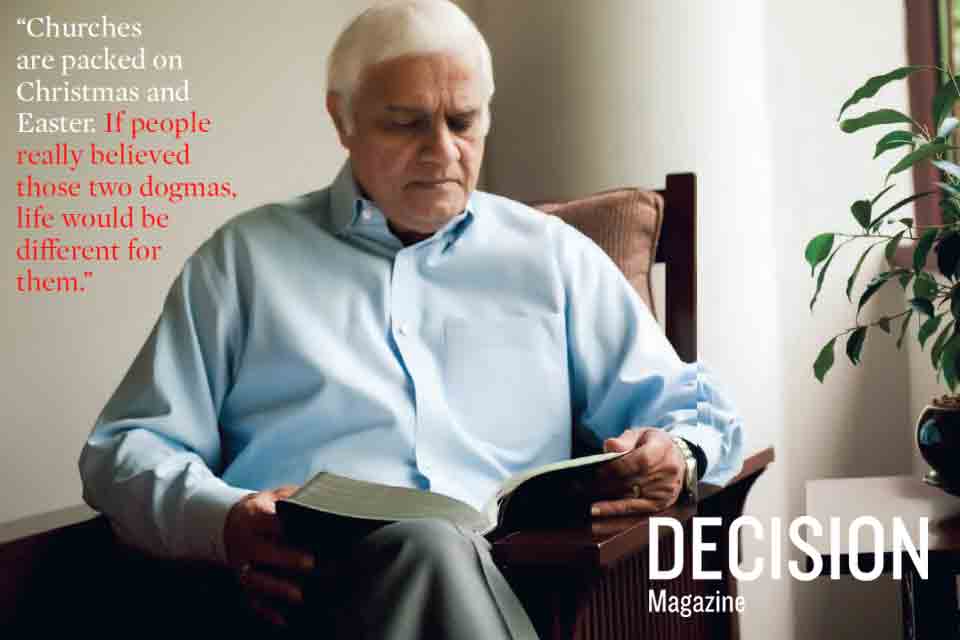 Ravi Zacharias, Christian apologist, author and host of the Let My People Think radio and television programs, recently shared some of his thoughts about Christmas in today's culture during an interview with Decision assistant editor Charles Chandler.
Q: What can we learn from the astonishing truth that, through the baby Jesus, God became man?
A: I think the very definition of what it means to be human is up in the air right now. If you ask an average academic or if you ask a person coming from a different philosophy of life what it means to be human, you're liable to get as many different answers as people you talk to. And yet in the Christian narrative, the fact that the human being was given intrinsic worth and a reflective splendor is God's original intent for us. But we've lost both of those. We do not even know what we are supposed to reflect other than making our own choices. For the Word to have become flesh and "dwelt among us, full of grace and truth, and we beheld His glory" (John 1:14) puts into perspective what the value of the flesh is intended to be. This house, this body, was meant to be the temple of the living God. Instead, we've made it like they made the temple [in Matthew 21:13 and Luke 19:46]—a den of thieves, as it were. We've robbed the flesh of what it is intended to be.
A very babe, a human life, is of essential worth to God. This is the only place He chooses to make His real home, not a building. So, God taking the form of man is the ultimate compliment to you and to me. Christmas is the reminder that we were made to be creatures of worth and of value.
Subscribe to Decision
Get your own subscription, or renewal, or bless someone by giving Decision Magazine as a gift.
SUBSCRIBE NOW
Q: Would you say this sense of worth was exemplified when John the Baptist, though he wasn't even born yet, leaped in Elizabeth's womb when Mary, Jesus' mother, walked into the room (in Luke 1:41)?
A: God sees through the person to the progeny, to the o. spring, to the lineage, to what is going to happen for generations to come. Here was John in the womb of his mother, and Mary was going to conceive and give birth to Jesus. Knowing how those missions were going to converge—one was going to be a voice in the wilderness pointing the way for the other—it shows that God is working even in the womb. This happened long before the babies were ever held in their mothers' arms and long before their missions had really begun. It's a reminder to you and to me that a child is very valuable in the eyes of God and is sent for a purpose beyond just themselves. We have to see the destiny and the mission to which God has called them and that a baby is not merely a baby, even in the womb.
Q: That seems to speak directly to the abortion issue we face today.
A: I think so. People often talk about what they're going to ask God when they stand before Him. If somebody says they're going to ask, "Why did You allow us to have so many diseases?" I wonder if God is going to say, "I sent scores of people your way who were going to bring a solution to that problem for you, but you wouldn't even let them into your world." Is it possible that [through abortions] we are really taking away from the womb the very answers for which we are spending billions to find cures? Every life has that capacity.
Q: What does the Christmas story, especially the supernatural conception of Jesus and the virgin birth, tell us about the exclusivity of Christ?
A: We don't engineer our new birth at salvation. It is not caused by man. It is not caused by my father or my mother. It is caused by the Holy Spirit of God. I think that is just a shadow of the ultimate reality of the virgin conceiving. The birth conceived by the Holy Spirit is a reminder that this gift did not come by the will of man but by the will of God.
God fulfilling the [messianic] promise that was talked about seven to eight centuries earlier—with the manner in which He would be born, the city in which He would be born, even the very area of Nazareth—was part of the prophetic schema that is a reminder to us that this was by the will of God and was the gift of God. In it, there was the fulfillment of the verse, "Unto us a child is born. Unto us a Son is given" (Isaiah 9:6). The Son wasn't born. The Son eternally existed. The child was born; the Son was given.
Q: When you look at our culture today, does it seem that we can be fairly affectionate with the baby Jesus, but not the Jesus of the cross?
A: I think [Christmas] has become so naturally seductive, because we are drawn to festivals, we are drawn to celebrations, we are drawn to the largess of food and family and all of that. … Churches are packed on Christmas and Easter. If people really believed those two dogmas, life would be different for them. But Christmas and Easter have become more culturally nuanced occasions—"I'm going home for Christmas." "We'll attend church at Easter." "We'll have this kind of food on the table; we've done it since I was a child."
It's unfortunate that all the images of Christmas and the figures of Christmas become the meaning of Christmas, rather than them pointing to the real meaning of what Christmas is about.
Q: Could you discuss the wonder of Jesus coming as Immanuel, "God with us?"
A: I have a friend who's a convert from Hinduism. He comes up with one-liners every now and then that reflect the way he thinks. He says, "Jesus Christ is the companion of my thoughts." So I asked him, "Why do you keep on saying that?" He said, "Because I live alone, and all kinds of thoughts go into my mind, and I ask myself, Would Jesus be comfortable with this thought I'm having? If Jesus is not comfortable with that thought, I do not pursue that thought anymore."
That's beautiful! It's the idea that Jesus is the companion of my thoughts and not just my actions. My friend says, "I need that companionship every moment because I'm always thinking." The Word became flesh and is dwelling among us, and He becomes our constant companion.
Q: What's on your mind this Christmas?
A: I never travel anywhere at Christmastime. I'm always home, no matter who asks. I have invitations from all over the globe from very prestigious places to come and do a Christmas Eve service, but I say, "No, it's a time for my family," because family is the divine institution.
Christmas is the time when we gather together and reflect on what God has done for us through the year, when we read the story to our children and grandchildren. At my age, the gift is in the joy of giving to the little ones and seeing the sparkle in their eyes—or setting aside some funds and bringing happiness into some other household. It has moved from a time to receive to a time to give and a time to celebrate what the Christmas story is all about: God sent His one and only Son. D©2015 BGEA
SCRIPTURE QUOTATIONS ARE TAKEN FROM THE HOLY BIBLE NEW KING JAMES VERSION.
Give To Where Most Needed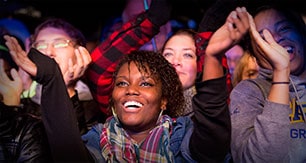 Help us fulfill our mission of proclaiming the Gospel of the Lord Jesus Christ to all we can by every effective means available to us and by equipping others to do the same.