Isaac had been a Christian for three years, but he sensed something was missing in his walk with Jesus Christ. God gave him that missing piece on Saturday at the second night of the Greater London Celebration with Will Graham.
"I felt I'd strayed away from God; I didn't feel I was putting in the work," said the 16-year-old London resident.
Then, after music from Canadian worship singer Brooke Nicholls, U.S. band The Afters and Canadian country star George Canyon, Isaac heard Will Graham tell the audience at Budweiser Gardens these words of hope: "God will make you a new person and give you a fresh start. This is your chance to have a new start."
Those were the words Isaac needed to hear.
"This was a wake-up call," he said emphatically. "God wants to strengthen our relationship and help me to know Him better."
Isaac also felt great hope when Will told him and the others who responded to his invitation that "today is your spiritual birthday—a new beginning."
"I feel happy, like things are going to get better," he said gratefully. "Today is a new day for me to re-commit myself to Jesus."
Give To Festivals and Celebrations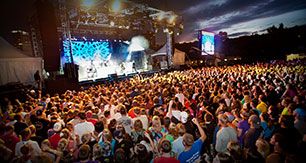 Your support will help us proclaim the Gospel of hope in Jesus through our Festival and Celebration evangelism events, which feature inspiring music from well-known Christian artists, powerful stories of transformation and Gospel messages by Franklin and Will Graham.