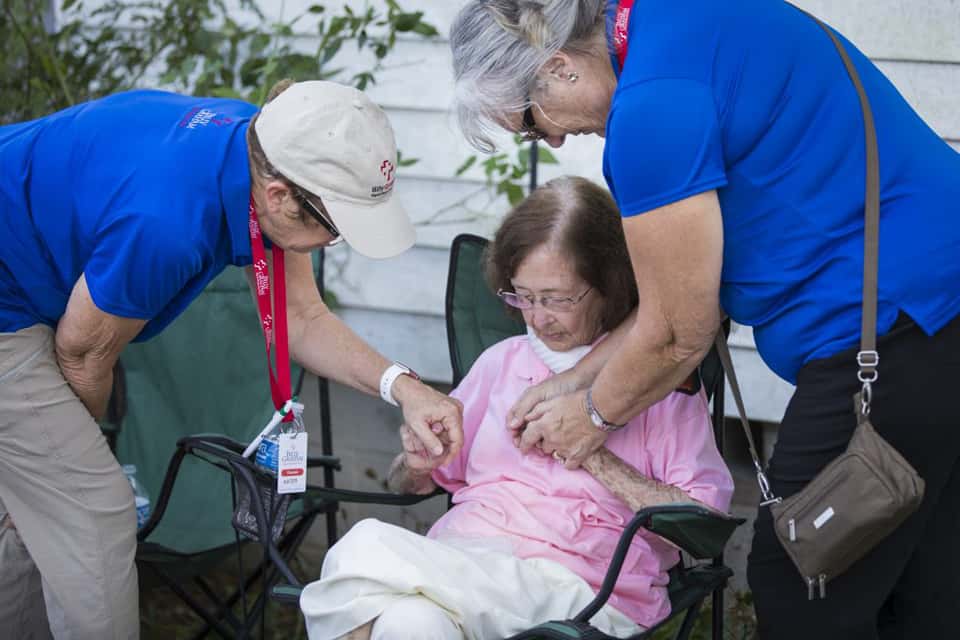 We-wa-hitch-ka.
For outsiders, the Seminole Indian town name tends to be a mouthful, but for the 2,000 Floridians who call it home, they just know it as "Wewaw."
Less than 50 kilometres east of Panama City and Mexico Beach, Wewaw was one of the hardest-hit areas from Hurricane Michael. The Category 4 storm intensified with 155 mph winds as it reached shore and caused the deaths of over 30 people across four Southeastern states. Hurricane Michael is the worst storm to ever hit the Panhandle, leaving behind move than 300 kilometres of destruction and destroying or damaging thousands of homes—like Ms. Vera Rozier's.
The petite woman sang "Blessed Be the Name of the Lord" when she got out of the car and saw her home for the first time since the devastating storm. Splintered pine trees lay sprawled across her roof and covered her front yard, blocking the entrance to the ranch-style white house she and her late husband bought in 1960. Still, she climbed over a fallen tree and praised God.
A few days later, orange-shirted Samaritan's Purse volunteers milled around her home, carrying out furniture that had gotten wet and cutting up fallen pines outside, while Ms. Vera talked with Billy Graham Chaplain Coordinator Sandy Bender.
Showing Sandy her home, Ms. Vera walked into the hallway, picking up framed family photos and telling her she had to "count 'em all up" when it comes to her numerous grandchildren and great-grandchildren.
"I'm 93," she paused, teasing because she likes to be "younger" than her twin sister, Era Daniell, who lives in nearby Port St. Joe.
"Well, 94," Ms. Vera admitted, although her sharp mind and easy movements make her seem far younger.
Turning, she led Sandy into a spare bedroom and said, "This is a disaster."
Insulation was scattered like snow across the floor, bed and surrounding furniture. The right corner of the ceiling showed a gaping hole with cardboard hanging as if it were Spanish moss.
"The tree fell on the house and dumped insulation on top of my antique chifforobe and doll collection," Ms. Vera pointed to numerous glass dolls sitting nearby.
The disaster was exactly why Sandy was there. She and nearly two dozen U.S.-based Billy Graham Rapid Response Team (RRT) chaplains deployed alongside Samaritan's Purse to Albany, Georgia, and Wewahitchka, Florida, to offer emotional and spiritual care to those affected by Hurricane Michael.
Two other chaplains joined Ms. Vera and Sandy, and the ladies moved to floral chairs in her living room. Ms. Vera's daughter, Linda, passed through the room often, busily sorting through moldy items.
"This is the worst I've ever been through," Ms. Vera said, commenting she'd faced at least two other hurricanes while living in the area. She and her husband had come to Wewaw after he was transferred from a naval station to a nearby Air Force base.
"We liked it because of the fishing," she said. "I've learned to love it here."
After she hesitantly put on a protective mask due to chaplains' encouragement, Ms. Vera continued to share how the house used to be full of people when she and her husband hosted a Saturday fish fry.
But that wasn't the only time people were coming in and out of Ms. Vera's door.
The 94-year-old had been a beautician with a small salon added onto her home. She'd continued running the shop up until last year.
"There was only one shop here so they needed more," Ms. Vera explained while clutching a cloth doll from one of her clients.
"You are such an amazing woman," Sandy told her, adding that she looks beautiful.
As the ladies walked outside for some fresh air, Ms. Vera took the doll with her and said in a somber tone, "I've got a lot of things I can't keep. It's a memory."
Attempting to escape the heat by sitting under the shade of the house, Ms. Vera thought back to something that's always stayed with her—her faith in Christ. She first accepted the Lord as a teenager in Alabama, got baptized in a creek, and continued to grow in her walk with Him by attending church and watching Billy Graham sermons on TV. And more than half a century later, she still clings to her faith and reads her Bible every day.
"[The storm] makes you feel the need for God more," Ms. Vera said, sitting just feet away from fallen trees. "It makes you feel closer to God—His protection."
She'd evacuated to a shelter during the storm and didn't want to leave her home again now that she was able to return to it.
"I like to sleep in my own bed," she said with a grin.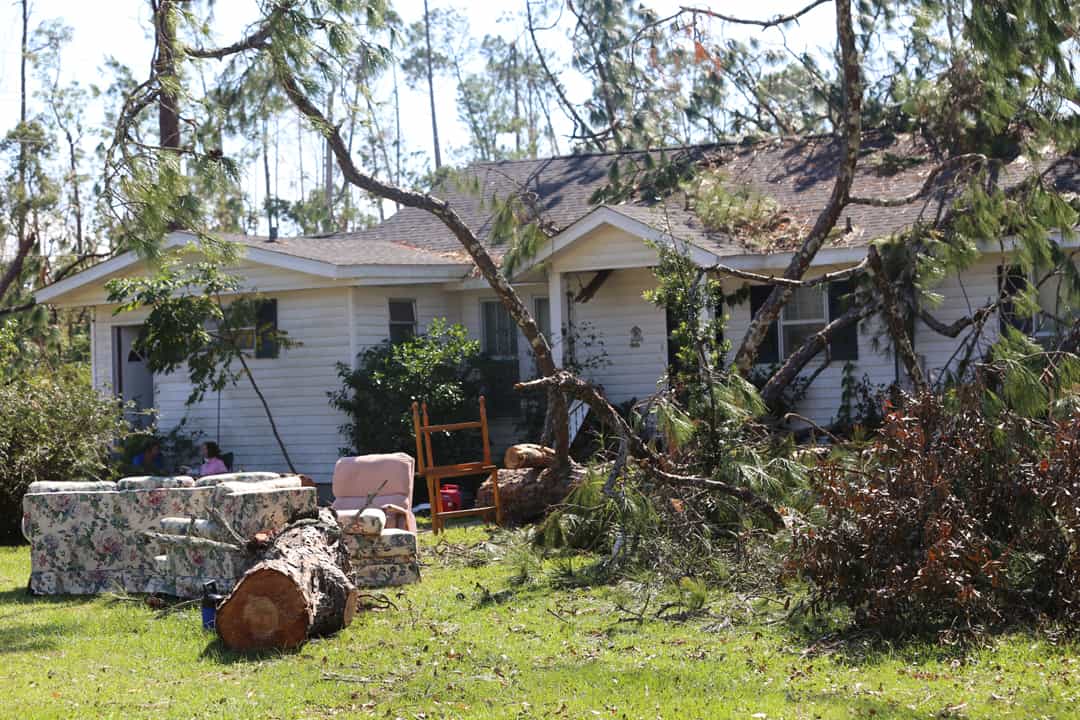 Over the buzz of chainsaws, she pointed to a huckleberry bush laying on its side and explained she had blueberry bushes, too.
"If I had the stove going I could make a blueberry pie for everyone," Ms. Vera said. Seemingly famous for her baking, her butternut cake had previously sold for $300 in a raffle to raise money for a youth mission trip with First Baptist Church of Wewahitchka, where the chaplains are staying during their deployment.
"Could we pray with you before we go?" crisis-trained chaplain Anika Magwood asked.
Agreeing, the ladies joined hands and asked God to grant Ms. Vera's requests for "blessing, safety and for help to get through."
"Lord bless you, sweet Vera," Anika said.
Ms. Vera's response was a testimony of unwavering faith after such a storm: "I just thank God for all His mercies."
Even in life's storms, God is there. Trust Him today.
Give To Where Most Needed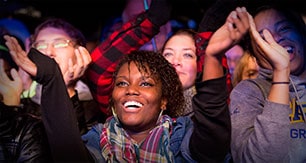 Help us fulfill our mission of proclaiming the Gospel of the Lord Jesus Christ to all we can by every effective means available to us and by equipping others to do the same.