Dare to be a Daniel is innovative evangelism training for tweens (kids 9-14.) This engaging and relevant approach will equip youth to live boldly for Jesus Christ and give them the tools they need to share Jesus with their classmates, friends, and family. It is designed to provide a fun, encouraging environment for kids who are dedicated to sharing their faith. These ministry resources are ideal for use in Sunday School, youth groups, vacation Bible school (VBS), or weekend retreats.
"Dare to be a Daniel has challenged and encouraged me to be sharing my faith and praying for those who don't know Christ. You can't go through the program unchanged; God used it to grow our dependence on Him and grow our desire for those who don't know Christ to come to faith."

– Sunday School teacher Claudia Maier, Mission Baptist Church, Hamilton ON
Encourage Youth in Their Faith
Want to help equip youth to grow in their relationship with Christ and share it with others? Make a donation to Dare to be a Daniel so youth can be equipped to grow in their faith and share their faith with others.
Get Started Now!
Call 1-800-293-3717 to order Dare to be a Daniel training resources. These resources are offered at no charge (with the exception of shipping).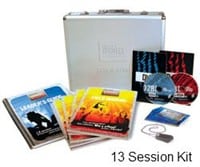 13-Session Training Resource
Ideal for Sunday school classes and other youth groups, the 13-Session Training Resource is a powerful tool for your church or group to use with your late-elementary-age and middle-school-age children. Each lesson contains creative illustrations, practical principles of faith, activities they'll love, an inspiring (and often challenging) video segment, and powerful Bible verses to help your students learn to share the Gospel of Jesus Christ. The course features a full-color printed Leader's Guide with additional leader resources on CD-ROM and DVD, as well as Field Manuals for students. Using proven teaching techniques effective for this age group, the 13-Session Training Resource will keep your students engaged from start to finish. 
Click here to download a sample lesson from the Leader's Guide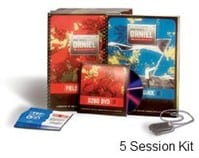 Five-Session Training Resource
The Five-Session Training Resource packs the same faith-impacting features as its 13-session cousin into a condensed training tool, offering greater flexibility of use for church, youth, and home study groups – a great option for VBS programs and camps.
Click here to download a sample lesson from the Leader's Guide
In Their Own Words
"I'm part of the Dare to be a Daniel Certified Junior Evangelists. I have been telling people about God and bringing them closer to Him. I had one girl I talked to and she got saved. … I'm very thankful for this opportunity to share the Word with people." – Student

"I had to let you know what an impact your Dare to Be a Daniel Gospel presentation program had on my 4-6-Grade Sunday schoolers. Last week, one boy brought a friend with him who doesn't usually go to church and had not heard the Gospel. So, they excitedly shared the Gospel with him. I praise God for what your ministry has accomplished in the lives of these 'junior evangelists'!" – Teacher
"We want to see the next generation of believers experience the power and joy of personal evangelism. Dare to Be a Daniel is a biblical resource that we believe churches can use to inspire and train today's youth to boldly and effectively share Christ." – Billy Graham
"I've often heard it asked, 'Who will be the next Billy Graham?' I believe God is not raising up merely one person, but a whole generation of evangelists among today's youth." – Franklin Graham