Prepare Your Children for The Greatest Journey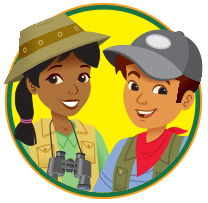 God has given us a wonderful gift… Jesus. We know that Jesus is who people need. He is the only way for people to be saved from sin and build a relationship with God. If you believe that, it is the good news!
We'll let you in on a secret: Telling others about Jesus really is the greatest journey. As followers of Jesus we are His disciples and are known by our love for God and for His children. What better way to help spread the Gospel than by teaching those between the ages of 6 and 10 about God's love for them.
This 12-part discipleship program invites you with opportunities to invite children to know Jesus, learn to be His friend, and follow him. It will help you continue to teach and disciple them after these lessons.
The courses are divided into a three part booklet series:
1. God's Great Gift
The Great Creator

God made everything good
God made us to know Him and follow Him.
God loves us, and we are precious to Him. We are not a mistake.

The Greatest Problem

There are consequences for our sin
We are loved by God despite our sin
God planned a way to take away our sin

The Great Savior

Jesus was fully God and came to earth fully human and lived a sinless life.
Jesus is the Savior. He is the only way to fix our sin problem.

The Greatest Friend

The problem of sin has been solved once and for all by Jesus.
We can now be in a right relationship with God.
2. Walking With God
The Great Chance

Our lives will change when we become followers of Jesus.
God will help us (give us grace) to make the changes He wants to see.

The Greatest Blessing

Jesus said that children are important to Him.
Children can have a close relationship with Jesus. They don't have to wait to be a grown-up to experience God's purpose, presence, and power in their lives.

The Great Savior

Jesus was fully God and came to earth fully human and lived a sinless life.
Jesus is the Savior. He is the only way to fix our sin problem.

The Greatest Trust

We can trust God even when difficult things happen, because He loves us.
God will fill us with His Spirit of wisdom and power to do the right thing.

The Greatest Partnership

God wants to use us to be a blessing to others.
God can take the little we have and turn it into more than enough.
3. Sharing God's Gift
The Greatest Help

Jesus has the power to heal the sick and forgive sins.
God can use us to help our friends meet Jesus.

The Greatest Love

God loves and cares for everyone.
We are to love and care for others, even our enemies.
We show Jesus' love in words and actions.

The Greatest Hope

Heaven is a real and perfect place
Following Jesus is the only way to get to heaven.

The Greatest Mission

Our greatest mission is to tell others the Good News of Jesus Christ.
The Holy Spirit is our Helper who guides and empowers us to fulfill our mission.
4. Teacher's Guide
Includes easy-to-follow directions, material lists, suggested lesson times, teaching tips, and more.
Each lesson includes:

Teacher's Overview
Materials Needed List (sorted by activity)
Lesson Activities
Review Questions (previous lesson)
Memory Verse
Prayer Time
Discussion Questions (current lesson)
Take-Home Challenge
5. Steps to Peace
The "Steps to Peace" booklet is a great tool to help communicate the Gospel of Jesus Christ to children. It explains the plan of salvation in such a clear way that even kids can use it to tell their friends. It's designed with full-color graphics that help illustrate the message.