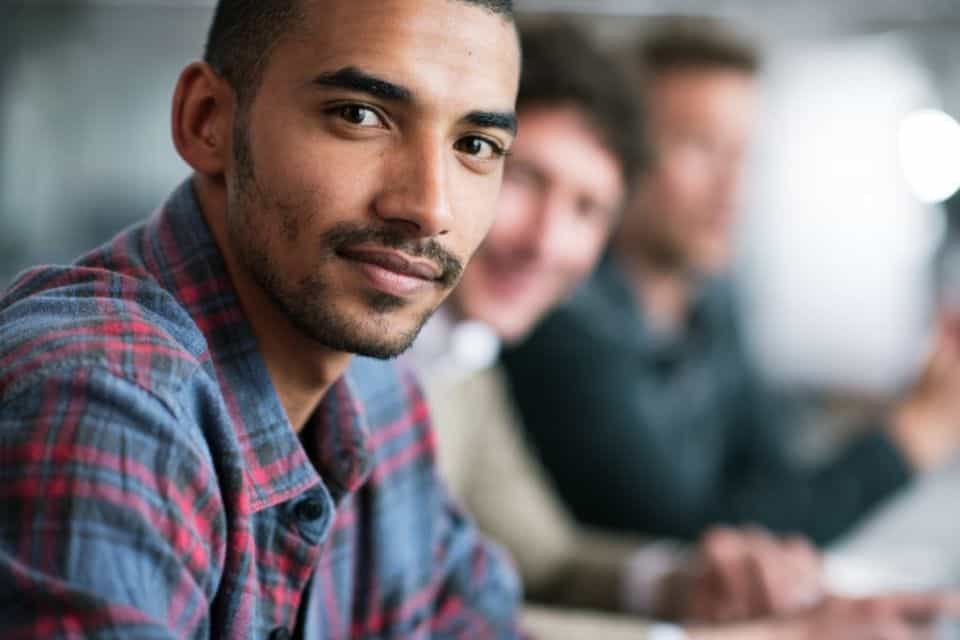 An 8-year-old, an Orthodox Jew, a convicted felon and a woman overcome with loneliness—they may be separated by age, background and circumstances, but all have the same basic need.
And that's the beauty of online evangelism—reaching people where they are.
Here are the stories of how seven people from all walks of life have been impacted by Search for Jesus (SFJ), the Billy Graham Evangelistic Association's internet evangelism ministry.
>> Learn about volunteer opportunities with Search for Jesus.
64-Year-Old Hits Rock Bottom
"I was in a state of total despair like nothing I had ever seen or felt before. … My world crashed right before my eyes." Rick had hit rock bottom. He said he'd rather die than keep living the way he was living and begged God for an answer. He had sought God before through different religions, he said, "always wanting a relationship with God, but never feeling like I knew Him." This time was different. As the 64-year-old made his way through SFJ's free online discipleship course called Know Jesus, he realized the missing piece was total surrender to Jesus Christ. He wasted no time confessing his sins and giving that burden to Christ. "I know I have been saved through His grace and the blood of Jesus," he told the trained SFJ discipleship coach who helped guide Rick through the course. "I thirst and hunger to know Him." Rick said the Bible has "come to life" for him. He prays a lot, he said, and his fears have dissipated as he looks for ways to serve God. "I now have the Holy Spirit within me. … I am born anew!"
'I Feel I Have No Purpose in This Life'
Carly* was struggling with deep feelings of loneliness when she found PeaceWithGod.net and submitted a question through the website. That connected her with Ruth, an SFJ volunteer trained to respond to online visitors through email. Carly asked how she can grow in her faith while feeling so alone, and Ruth explained how faith is built on a relationship with God. Ruth clearly shared the Gospel, then asked if Carly had ever repented of her sins and put her trust in Jesus. Carly said she'd been a Christian for 30 years, yet, "I feel I have no purpose in this life. I want to not be here anymore. I pray and ask God to help me, but the pain is there." Ruth quickly responded with compassion and care, asking what makes Carly feel that way. She also shared the suicide hotline and told Carly that she is loved. "Let me say your email came just when I was in despair," Carly responded. "God reached out to me with you. Truthfully, I see Satan attack me when I am weak. I will thank God you reached out because it honestly helped [me] get past my sorrow. I am alone 99 percent of the day and struggle, but I know God works miracles every day and He is the answer to my pain. … Thank you so very much for reaching out because it calmed me down and stopped crying."
*Name changed to protect privacy.
8-Year-Old Accepts Christ Online
On Dec. 19, Jacob* committed his life to Jesus through PeaceWithGod.net. He received a follow-up email with a message from Franklin Graham, as well as a list of spiritual growth resources. Jacob's father replied to the message: "Dear Mr. Franklin Graham: I, Jacob's father, Martin*, will continue to bring him to our local church … [in] Long Island, New York. … I will take full advantage of those online resources you listed. You might be surprised to know that he's 8 years old! But, when his mother and I asked him if he wants to follow Jesus Christ, he said: 'Yes, I do.' As he recited the Sinner's Prayer, I was in tears—tears of absolute joy! His mom had a nice, huge grin on her face. Both of us are so proud of him. Thank you again for responding."
*Names changed to protect privacy.
Orthodox Jew Wants to Know Jesus
"I'm an Orthodox Jew. I need to know Jesus." Caleb* is from Israel but now lives in Indiana. He visited PeaceWithGod.net last fall and clicked a chat button on the page to start an online conversation. He connected with a trained SFJ volunteer who—it turns out—has a best friend who's Jewish. Caleb told the chat coach he has stage four cancer and only six months to a year to live. "I want to be a Christian," he said in broken English. The chat coach told him how to invite Jesus into his life and typed out a prayer he could say. Caleb prayed to accept Jesus, then asked the coach to pray for his struggle with cancer. The coach prayed and encouraged Caleb to read the Bible and start attending a church in his area that he had visited. "Thank you," Caleb said at the end of the chat. "God bless you."
*Name changed to protect privacy.
Convicted Felon Finds Acceptance Through Discipleship Course
A man who went through the Know Jesus course—an online discipleship opportunity through SFJ—left this heartwarming comment on Christmas Day: "I want to thank you for your support. By taking the time to help someone as me. My appearance … hurts me. I have tattoos and I am a convicted felon. Everywhere I go, I'm not accepted. But through your course, you see only by my words that I speak and they are my heart. I have had joy in looking forward to study every night. Sad it's over. God bless."
Woman Takes Next Steps in Her Walk with God
After going through SFJ's free online discipleship course, Know Jesus, a participant named Jessica wrote the following to her online coach on Dec. 18: "I would like to thank you for all the help and guidance you've given me throughout this course. I understand the importance of continuing a relationship with God and being a part of a church, surrounding myself with others that will help me and teach me more about the Lord. Throughout this course, I am happy to say that I have found my home church and have given myself to the Lord." The woman said she planned to be baptized 10 days later and added, "The Lord is doing so many great things in my life."
'I Think I'm Lost'
"I think I'm lost." That's how Nick—a man from Greece—began an online chat through PeaceWithGod.net on Feb. 16. "I used to pray a lot," he continued, adding that he used to attend church and volunteer there. He was baptized and went to parochial school, but felt like he'd lost connection with God. "What have you done to earn salvation?" he asked a trained SFJ chat coach. "Nothing," the coach replied, but Nick couldn't believe it. "Nothing?" he asked. The coach explained how salvation can't be earned—that Jesus paid the price we owed for our sins and that salvation is a gift from God when we seek His forgiveness. Nick wondered about sins committed after someone is saved. The coach shared that as imperfect people, we will never be without sin. "I confess [my sins] and ask God to help me to do better next time," the coach wrote, "and I truly seek to not do them anymore, but sometimes I fail. … They have nothing to do with my eternal destiny, which is heaven, guaranteed by Jesus Christ." The coach shared several Bible verses with Nick, who then prayed to ask Christ to be part of his life. "Thanks for your kindness and for the strength you gave me," he said at the end of the chat.
You can share hope with people online, too. Learn more about volunteering with Search for Jesus.
Give To Internet Evangelism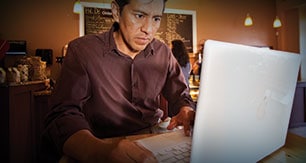 Help hurting people find Jesus online by supporting our internet ministries such as PeaceWithGod.net. Your gift helps us recruit and train e-coaches, buy advertising that promotes this website online, and follow up with Canadians who make online faith commitments.